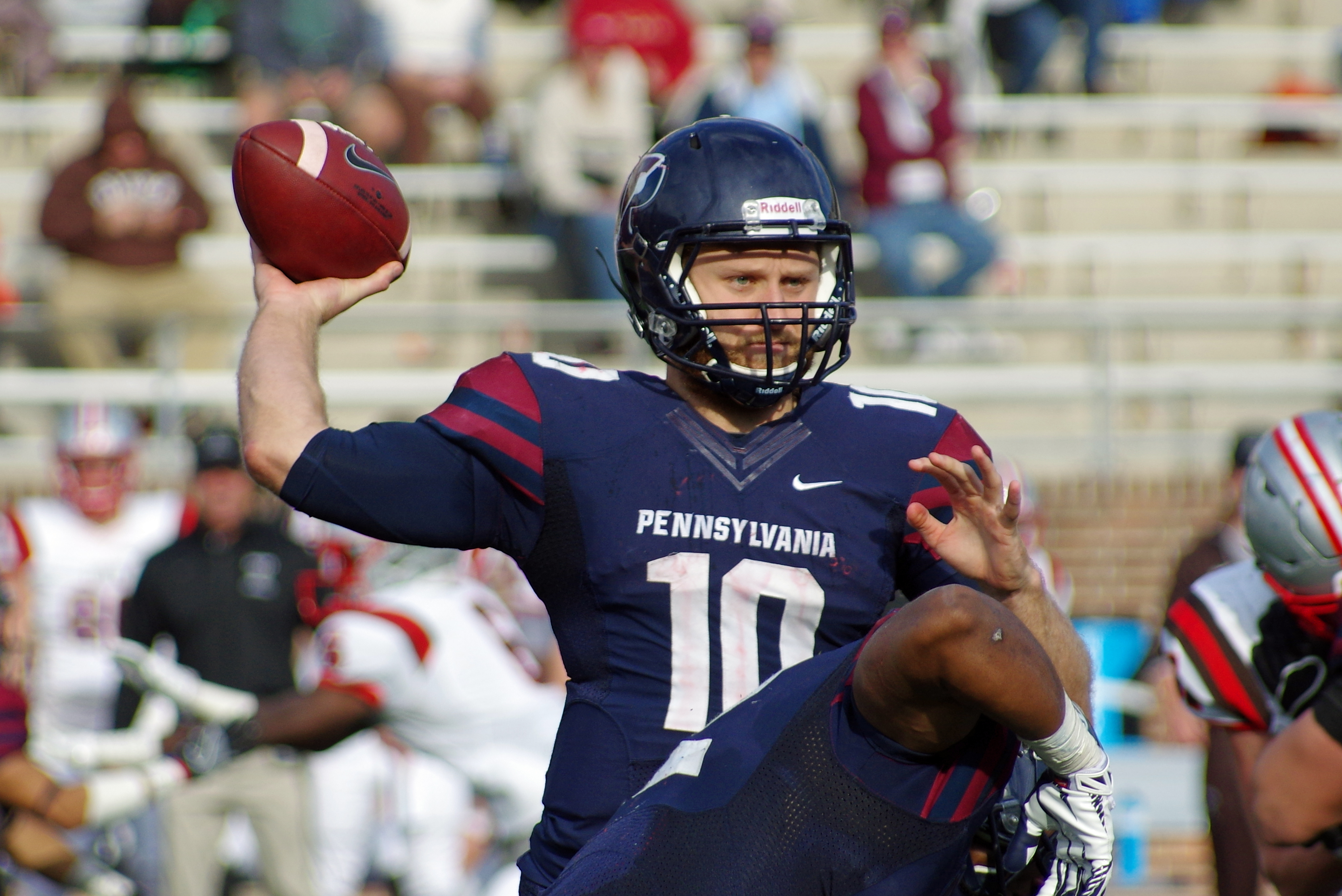 Former quarterback Alek Torgersen graduated from Penn in 2017 with the second-highest completion percentage in Ivy League history (65.1), the highest completion percentage in conference games among Ivy League quarterbacks (67.4), and as the Red & Blue's all-time leader in passing touchdowns (52), completion percentage (65.1), and total offense (7,939).
The Huntington Beach, California-native, an alumnus of the Politics, Philosophy & Economics Program, was a two-time First-Team All-Ivy selection, a two-time Ivy League champion (2015-16), and the first Quaker in 26 years to be invited to the East-West Shrine Game, an all-star game for college seniors vying to play in the NFL.
Ray Priore, the George A. Munger Head Coach of Football, who recruited Torgersen to Penn when he was the defensive coordinator, says Torgersen had a knack for making clutch throws at crucial times. 
"I think that's what I'll remember about Alek," Priore says. "He throws the ball effortlessly. And when we needed him to run the football, he ran the ball. He did a great job of leading our offense during that time."
Unselected in the 2017 NFL Draft, Torgersen spent time with the Atlanta Falcons, Washington Football Team, Detroit Lions, and Arizona Cardinals.
Penn Today tracked down Torgerson to discuss his record-setting Penn career, NFL training camps, learning from Matt Ryan and Kirk Cousins, throwing to Julio Jones, and what he's up to today.
Do you have a most memorable game from your Penn days? There are a couple. Most of them happened my junior year. We were written off as a nonfactor in the Ivy League that year, and we come out week 2 and we beat No. 4 Villanova at home on a Thursday night for Coach Priore's first win as a head coach. That was pretty special for our head coach, for us as a program, and for us to beat a team that we hadn't beaten in over a hundred years. That was awesome. But I think the most memorable game for me is that season at Harvard. We broke a 22-game winning streak that Harvard was on and basically secured the championship. That Harvard game meant a lot to a lot of people; it meant a lot to me. For us to come out there and stun them at Harvard was just such a great experience and something I think of fondly. I think everyone on that team shared that sentiment. When people talk about that championship run, we talk about that Harvard game.
Am I correct that you played for three years with Justin Watson, now a wide receiver with the Tampa Bay Buccaneers, who was a year behind you? I was lucky to be with him for most of his career. He started pretty much the entire time I started. I was lucky enough to get to throw him the ball. We made some magic happen on the field, I like to think.
You signed with the Falcons after the 2017 draft. Can you talk about the experience? It's like every football player's dream come true. I ended up in a really good situation in Atlanta and was able to take in some knowledge from some highly experienced veteran quarterbacks. Matt Ryan was coming off an MVP season, so I was able to learn from him. I learned from Matt Schaub. The team was just in the Super Bowl the season before. It was a surreal experience. I never thought football would give me that moment, I was always just playing to get to college. I was really fortunate enough to have that opportunity to play in the NFL.
What was training camp like? It was a lot. There are a lot of restrictions now from the NFLPA so we're not doing any two-a-days or anything like that, but it's a long, long six weeks of football. It is a make-or-break period for a lot of guys, especially me being on the roster bubble like I was. Every day is an audition to make the team, so every day you have to perform. Every day is game day for you. If you mess up in practice, you might not get any more reps ever again, so you really have to come with an attitude where you're coming in every day thinking it could be your last. It is stressful, but there are probably a million people who would kill to be in your shoes, so you have to make the most of your experience, the most of your opportunities.
Did you get to throw to Julio Jones? I did. I did a couple times in practice, but mainly in warmups and pre-practice stuff. Justin [Watson] is a beast, but Julio Jones is a different animal. If you throw it in a 10-foot radius of him, he's going to catch the ball.
How did you end up with the Washington Football Team? The ball didn't really bounce the way I wanted it to in Atlanta after that preseason and I got cut at the end, but I was fortunate enough to get picked up by Washington. That's the thing about playing in the NFL, it's a very fickle league. One day you're here and one day you're not, and there's always another guy gunning for your job. I ended going to D.C. on their practice squad. So, one day you're in Atlanta, the next day you're in Washington. There's not a lot of stability in your job, but it was a lot of fun. I got another group of great quarterbacks. I was in there with Kirk Cousins and Colt McCoy. The quarterbacks' coach was Kevin O'Connell, who's the [offensive coordinator] for the Rams right now. I learned a lot from a lot of cool people.
And you also spent time with the Lions and the Cardinals? I got picked up by the Lions the last week of the season. I was there for about a week and then I went home to train. I was supposed to leave on a Friday night in April to go to Detroit, and their general manager, Bob Quinn, called me up and told me they wanted to go in a different direction with their quarterback room. They wanted to have a veteran quarterback in there, so they cut me that day. I didn't really get to do much there, so I was a little upset I didn't get to prove myself. That one hurt a little bit, and then I was fortunate enough to get picked up by Arizona the next day, so instead of flying to Detroit on Friday, I flew to Arizona on Thursday. I was much happier in that situation. Unfortunately, they did draft Josh Rosen in that draft. That was kind of the end of my NFL run right there. It hurt, but it's something we live with.
I did jump around in those development leagues for a little bit. I played in the AAF. I was picked up by the Birmingham team and then ended up in San Diego. I was slated to be the starter the week that the league shut down, so that's another opportunity I didn't get. I tried out for the XFL and things didn't really work out there. They were going for more big-name quarterbacks to boost the notoriety of the league. I could have gone to Canada but there just comes a point in your life where you have to choose to keep playing football or kind of move into a career.
What are you doing now? I work for Stryker. I do neurosurgical device sales. I go into brain surgery every day and I assist in making sure our equipment is working properly every time they cut open someone's head or spine. It's actually a lot of fun. It's great experience and a typical career path for a lot of ex-athletes. It's a great first job. I've been going into hospitals every day since March, right when COVID hit. It's different, but it's still the same. It's still competitive; I'm still dealing with different egos in a room and having to be a leader and not wavering in the face of pressure. My skillset that I've learned throughout my playing career has now translated into my working career where I'm not being frazzled in situations where there's a lot on the line.