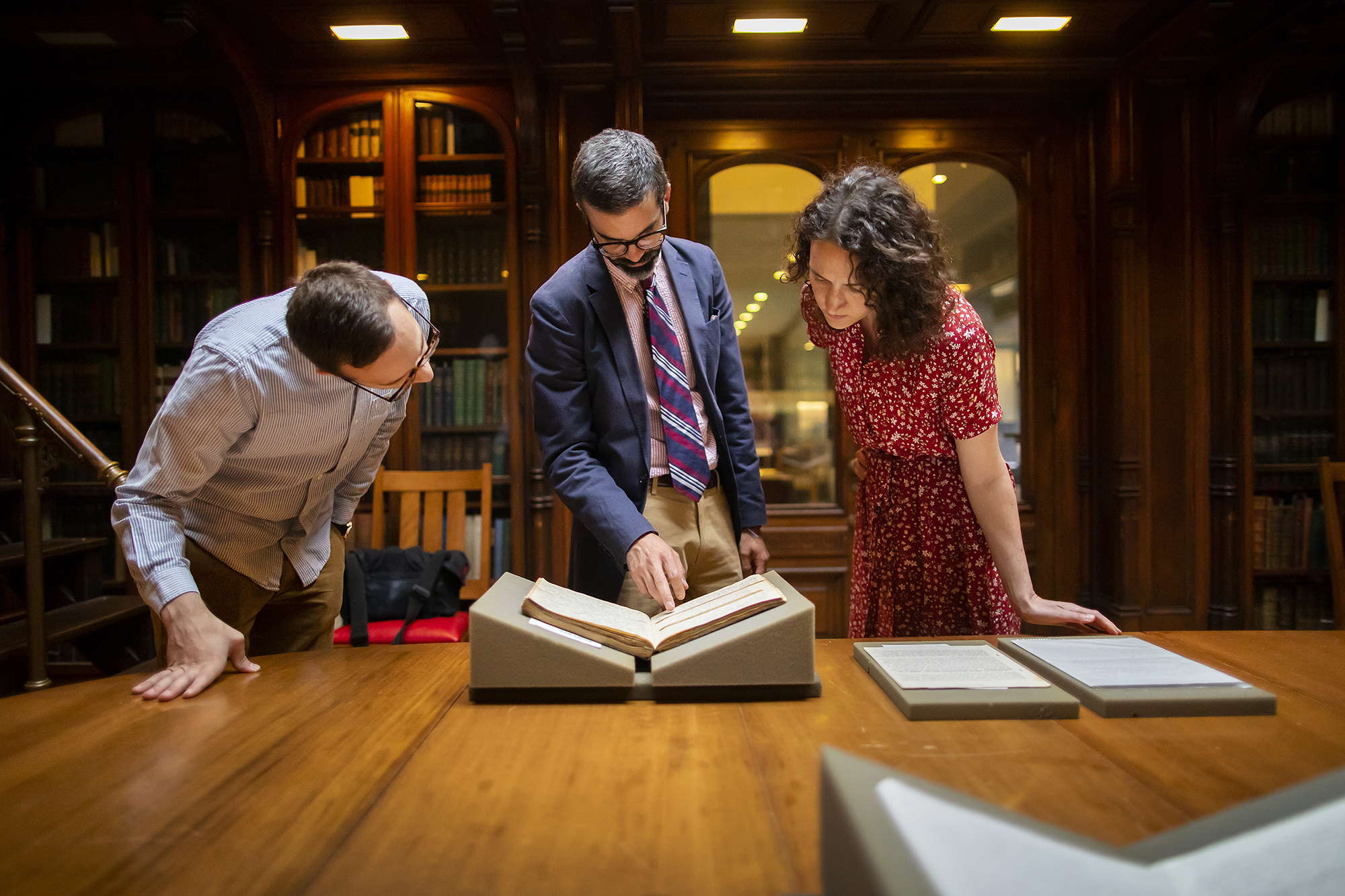 Even for those not well-versed in the nuance of moral philosophy, the weathered notebooks and letters of philosopher Elizabeth Anscombe have a certain pull. Like the pages, yellowed with time, that hold taped postcards surrounded by Anscombe's handwritten responses. Or the frayed, typed letters that evoke the click-clack-ding of a typewriter's fluidity. 
Twenty-one boxes hold more than 600 such historical treasures of the Collegium Institute Anscombe Archive. It's the largest collection of materials written to and by Anscombe, and now through June 2022 it will live at the Penn Libraries' Kislak Center for Special Collections, offering a deep and personal look at one of the most important female philosophers of the 20th century. 
"People are becoming more interested in history of analytical philosophy, thinking about it in a historical way," says Penn philosopher Errol Lord, who is overseeing the collection. "Anscombe's materials contain a lot of philosophy that nobody has looked at before."
Many saw Anscombe as a divisive figure. She was a female philosopher in the 1950s, a time when the field was even more male-dominated than today. She strongly opposed abortion and the use of nuclear weapons. Rarely did she mince words, for instance, protesting the honorary degree Oxford University—where she was teaching at the time—bestowed on Harry Truman in 1956 on the grounds that he had authorized dropping the atomic bombs. 
But Anscombe was also highly respected for her intellect. Ludwig Wittgenstein, a famously difficult but key 20th-century philosopher, trusted her to translate his most important work from German to English. Beyond Oxford, she taught at Cambridge and, from 1968 until 1981, at Penn. And she was the glue that upheld a prominent quartet of female philosophers that included Philippa Foot, Iris Murdoch, and Mary Midgley. 
"Whether you agree with Anscombe or not, everyone knew she was completely serious, completely genuine. She really believed what she wrote," says Paul Musso, a Penn doctoral student whose research touches on Anscombe's work. "This is probably the most talented woman in 20th-century philosophy. She was brilliant, and we're still working on some of the same problems and issues today that she addressed."
That's just part of the value a collection like this represents. It came to the University by way of a Penn partner called the Collegium Institute, which received the materials from Anscombe's daughter and son-in-law. It contains correspondence about faith and the existence of God, notebooks full of anecdotes about Wittgenstein, reference letters for former students, even the pamphlet she produced called "Mr. Truman's Degree." 
Penn philosophy doctoral student Marie Barnett was tasked with disentangling the mass of documents—without physically rearranging any of the folders or permanently moving individual pieces. "Up to now, the project has been focused on organizing this huge archive, making it more accessible to scholars who want to use it," she says. "It's really exciting. There's so much here." 
The archive is both historical and contemporary, a foray into the mind of someone who changed philosophical thinking but who was also alive until relatively recently. "For ancient philosophers, we have fragments, small bodies of text. This is modern documentation, and it's voluminous," Musso explains. "We have personal access to Anscombe, and it's valuable, unique exposure." 
For now, the collection will remain at Penn for the next three years, though Lord says there's a desire for it to stick around longer. It's already being put to great use. In April, the Philosophy Department and the Program for Research on Religion and Urban Civil Society (PRRUCS) hosted the "Anscombe Archive Conference on Mind & Action," and this fall two new PRRUCS Fellows will focus their work on scholarship related to these documents. 
"Without the archive," Lord says, "important historical facts would be lost." The key now is to find them in the handwritten, half-century-old pages. 
Errol Lord is an associate professor and graduate chair in the Department of Philosophy in the School of Arts and Sciences at the University of Pennsylvania. 
Paul Musso is a fourth-year doctoral student in the Department of Philosophy in the School of Arts and Sciences at the University of Pennsylvania.
Marie Barnett is a doctoral student in the Department of Philosophy in the School of Arts and Sciences at the University of Pennsylvania.