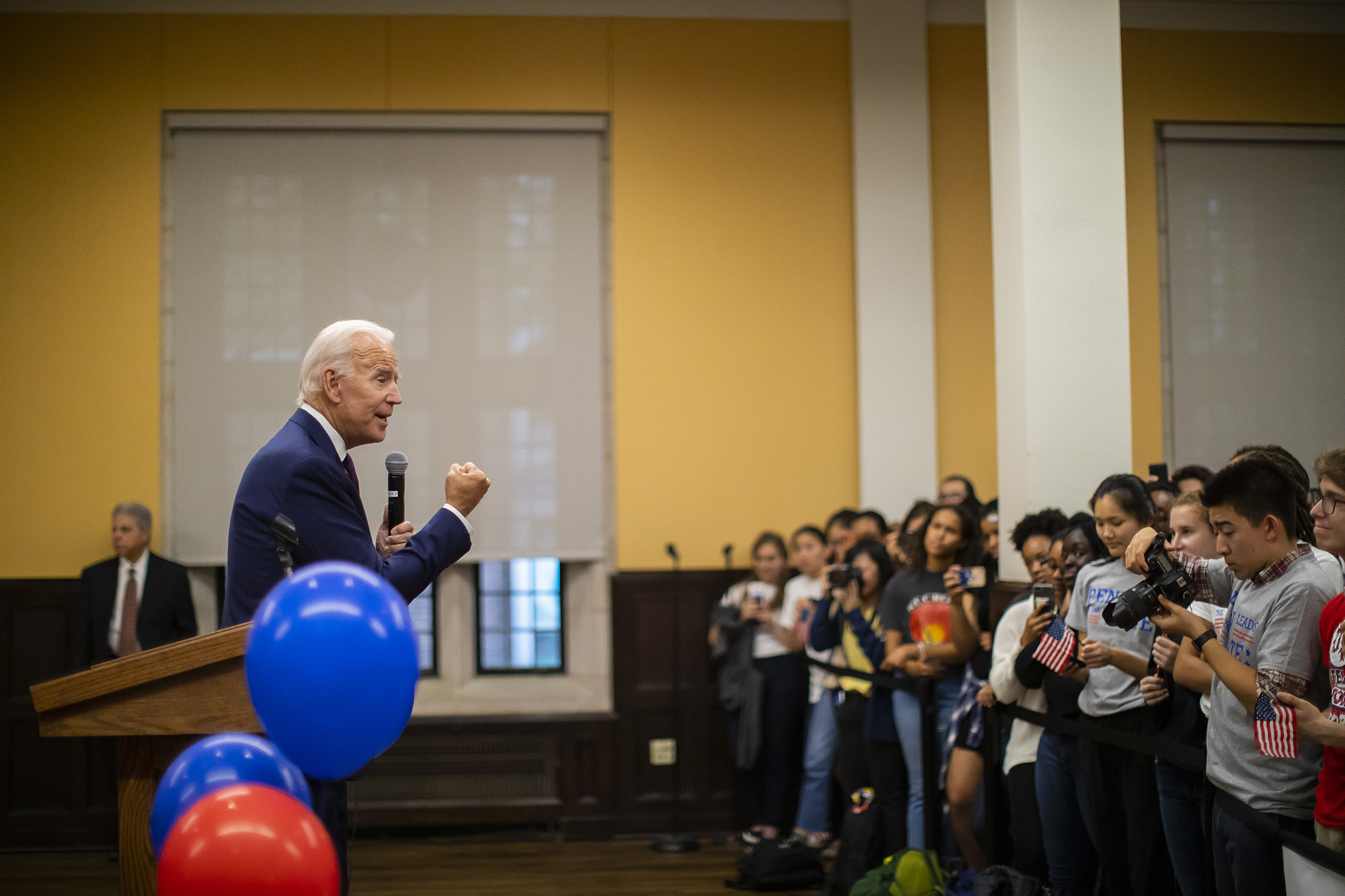 Mid-speech inside a packed Bodek Lounge in Houston Hall, former Vice President Joe Biden, the Benjamin Franklin Presidential Practice Professor at Penn, advocated for an increased voter turnout on campus, citing the low percentage of University students who voted in the 2014 midterms—19.8 percent, less than 1 percent above the national average for universities. 
The hall of fired-up Penn students booed. 
Such was the scene at the energized National Voter Registration Day event on Tuesday. Penn Leads the Vote (PLTV), a student-run organization supported by the Netter Center for Community Partnerships, organized the affair as one of several efforts to help boost voting on college campuses before midterm elections on Nov. 6. Engaged students like those involved with PLTV are thinking about ways to drive engagement among young voters who are participating less than previous generations. 
"PLTV runs on four phases," says Nikki Lin, co-director of PLTV. "The first is voter registration. The second is voter education. The third is voter turnout, and the final is 'How do we improve civic engagement culture on campus?'—and that's a long-term plan."
Right now, she says, the organization's efforts are focused on increasing turnout in the midterms, co-sponsoring events like the National Voter Registration Day, which was supported by Undergraduate Assembly (UA), the Graduate and Professional Student Assembly (GAPSA), the Government and Politics Association, the Penn Law American Constitution Society, Penn Republicans, and Penn Democrats. 
Moreover, she and her team of seven colleagues—all funded by various groups and in association with the Netter Center—aim to make institutional and cultural changes that are largely based on academic research at Penn and elsewhere. To cite just one example: Research shows people are more likely to respond to a "vote" message as a noun rather than a verb, so T-shirts handed out read "Be a Voter."
The big picture is simple: Reach people who aren't normally engaged with politics. 
"We are [for example] doing a lot of STEM outreach, doing tables at places where we think people who are not that interested in voting are going to class," Lin says. "STEM students—as in, engineering students, nurses—who might be so busy they are not paying too much attention to politics. Even Wharton students. We're reaching out in every way, and research has shown you vote because it's part of a culture."
As such, she says, PLTV aims to encourage student groups to have "voting captains" to remind and encourage their peers to go out and vote. In another instance, a dorm competition will be held that incentivizes GAs and RAs to communicate with their residents about voting—where they're registered and whether they're registered. PLTV staff has also considered communicating with professors to include voter registration cutoffs on their syllabi, and pushing for students to be able to leave class early on Election Day to vote. 
For Tuesday's event, the mission was to "get people psyched up," Lin says. They hoped to register several hundred people, but she acknowledged that, considering 75 percent of campus is already registered, efforts are as much about awareness, and helping those registered navigate any complexities surrounding their voting. 
Cory Bowman, associate director of the Netter Center, explains that his role is to follow the cues of the students, similar to organizations like the Office of Government and Community Affairs, the Fox Leadership Program, and the Andrew Goodman Foundation. He offers support by providing access to academic resources—at Penn and elsewhere—related to civic engagement, and offering a guiding hand.
"I think that colleges and universities have a tremendous opportunity—and responsibility—to support student civic engagement, including and not limited to voter engagement, based on the very substantial international research that voting is a habit," Bowman says. "That voting for the age of students on our campus has been going down, and that voting is necessary for a participatory democracy."
This year, he adds, was "the biggest National Voter Registration Day I'm aware of" on Penn's campus. He noted that Tuesday's event was the first time UA and GAPSA joined with politically affiliated groups and Penn Leads the Vote. He says other organizations are welcome to join in for future get-out-the-vote events and initiatives. 
Students in Houston Hall were particularly fired up after a rousing speech from Biden, introduced by President Amy Gutmann as a "powerful advocate for democracy." During an electric moment that silenced the room and perked up ears, he raised his tone to emphasize the importance of the election, and the need for engaged youth to not be discouraged by today's political climate, but to instead "fix it." 
"I heard from a friend that Joe Biden would be here, and I know he's been here before, but I thought it would be cool to hear from someone with so much experience and knowledge in general," says Tyler Williams, a freshman from South Orange, N.J., who showed up for the event and is registered to vote in New Jersey. 
Asked if he does, in fact, feel more fired up, he says, "Yeah," cracking a smile as if surprising himself. "I actually do."