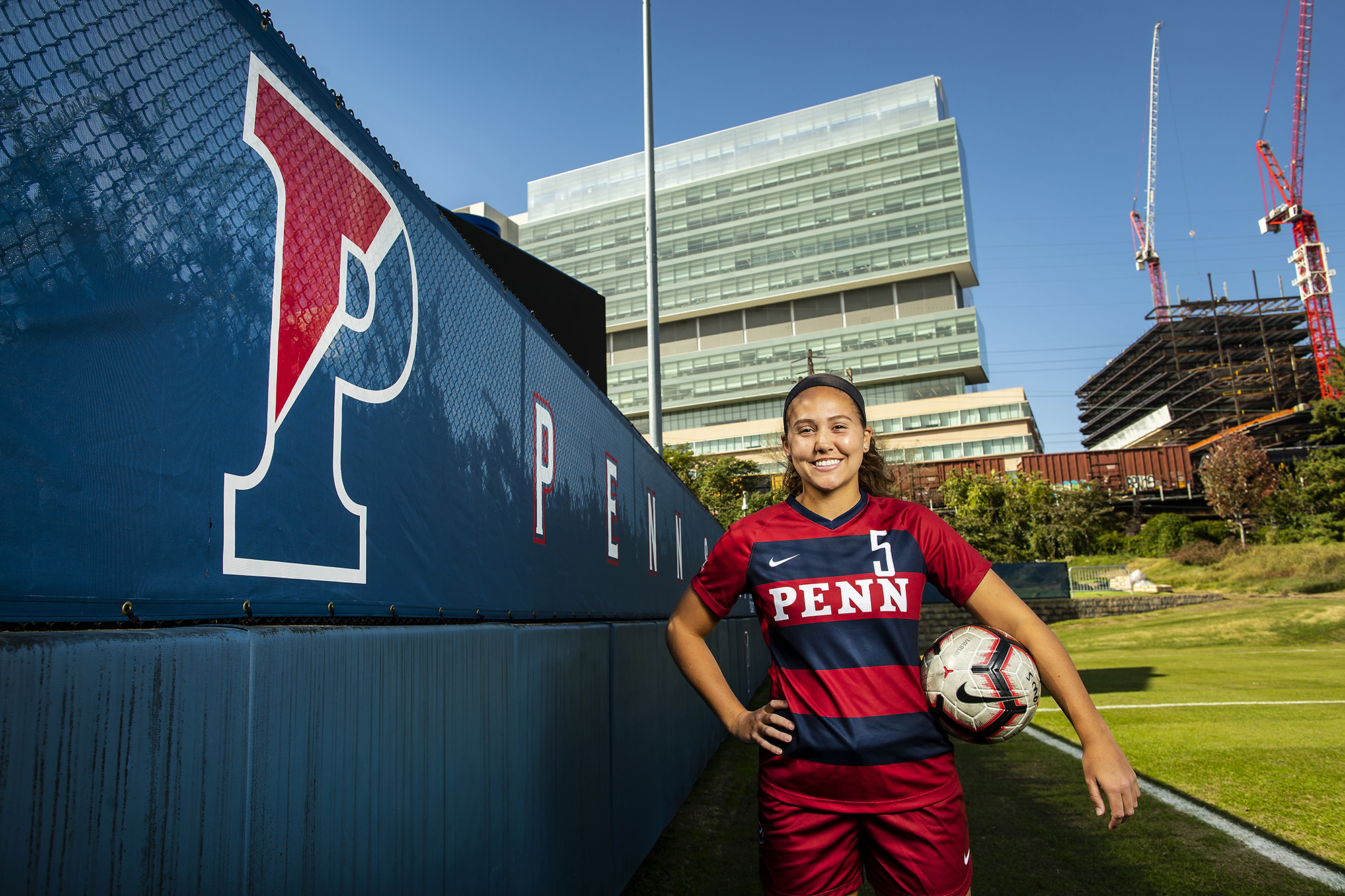 Super Sands: Seven times this season, forward Emily Sands, a junior from West Chester, Pa., scored a game-winning goal for the Ivy League co-champion women's soccer team. Sands, an economics major and Hispanic studies minor, led the 13-2-1 Quakers in goals (8), points (18), and game-winning goals, and was second in shots on goals (19). 
Hands-free: Since age 6, Sands has been playing soccer—which she says is late compared to some of her teammates. She says she enjoys the game because it is "super competitive" and a "complete sport." 
"You kind of need to be fast, and strong, and have endurance," she says. "It's also a skill to be able to use your feet and not your hands. Playing hand sports is more natural. In soccer, I like that you can do something completely unnatural."
American idols: Growing up, Sands was a fan of the U.S. women's national soccer team, particularly forward/midfielder Kristine Lilly who played for the national team from 1987-2010. "The '99ers were right after I was born so I kind of looked up them, and looked up to them as they retired and the birth of a new generation," she says. "I think that whole team were kind of like all my idols." Like Lilly, Sands wears No. 13. (She says she favors Lilly over Mia Hamm because she and Lilly played the same position.) 
League honor: Sands was named Ivy League Player of the Week twice this year, after scoring the game-winning goal in a 1-0 defeat of Columbia on Oct. 5, and after striking twice in a 2-1 win over Yale on Oct. 20. She also scored game-winning goals against Towson, Army West Point, Cornell, Navy, and Lehigh.
In-conference: The game-winning Ivy League goals, Sands says, are the most memorable. "All Ivy games mean so much," she says. "I think definitely the Columbia one [stands out] because we hadn't beaten Columbia since I've been here, and then also the Yale one because they had equalized on us and then we came back and scored again." The Quakers finished 5-1-1 in conference play.
Preparation meets opportunity: Both luck and skill are involved in game-winning goals, says Sands. "It's a little bit of both," she says. "I think being in the right spots is the skill part of it, and then the luck is the ball's coming to you and I'm in those right spots, so I think it's a mixture. But it's great that it's happening."