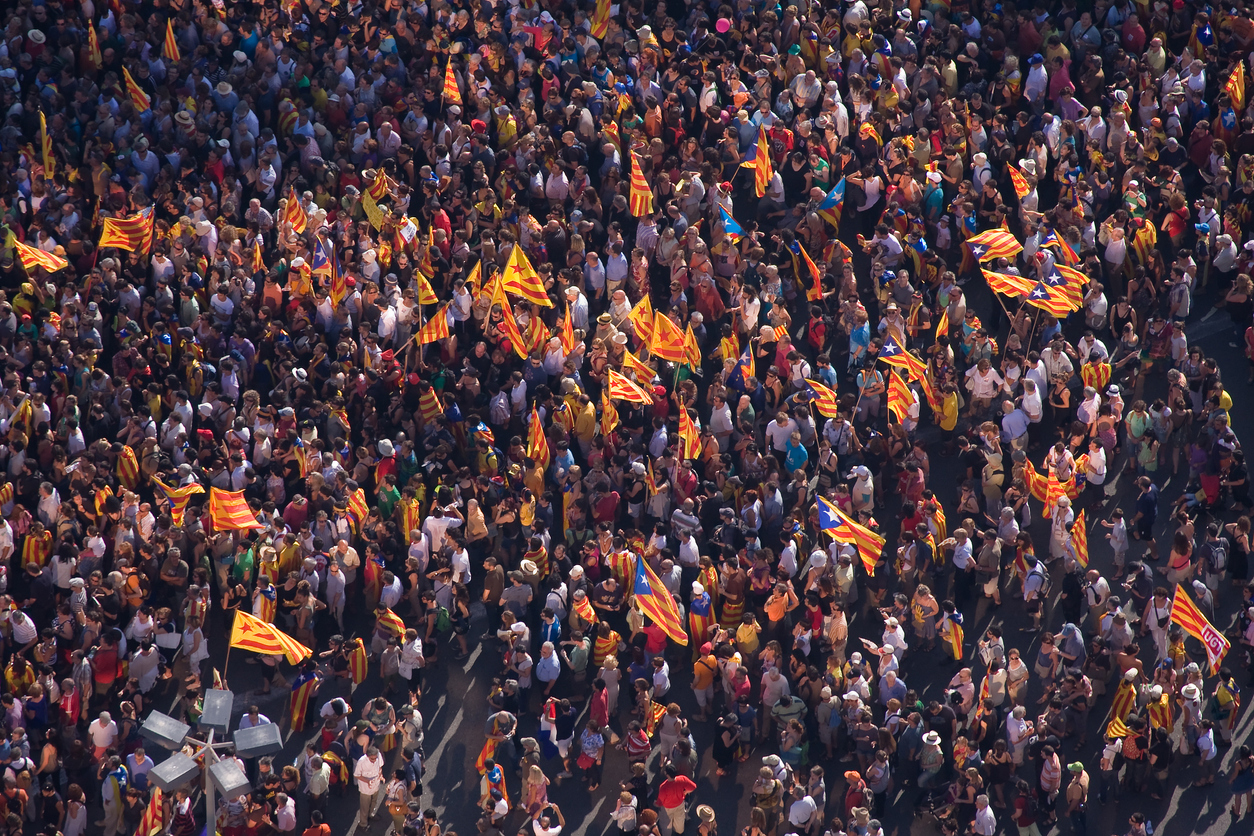 Barcelona erupted in chaos and violence in October after Spain's Supreme Court sentenced former leaders of Catalonia's independence movement to steep prison sentences. It stemmed from a failed attempt in October 2017 to declare Catalonia's independence from Spain, a move that the central government deemed illegal, and which led to the arrest of 12 separatist leaders. The former Catalan president fled and is in exile in Belgium.
Almost exactly two years later, on Oct. 14, those former leaders were sentenced, some to as many as 13 years in prison, and outrage bubbled over in Catalonia. More than half-a-million protesters took to the streets of Barcelona and to the city's airport, where hundreds of flights were canceled. Protesters put up barricades on streets and set them ablaze, and rioters destroyed cafes, banks, and stores while clashing with police. Officers responded with tear gas and rubber bullets. An estimated 600 people were injured in the weeklong riots, including more than 200 police officers.
Three Penn experts—historian Antonio Feros, political economist Mauro Guillén, and linguist and cultural historian Ignacio Javier López—share their thoughts with Penn Today on the court's ruling, the ensuing protests, and what it all could mean for the independence push and the upcoming national election on Nov. 10.
As for how the issue of Catalonian independence will be resolved, Feros, Guillén, and López agree that that much will depend on the elections, but it's unlikely to be settled any time soon. From Spain's point of view, they have done everything they can do as far as giving Catalonia autonomy. Without a clear majority in favor of independence, and with the difficulty of both sides finding a way to have a dialogue, the movement is at an impasse, they say.
'The problem has roots that are very difficult to untangle,' Feros says.
Antonio Feros is the Rose Family Endowed Term Professor of History in the Department of History in the School of Arts and Sciences at the University of Pennsylvania.
Mauro Guillén is the Dr. Felix Zandman Professor of International Management in the Wharton School at the University of Pennsylvania.
Ignacio Javier López is a professor and chair in the Department of Romance Languages in the School of Arts and Sciences at the University of Pennsylvania.