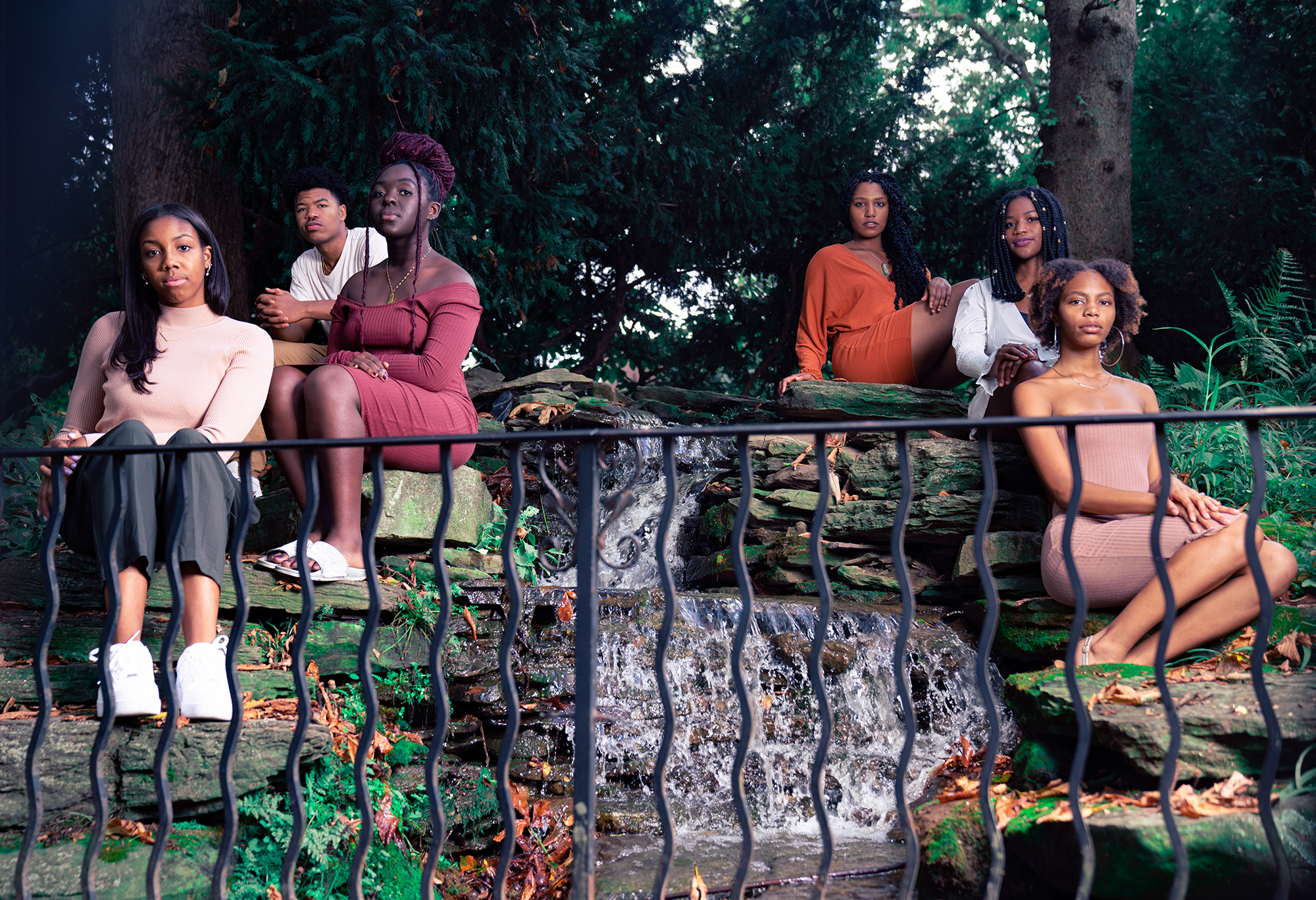 "You can't define Blackness," Hadja Diallo, a sophomore from the Bronx, New York, says. "It's not tangible, you can't touch it." Nevertheless, Diallo and Christine Olagun-Samuel of Paramus, New Jersey, worked to put this idea on paper in the inaugural issue of Faces of Black Penn (FACES), a print magazine compiled on behalf of the Black Student League (BSL).
They chose to profile a range of students and asked each about Black identity. For Julia Jones, a freshman from West Philadelphia, "Blackness is such a beautiful thing and a powerful thing. It's the lineage of resilience, honestly—just the ability to be able to exist." Yasmine Carter-McTavish of Lodi, New Jersey, a freshman nursing student, says, "If I had to reduce it to three words, I would say beauty, strength, and culture."
In addition to publishing the magazine, the BSL provides social mixers, discussions, and other programming for undergraduate students who identify as belonging to the African diaspora. FACES is the BSL's first publication, which was celebrated with a launch party.
As the BSL serves the larger diaspora rather than a specific school or geographic group, Diallo and Olagun-Samuel see the organization as a uniting force. "It's for every Black student," Diallo says. "We want to bring people together and fill in the gaps," adding that she was interested in collaborating with the larger community and other Black organizations on campus.
Founded in 1966 as the Society of Afro-American Students (SAAS), the original incarnation of the BSL was one of Penn's first civil rights organizations, working to combat racial inequalities while supporting Black students on campus. The SAAS changed their name to the Black Student League in 1971, organizing the Franklin Building Sit-In. The group continued to be politically involved until the umbrella organization UMOJA was created in 1998, when the BSL pivoted towards addressing the cultural and social needs of the Black community.
From Instagram to print
The magazine is part of an effort to address the social and cultural needs of the diasporic black community. Originally envisioned as a social media campaign to showcase the diversity of Blackness, the project morphed into a full-color online and print publication. At 8.5 x 8.5 inches, the publication retains the feel of an Instagram grid, with all photography by Penn students Harold Milton-Gorive, from Trenton, New Jersey—who takes pictures under the Instagram handle of @afrotheman—and Biruktawit Tibebe, from Arlington, Virginia, taken at the BioPond. The images are rich, understated, and subdued, with the vibe of casual elegance. Students were asked to wear earth tones, which refers back to the BSL's theme of "Roots" for the 2019-2020 academic year. "Even though we have all these different interests, backgrounds, and perspectives," Olagun-Samuel says, "we were exploring the greater idea of being rooted in your Blackness."
The 11 students profiled include individuals across schools, graduation years, fields of study, and special interests. "We wanted to showcase the accomplishments and talent of Black students," Olagun-Samuel says. These students include Niko Simpkins, a junior in the School of Engineering and Applied Science from Chattanooga, Tennessee, who manages his own music career while rapping as NiSPLASH, and senior Nikki Thomas, an Africana studies major in the School of Arts and Sciences from Sicklerville, New Jersey, who is also beginning her master's degree in the Graduate School of Education. Thomas serves as a mentor at Makuu, helping high school students with their college transitions. "It's a lot to hold because there are certain things they depend on me for and I have to come through," she says. She highlights the responsibilities that Black Penn students take on. "We flex too much," Thomas says, "and I'm guilty of it, too."
McKayla Warwick, a senior from Lynchburg, Virginia, agrees. Warwick, who is majoring in sociology with a minor in Africana studies and urban education, says, "There are not enough Black students on this campus for the amount of work we need to get done. Every Black person that I know on this campus is involved in so much, trying to make institutional changes. It's so much work and pressure that we are putting on ourselves so that by the time we become seniors, many of us are burned out." This work includes fighting against discriminatory practices, restituting historical injustices to the West Philadelphia community, and advocating for the recruitment of black faculty and students. As of Fall 2019, 7.8% of undergraduates identify as African American or Black and 3.2% identify as two or more races/ethnicities, one of which is African American or Black, according to Laura Velasco of Institutional Research and Analysis.
Warwick uses her Black identity to identify systemic inequality, as a "framework to be able to look at the world and recognize things that need to change and how those changes need to happen." Warwick also highlights the sense of community experienced on campus. "It's truly a blessing to be able to meet Black people and have a sense of a shared experience," she says.
Tamia Harvey-Martin, a College freshman from Bensalem, Pennsylvania, was surprised by warmth she felt from other Black students at Penn. "When I walk down Locust Walk and see a fellow peer of the same color, I smile, and they smile back," she says. Diallo affirms this. "Even though we don't have that large physical space, the Black community stretches across so many areas." Black students work to support one another and build networks, Diallo says. "We don't want to leave anyone behind, and we want to uplift one another."
The magazine is capped by a section Diallo and Olagun-Samuel refer to as "the Black pages," with listings for student experts in hair, makeup, and photography. "It's a starting place to document the services and talents in our community," Olagun-Samuel says. "Faces of Black Penn isn't just a magazine at this point, it's a campaign to showcase the successes of the black community and also bring us together."
'Expanding the Black experience on campus'
The 110 tickets to the launch party were all sold or claimed two days prior to the event, according to Olagun-Samuel, who called the party "a complete success." Next school year, BSL plans to start work on the publication earlier, doubling both the magazine's length and launch party attendance. Students applied to be featured in the publication and Diallo hopes to see more submissions in the next edition, especially from men and nonbinary students (all students identify as female save Simpkins). They expect that FACES will turn into an annual publication, with alumni features and ad space from Black-owned businesses. "It was great to see it all come together, the magazine, the performances and especially the students," Olagun-Samuel says.
Diallo feels it's important to have spaces for Black students, adding that the BSL has "certain goals in mind for expanding the Black experience on campus." One of those goals is to host a gala during Black History Month in February. "I want to have people know that we can do this," Diallo says. "Sometimes you might not think it's possible until you see it."
Diallo wants students to be ambitious about what they can accomplish on campus and beyond. "If you are determined, you can get it done," she says. Olagun-Samuel won't be around to work on the second issue, as she graduates in May with a degree in health & societies, but she's come to terms with this. "A lot of people are starting something here on campus that they won't be around to finish," she says. "We're talking about the legacy we're creating here as students."
Homepage photo: The Black Student League (BSL) was founded as the Society of Afro-American Students in 1966. Since then, it has evolved to meet the needs of a younger generation of students. FACES, the BSL's first publication, showcases the diversity of Penn's Black community. 
Photos by @afrotheman