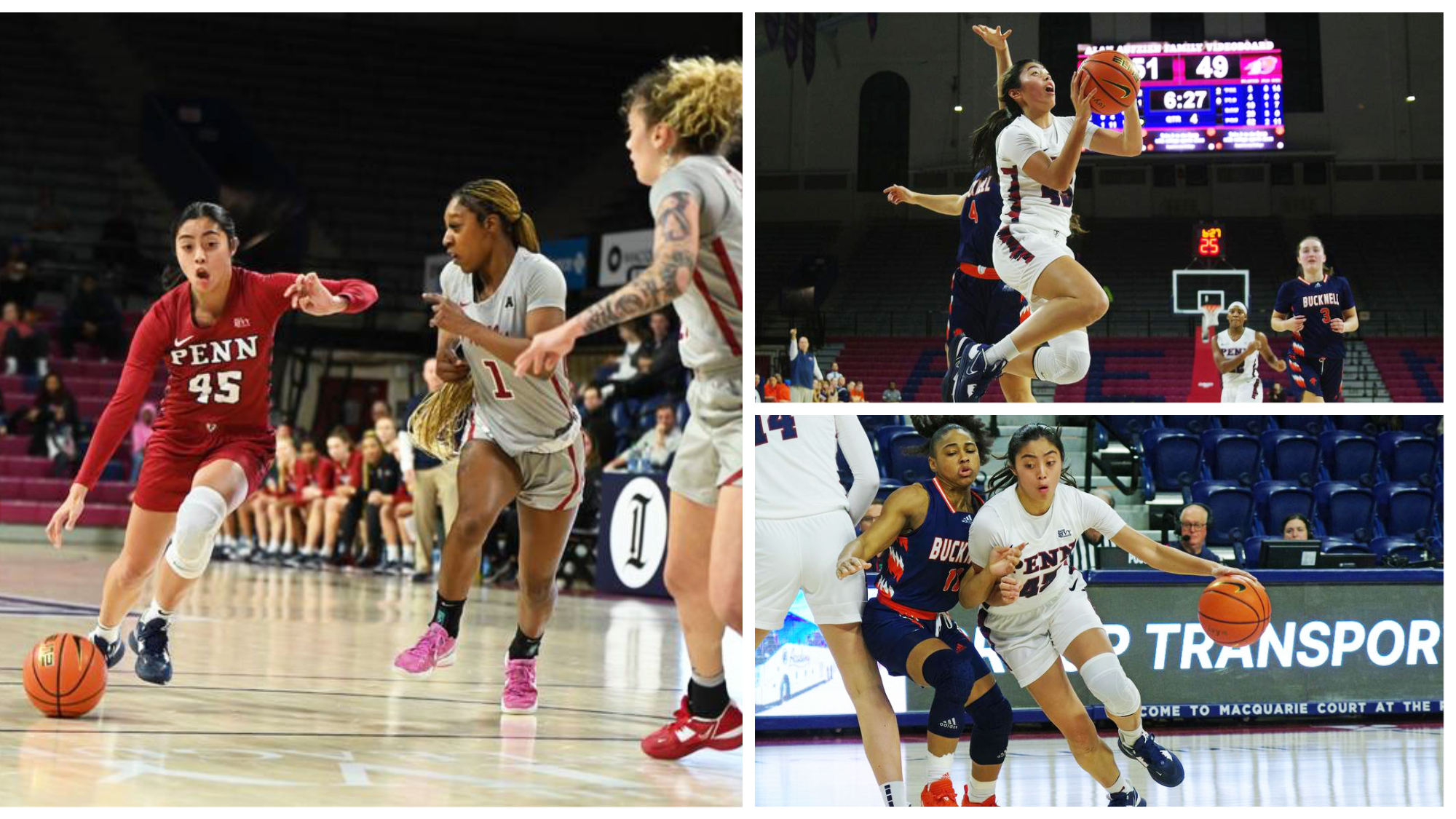 For the fourth time in her Penn career, fourth-year guard Kayla Padilla of the women's basketball team has been named Big 5 Player of the Week.
Padilla averaged 21 points, 4.3 rebounds, and 4.0 assists in the Quakers' three wins over Bucknell, St. Francis, and Temple. She shot .460 from the field and .470 from three-point range.
Versus Bucknell on Dec. 6 at the Palestra, she had 15 points, eight rebounds, three assists, and one steal in the Red & Blue's 68-62 overtime win. She played 42 minutes and shot 6-17 from the field and 3-9 from behind the arc.
Back at it two days later against St. Francis Brooklyn at the Palestra, she scored 20 points in Penn's 78-44 triumph. In 28 minutes, she shot 7-12 from the field and 6-10 from the three-point line; she also had two rebounds and five assists.
The Quakers and the Owls played a classic, old-school Big 5 game on Dec. 11 at the Palestra. Padilla scored the game-winning bucket with six seconds left in the Red & Blue's 62-61 victory. She had a game-high 28 points, including the 1,000th point of her Penn career, and shot 10-21 from the field, 6-13 from behind the arc, and 2-2 from the foul line. She added three rebounds, four assists, and one steal.
 
From Torrance, California, Padilla is averaging 15.6 points per game, fourth-best in the Ivy League. She leads the conference in minutes per game (37.3) and ranks fifth in assists (3.6 per game) and assist-to-turnover ratio (1.5). Her minutes per game are eighth-highest in the country.
 
Padilla scored her 1,000th point in her 58th game, the third-fastest in school history behind Diana Caramanico (48 games) and Mandy West (52 games).