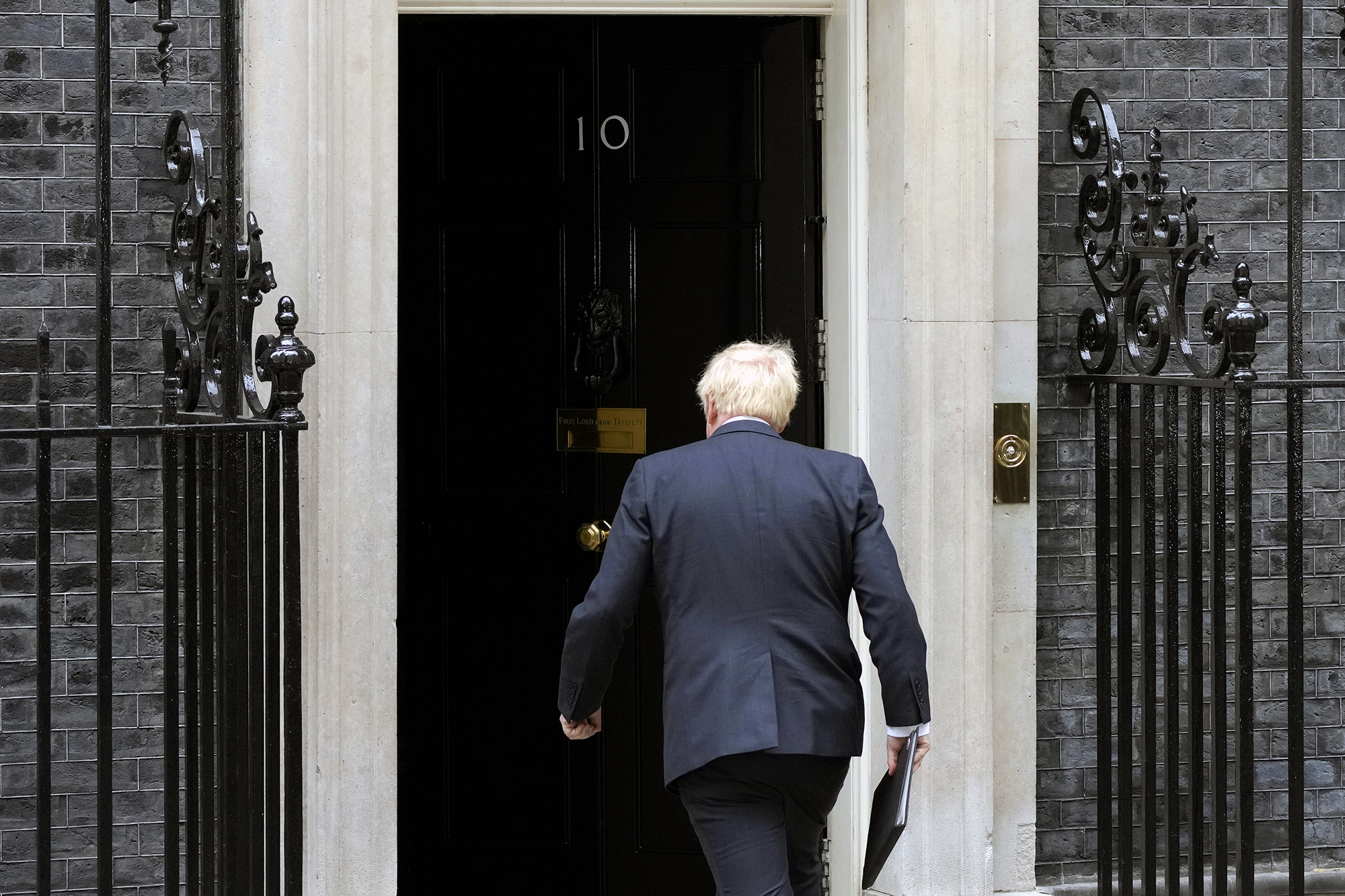 The U.K.'s Prime Minister Boris Johnson has resigned as head of the Conservative Party and said he will step down, following a series of scandals and a slew of cabinet resignations. For some Americans, his downfall seems quick and somewhat baffling.
Penn Today spoke with political scientist Brendan O'Leary, an expert on U.K. politics, about what led to this moment, what might be next, and what it all means for the future of the U.K.
What led to this moment in which Johnson was forced to resign? Did it catch anyone off guard?
Very briefly, he lied, and he had it coming.
The immediate cause of his downfall was yet more lies by Johnson and his immediate personal advisory team at No. 10 Downing Street. Jointly they had lied about Johnson's foreknowledge of complaints about an admitted sexual predator whom Johnson had made his deputy chief whip: Christopher Pincher. Johnson's spokesman initially denied knowledge of Pincher's past conduct; then knowledge of a specific allegation was denied; and later knowledge of a serious specific allegation.
Lord Simon McDonald, a former diplomat, wrote a public letter to the Committee on Standards in Public Life and went on the BBC. He affirmed that Johnson had been fully informed of Pincher's alleged predatory behavior in Johnson's previous job as foreign secretary, and that a formal complaint had been made.
This unfolding scandal precipitated two cabinet resignations, including the chancellor, the most senior person in the cabinet after the prime minister. An avalanche of resignations followed among junior ministers and parliamentary private secretaries, and the record for resignations per day was soon surpassed.
Keir Starmer, the leader of the opposition Labour Party, skewered Johnson at Prime Minister's Questions on Wednesday, July 6, taking him apart with prosecutorial gravitas. Johnson seemed mildly embarrassed but not contrite and retained his usual bombastic self-confidence.
His downfall proved protracted because Johnson tried to hang onto office even after a delegation from his cabinet, including his new chancellor, sought to persuade him to resign with dignity. Johnson does not do dignity. Never has.
The person caught off-guard was Johnson. He had recently survived a vote of confidence in which over 40% of his parliamentary party had voted against him because he had lied to parliament about parties held at No. 10 Downing Street during lockdown, when the British public were being discouraged or disallowed from seeing their loved ones on their hospital deathbeds. Johnson apologized though no one saw any contrition.
So, he had been living on borrowed time. What concentrated Tory MPs' minds was not a sudden renewal of respect for truth, integrity, and standards in public life. What happened were two devastating by-election results—what we call 'special elections' in the U.S.—won respectively by Labour in the north of England, and by the Liberal Democrats in the south. These were held shortly after the 'partygate' scandals in which Johnson had eventually been fined for a criminal offence by the London metropolitan police—the first U.K. prime minister to have paid such a fine. One of the by-elections saw the overturning of the largest percentage majority in the history of the Conservatives. The electoral writing was on the wall unless the MPs moved against their leader.
The previous Conservative argument for continuing with Johnson had been: 'Yes, we know he is a liar, a rogue, and a charlatan and a constant source of scandals, sleaze, and interactions with dubious Russians, but he is an electoral asset. Our public likes him.' That is the English public, as Johnson is loathed in much of Scotland, Wales, and Northern Ireland. The variant argument was that he gets the big things right, an unintentionally comedic remark.
After the by-elections the electoral asset argument was a busted flush. Any further misstep, and the knives would be out. Pincher was accused of groping yet again at the Carlton Club, and Team Johnson acted as they have usually done. That is why we have had the Ides of July rather than of March. The Tory Party is ruthless with leaders it expects to lose future elections.
What are the next steps in selecting the new prime minister?
In the U.K., the party leader who commands a majority in the House of Commons is invited to be prime minister. Johnson has resigned as the Conservative Party leader but not as prime minister. He has said he will resign as prime minister when there is a new party leader. He appears intent on staying until August or October. Some Conservatives want him to resign as prime minister as well and want the deputy prime minister to replace him until the successor is chosen. That may happen, but it is not yet clear. One rumor is that Johnson and his wife want to stay on to celebrate their wedding reception at one of the prime minister's residences. The wedding took place during lockdown, but the reception was postponed.
The Conservatives are likely to have a serious multi-person leadership contest because there is no obvious successor to Johnson. Under their system, the parliamentary party first reduces the number of candidates to two, and then the party members decide among these two frontrunners. The process could take months. The parliamentary party proceeds by exhaustive elimination. A ballot is held if there are more than three candidates, and the last-placed candidate is eliminated. The process continues until two candidates remain. There can therefore be several rounds of balloting. Party elders will likely want to minimize the political bloodletting and seek a quick resolution.
What does this mean for Johnson's brand of politics and style of leadership?
It would be nice to conclude that consummate liars eventually get their comeuppance, that fraudsters are exposed, and that salutary lessons are learned by mass publics, tabloid mass media, and, above all by voters. I hope that turns out to be true.
Johnson is intimately associated with Brexit. More than any other individual he decided the outcome of the 2016 referendum on European Union membership. Had he campaigned for 'remain' then 'leave' would have lost. We know—because he wrote two letters—that he chose to support leave as his best route to becoming leader of the Conservative Party. He later locked Great Britain into a hard exit from the EU by leading the charge to destroy former Prime Minister Theresa May's soft compromises. The question now is whether any of his successors have the courage to tell the Conservative parliamentary party, its activists, and the public, that Brexit is—and will remain—a slow-moving catastrophe. It seems unlikely.
What do the types of candidates for prime minister who are emerging as possible contenders show us about where the U.K. goes from here?
We don't yet know the full field, but, interestingly, we can divide the plausible candidates by ethnic origins.
Four British Asians may be running: Rishi Sunak, Sajid Javid, Nadhim Zahawi, and Suella Braverman. Sunak, a previous frontrunner, may have had his candidacy damaged because Johnson's team revealed Sunak's wife's non-domiciled status. Because she's an exceedingly rich heiress it damaged him that she was paying no British taxes. Javid is a former banker who resigned as chancellor when Johnson's team attacked Javid's own advisors. Zahawi is a very bright Kurd from Iraq, who co-founded YouGov. He took the chancellorship from Johnson and then within hours encouraged him to resign, so he has hutzpah. Are the MPs and their party activists willing to embrace a British Asian prime minister? We will find out. The men would seek to avoid a trade war with the European Union; Braverman, a fanatical Brexiteer, might want to cause one.
Then we have the English candidates. Liz Truss is a careerist, a 'remainer' turned 'leaver,' transparently ambitious. She will run as 'Margaret Thatcher returned from the grave.' Ben Wallace, the current defense secretary, has supported the liberation of Ukraine from Russian aggression, but he has been a Johnson loyalist from way back when. He would therefore not be a fresh start, though he's liked among the party activists. Jeremy Hunt, a former health secretary, ran against Johnson last time and lost. He was a keen remainer, but would not, I think, have the courage to run on a return-to-Europe platform. Tom Tugendhat, who holds dual nationality (his other citizenship is French), may run from outside the cabinet. A consistent critic of Johnson, he has a record of military service and is scandal-free. Penny Mordaunt is another possible candidate from within the cabinet who has held multiple ministries. A leaver, sharp-tongued, and very bright, she may be the candidate for those who like their politicians to look like actors.
There may yet be other English candidates, but, tellingly, there is no plausible Scot, Welsh, Irish, or Northern English candidate for the leadership of what is now manifestly the party of southern English nationalism.
What does this mean for the future of the U.K., Brexit, and Irish unification?
We don't yet know. Whoever wins inherits an economic downturn, deeply aggravated by leaving the European Union. They must repair relations with Ireland to avoid a trade war with the European Union. U.K. legislation currently going through parliament to amend the Protocol on Ireland/Northern Ireland violates international law. It is based squarely on lies told by Braverman, Truss, and Johnson but went through the cabinet.
Johnson did not get Brexit done. It is a continuing wound, a senseless collective act of self-harm which he encouraged; indeed, he directed the cutting. The new leader will have to do some serious triage, while attempting to bridge the gap between the rustbelt concentrated in the north of England and the more prosperous south. Johnson's ability to do so may have been a one-off. He promised 'levelling up,' though there's not much sign of that.
Whether the Conservatives can resist a second referendum on Scotland's independence remains to be seen. As for Irish reunification, may I recommend a book being published in September?
Brendan O'Leary is the Lauder Professor of Political Science in the School of Arts & Sciences at the University of Pennsylvania. His latest book, "Making Sense of Irish Reunification," will be published on Sept. 1.