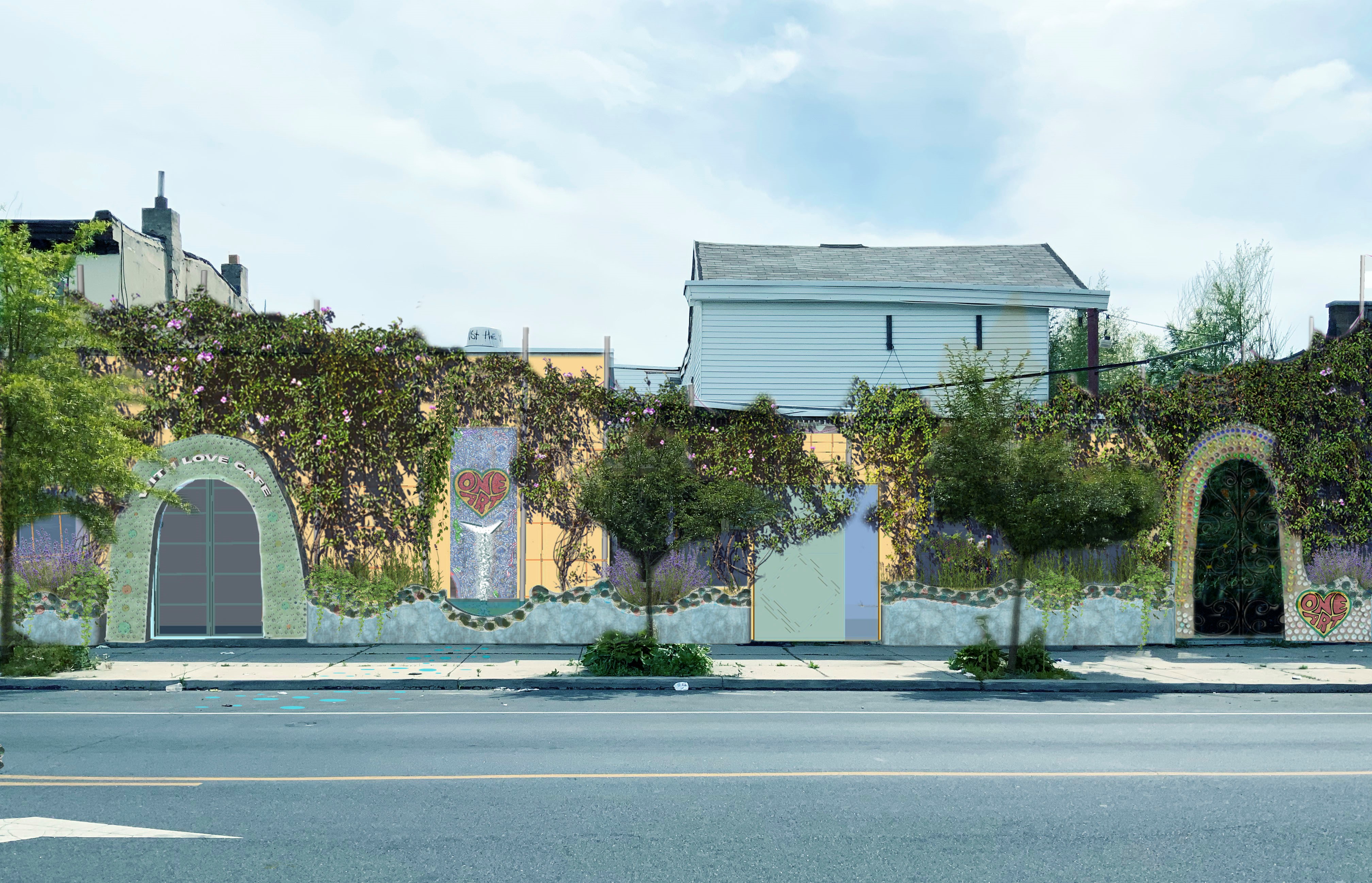 This summer, Alice Cochrane, a rising junior majoring in architecture from Harare, Zimbabwe, completed a summer internship with One Art, an "urban eco arts village" and community center. While the internship, hosted by Penn's Summer Humanities Internship program (SHIP), looked different than in years past due to the continued need for social distancing, Cochrane and One Art's co-director, Malaika Gilpin, used the opportunity to envision a new design for the center's façade, one that brings the healing green spaces of One Art out onto the streets of West Philadelphia. 
One Art, currently in its third year of participating in SHIP, is a Black- and brown-owned-and-operated organization whose goal is to provide a safe and inspirational space for arts, educational, and cultural programs. Along with serving as a community hub for events and activities, the One Art Oasis also provides the community with access to green spaces as part of its urban farm, along with programming focused on sustainability, organic farming, waste reduction, and building with recycled materials. "Having places where you can make your dreams come true, and providing accessibility to music and art, is so important," says Gilpin, "especially because we know not everybody can go out to the country to get that inspiration."
With an interest in connecting art with urban sustainability and environmental issues, Cochrane was excited to work with One Art. As the pandemic changed the nature of the internship from hands-on to remote work, the shift also allowed Cochrane to put her skills as an architecture major to good use. "We adapted quite quickly, and Malaika pulled me into all the virtual projects, saying that if you can't be a part of building it you can still be a part of visualizing it," says Cochrane.
Shortly after Cochrane started her internship, One Art entered into a partnership with Bio Philly, a design network that promotes connections between human health and the availability of nature in urban areas. "We realized that now is the time," Gilpin says about the partnership. "The biophilic movement is about the healing that comes from incorporating nature into architecture. One of the beautiful things about One Art is that people say it's like a magical space, a healing space, and a big part of our mission is to bring that healing to our community."
Using knowledge gained from her coursework, Cochrane collaborated with architects at Bio Philly to envision and redesign the street-facing façade of One Art. The goal was to bring the healing aspects of the urban oasis to the street level, allowing people to enjoy the benefits of One Art's space through street-side vertical gardens and water features. "It was perfect that Alice came on board when she did," says Gilpin. "She's incredibly creative, and she has been able to bring some of our dreams to life. The design is beautiful, it's sensitive, and it's got all of the elements that I was hoping for." Now, with newly rendered designs in hand, One Art can begin fundraising for the project.
Working with architects from Bio Philly and connecting with female architects in the city were added benefits of the SHIP experience for Cochrane. "It ended up being a very design-based internship," she says. "The experience really opened up a new world for me of environmental design, sustainable development, and environmental and biophilic design."
In addition to working with One Art, Cochrane also participated in an international design competition to create contactless public restrooms. Cochrane's spiral design incorporated elements of ventilated improved pit latrines originally developed in Zimbabwe, with separated entrances and exits as well as knee-activated water and soap dispensers. It's work like this, along with her efforts to bring healing green spaces to the streets of West Philadelphia, that highlights the role that architects can play during a pandemic. "I think it's architecture's responsibility to create gathering spaces that are responsible, safe, and that allow us to have human interaction," she says. 
Cochrane is looking forward to visiting One Art in the coming months and says that cultural centers like this one are crucial to keep the human spirit going during the pandemic. "One Art is this sanctuary, an oasis in a cityscape, and I can't wait to visit," she says about looking forward to spending time in West Philadelphia's urban oasis and finally getting to meet members of the One Art community in person. 
Penn's Summer Humanities Internship Program, coordinated through the Center for Undergraduate Research and Fellowships, provides a $4,500 stipend to students and is supported by the College of Arts & Sciences.