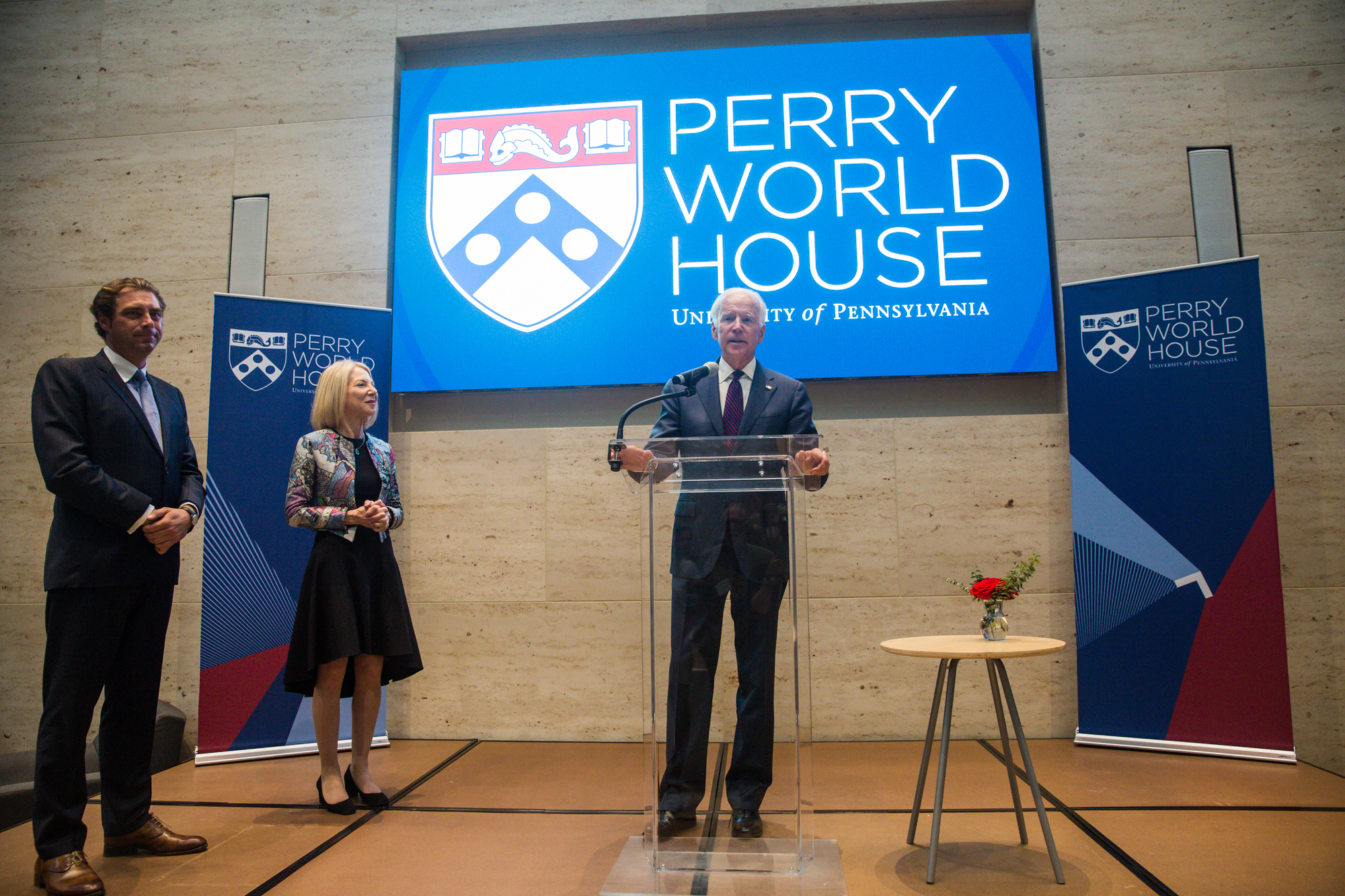 Former U.S. National Security Advisors H.R. McMaster and Susan Rice will be the headline speakers at a two-day Perry World House colloquium in September. As part of the conference, former Deputy Prime Minister of the United Kingdom, Nick Clegg, will participate in the Penn Biden Leaders Dialogue. 
The public portion of the conference, "Competing Visions of the Global Order," will be held on Tuesday, Sept. 25, at Perry World House on Locust Walk. Registration is free and open to the public, with required tickets available starting at 10 a.m. on Wednesday, Sept. 5. The event will be livestreamed. 
The event will be the first time that McMaster, who served under Donald Trump, and Rice, who served under Barack Obama, have spoken in a back-to-back setting, says William Burke-White, director of Perry World House. 
"The choice is reflective to our commitment to examining the role of the United States in the world and international environment from all sides," Burke-White says. "These discussions will be moderated by top-notch journalists, who I think will bring a refreshing take and help us really dig deep into national security policy." 
Tuesday afternoon's panels will begin with a keynote conversation by Rice, who served as U.S. national security advisor from 2013 to 2017 and as U.S. ambassador to the United Nations from 2009 to 2013. The moderator will be Ed Luce, Washington columnist and commentator for the Financial Times. 
In the following panel, Penn President Amy Gutmann will introduce McMaster, who served as U.S. national security advisor from February 2017 to March 2018, and is a retired Army lieutenant general. The moderator will be Lara Logan, a correspondent on the CBS news magazine "60 Minutes." 
To close out the day, Joe Biden, 47th Vice President of the United States,  and Clegg, who served as the U.K.'s deputy prime minister from 2010 to 2015, will hold a public conversation on pressing global issues, from Russian interference in Western democracies to the future of the U.S.-U.K. relationship. Biden is the Benjamin Franklin Presidential Practice Professor at Penn, and he leads the Penn Biden Center for Diplomacy & Global Engagement, in Washington, D.C. 
"The Penn Biden Leaders Dialogue is a unique opportunity for students to hear lessons and insights directly from those who know what it means to shape policy at the highest level," says Tony Blinken, managing director of the Penn Biden Center. "Vice President Biden is pleased to bring former Deputy Prime Minister Clegg to Penn for a discussion that reaffirms the importance of our special relationship in the face of historic global challenges."
This is the second year the Penn Biden Leaders Dialogue will occur as part of the colloquium, and the second anniversary of the opening of Perry World House. Last year Biden spoke with Felipe Calderón, former president of Mexico.
Calderón will be featured this year as well, as part of a panel Tuesday morning on "National Visions," moderated by Deborah Amos, National Public Radio's international correspondent. Also on the panel will be Catherine Ashton, former high representative of the European Union for foreign affairs and security policy; Aaron Friedberg, Princeton University professor of politics and international affairs; and Richard Verma, U.S. ambassador to India, from 2015 to 2017. 
Academic panels focusing on global transitions—power, economic, cultural, legal, and institutional—will be held on Monday, Sept. 24, as part of the conference. It will be attended by select faculty and post-doctoral students.
Prior to the colloquium, on Sept. 7, Perry World House will convene two roundtables at the Penn Wharton China Center in Beijing to review how long-term objectives by China and the U.S. for the international order differ, and how each nation is pursuing its vision. A report on the discussion will be prepared to inform discussions during the Penn conference. 
Perry World House hosts global colloquiums in the spring and fall designed to bring together world leaders and academics to discuss large issues of the day. 
The events advance two main goals of the Perry World House, Burke-White says. "The first is to transform the culture of Penn by elevating conversations and engagement around global policy issues here on campus," he says. "The second is to bring Penn's academic knowledge to bear on solving big global policy challenges." 
Throughout the year, the Perry World House brings world leaders to campus to speak and to work directly with faculty and students. In fact, McMaster, Rice, and Calderón will be among nine Perry World House Visiting Fellows coming to campus this academic year. 
"Penn is becoming a place where the most important policy thinkers of the moment routinely come to campus and talk with students and faculty," Burke-White says, "bringing the academic work being done across Penn's 12 schools to bear where it is most urgently needed."