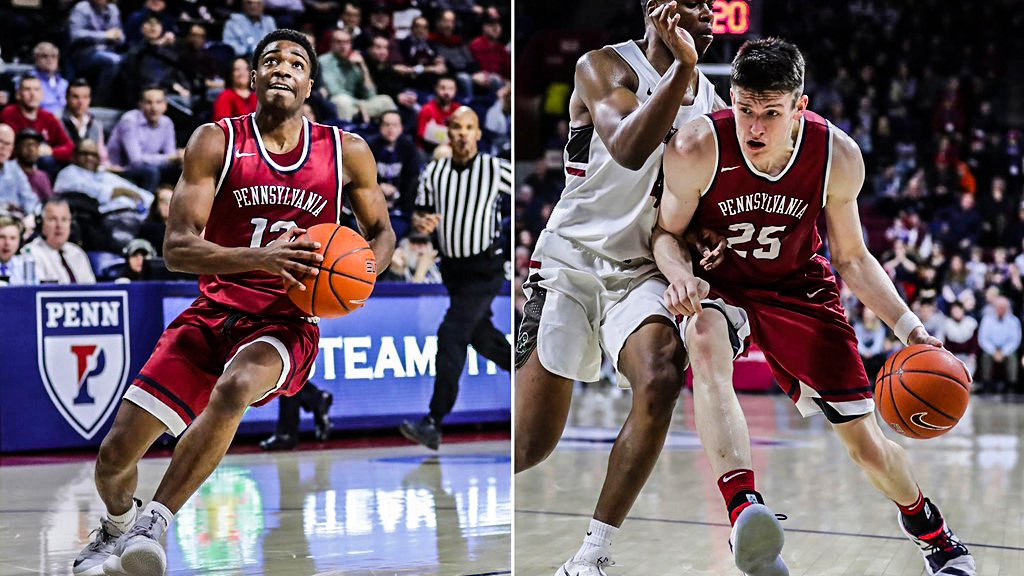 Juniors A.J. Brodeur and Devon Goodman of the men's basketball team have both been acknowledged by the conference as All-Ivy honorees.
Brodeur, a forward, is a unanimous selection for the second consecutive year. He leads the Quakers in scoring (17.4), rebounding (8.2), field goal percentage (.530), assists (111), and blocks (41). He ranks second in the Ivy League in scoring, third in rebounding, first in field goal percentage, second in assists, sixth in blocks, and fifth in assist-to-turnover ratio.
The Northborough, Massachusetts, native amassed a team-high nine double-doubles this season and scored in double figures in 28 games of Penn's 30 games. He is steadily moving up the Red & Blue's all-time scoring and blocks lists. His 1,340 points place him 16th in school history and his 148 blocks are second of all-time. 
A guard from Laverock, Pennsylvania, Goodman is a Second-Team All-Ivy selection. He is the second-leading scorer on the team, averaging 14.0 points per game, up from 3.8 points per game last season. He also plays a team-high 35.4 minutes per game, has swiped a team-high 51 steals, shoots 48 percent from the field, and 38 percent from behind the arc.
Goodman is first in the conference in steals, second in minutes, sixth in scoring, and fifth in field goal percentage.