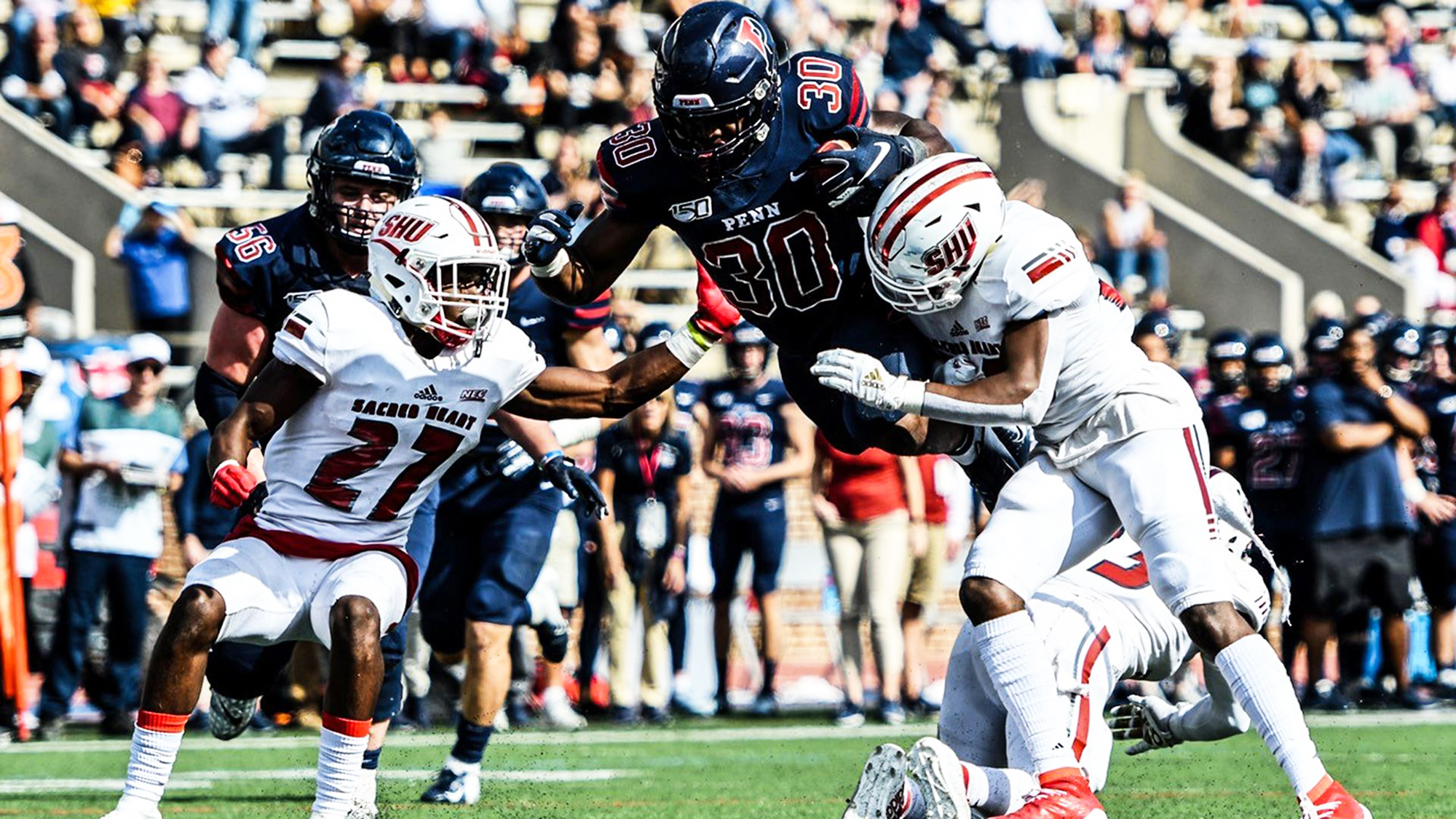 Just call him Al Bundy.
On Saturday, senior running back and co-captain Karekin Brooks scored four touchdowns in Penn's 38-24 victory over Sacred Heart at Franklin Field—three on the ground and one through the air. 
The first came at the tail end of the Quakers' eight-play, 75-yard opening drive. His one-yard run gave the Red & Blue a 7-0 lead.
A shanked, 15-yard punt by the Pioneers gave the Quakers the ball at the Sacred Heart 35-yard line. Eight plays later, Brooks entered the end zone for the second time, from one yard out. Penn was up 14-0 after the first quarter.
A 43-yard field goal by junior kicker David Perkins in the second quarter upped the Red & Blue's advantage to 17-0. Sacred Heart scored its first points of the game, a 30-yard field goal, on the ensuing drive to make it a 17-3 game.
Brooks' third TD of the game came on a 17-yard reception from senior quarterback Nick Robinson. The Quakers covered 75 yards on the scoring drive in only 1:33 to take a 24-3 lead. 
Sacred Heart scored on a 29-yard touchdown pass before halftime. Penn led 24-10 at the break.
 The Pioneers cut the lead to seven in the third quarter after the Quakers fumbled a snap near their own goal line. Sacred Heart recovered the ball in the end zone for the touchdown.
In the fourth, Robinson threw an 11-yard touchdown pass to sophomore wide receiver Rory Starkey, Jr., which gave Penn some breathing room at 31-17. 
On the next drive, Sacred Heart got within seven again via a 74-yard touchdown pass that cut Penn's lead to 31-24.
Penn then embarked on a 13-play, 75-yard drive, which took 4:19 and culminated in Brooks' fourth score, a two-yard run that made it a 38-24 contest.
Senior defensive back Sam Philippi picked off a pass with 2:25 left in the game to seal the win.
On top of his four touchdowns, Brooks had 28 rushes for 178 yards and two receptions for 24 yards.
Robinson was 21-43 for 267 yards and two touchdowns. Starkey caught eight passes for 129 yards and a score. Sophomore outside linebacker Adam Conyer had a team-high nine tackles (seven solo) and also had an interception.
In New York City this Saturday, the 2-2 Quakers clash with Columbia.