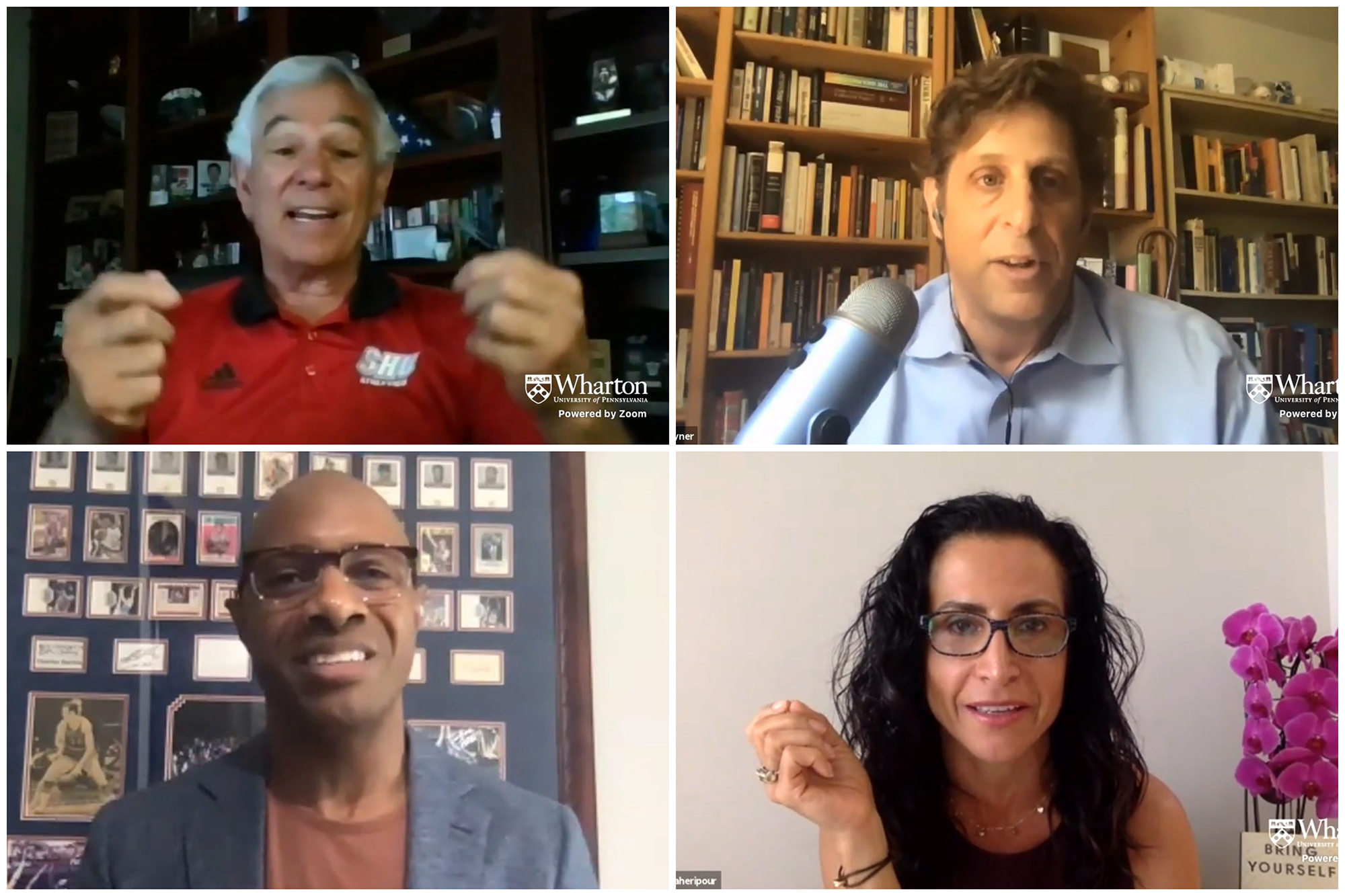 The Major League Baseball Players' Association and league owners agreed to a deal on health and safety protocols due to the COVID-19 pandemic on June 23, ensuring there will most likely be a 60-game MLB regular season. If everything goes as planned, fans will be hearing the crack of the bat as early as July 24. But those sounds will be echoing in empty ballparks around the country and Canada.  
Sports, for at least the next foreseeable future, will be a distraction enjoyed via television, radio, and the internet as leagues move to secure central sites to resume or commence their seasons.
A live panel discussion hosted on the Wharton School's LinkedIn and Twitter accounts Wednesday focused on the future of sports in a post-pandemic world, as panelists discussed the challenges and new opportunities sports business leaders will face as they navigate a new world of "sports without fans."
"Right now, we are all suffering and missing our favorite sports," says Adi Wyner, professor of statistics and faculty lead of the Wharton Sports Analytics and Business Initiative. "It is almost midsummer and not a single baseball game has been played, which is a personal devastation to me and those who potentially run their summers around baseball."
While professional wrestling and golf are still playing, other sports were curtailed. Big Four sports—which include baseball, football, basketball, and hockey—have plans of commencing or returning with expanded structure and rule changes due to the pandemic.
The National Basketball Association's plan includes having a 22-team format played in Orlando, Florida, beginning on July 30, and then a 16-team playoff.
The National Hockey League is also planning on returning July 30 and expecting to conclude with a round robin of a 24-team playoff format.
As of June 25, the National Football League has no plans to change their starting times in September and training camps in late July, although they did cancel the Hall of Fame game.
There's also a big question mark on college sports and whether there will be students in attendance, as many campuses across the country decide their return plans.
As spectator sports begin their slow, tentative emergence from the COVID-19 shutdown, fans, however, eager to take in a game, will not be in stadiums, arenas, or other venues as part of social distancing efforts to curb the spread of the coronavirus.
The hourlong panel discussing this topic was moderated by Wyner; with panelists Bobby Valentine, former major league manager and executive director of Intercollegiate Athletics at Sacred Heart University; Jay Williams, entrepreneur and ESPN personality; and Mori Taheripour, lecturer in the Legal Studies and Business Ethics Department at Wharton and author of "Bring Yourself: How to Harness the Power of Connection to Negotiate Fearlessly."
Wyner says most people can understand there are terrible consequences to playing without fans for both the players and spectators. So, while the overall the sentiment is negative, he asked the panelists for some positive aspects of the business of sports without fans.
"I am imagining that the words from the coaches to the players will be audible to the fans on TV, and that is going to be transformative," says Williams. "And, of course, what the players say to each other during the game is something that fans did not have a chance to hear before, and I am looking forward to having that audible. Providing a lens into that world is going to be very intriguing."
Taheripour feels having that extra audio can bring a bit of intimacy to the games.
"As a fan you can feel that much closer to the game," she says. "You can hear the players talking to each other. You can hear the coaches speaking to the players. We saw a glimpse of that already in XFL's very short-lived season, and it was very fun to have insight to something we never had before."
"I think baseball has to jump out of their 'hidden curtain' and become more emotional since in baseball we have built-in social distancing to the game," says Valentine. "I think for baseball without fans to be enjoyed properly, we will see the players come out of their shells and opening up more and maybe even throw a bat and say something to the pitcher after hitting a home run, so that the true competition is understood and felt by the fans."
The panelists compared and talked about the three major leagues that had to curtail their sports—the NFL, MLB and the NBA—and which has done the best and worst job in responding to the COVID-19 crisis in a way that keeps fans engaged during this break.
"I would say the NFL has done the best job," says Taheripour. "When we watched the NFL Draft, we saw these players in a way that we have never seen them before. We were able to see the players with their families and it was very intimate. We felt this connection to them. In that way, I think the NFL has taken great advantage of this opportunity to build up the excitement."
"I think the MLB has done the worst job," says Valentine. "One of the great strengths of the brand is that after 9/11, baseball stepped up and played their games when the NFL didn't. And that was totally neglected by the MLB in this pandemic crisis, in a sense that the league didn't think they had to take the responsibility to step forward quicker to provide an escape for fans."
"The NBA is in an interesting position considering that they partnered with Disney and have plans to play in Orlando," says Williams. "But now what you are seeing is the spike of the virus that is occurring in Florida, and the NBA is trying to figure out how to navigate that. How do you balance the factors that play into sending athletes into a hotspot of the coronavirus?"
Wyner points out that sports without fans also affects the teams' mascots.
"If you are a mascot, how do you generate your own energy?" he says. "How are you going to create that sense of urgency at each and every play to lead us to a different level? Mascots will have to manufacture the excitement. They will have to psychologically find ways to engage each and every day. That will be a new norm and it's going to take a level of adjusting."
Valentine says sports are the thing that bring us all together, and is much needed in society, especially now.