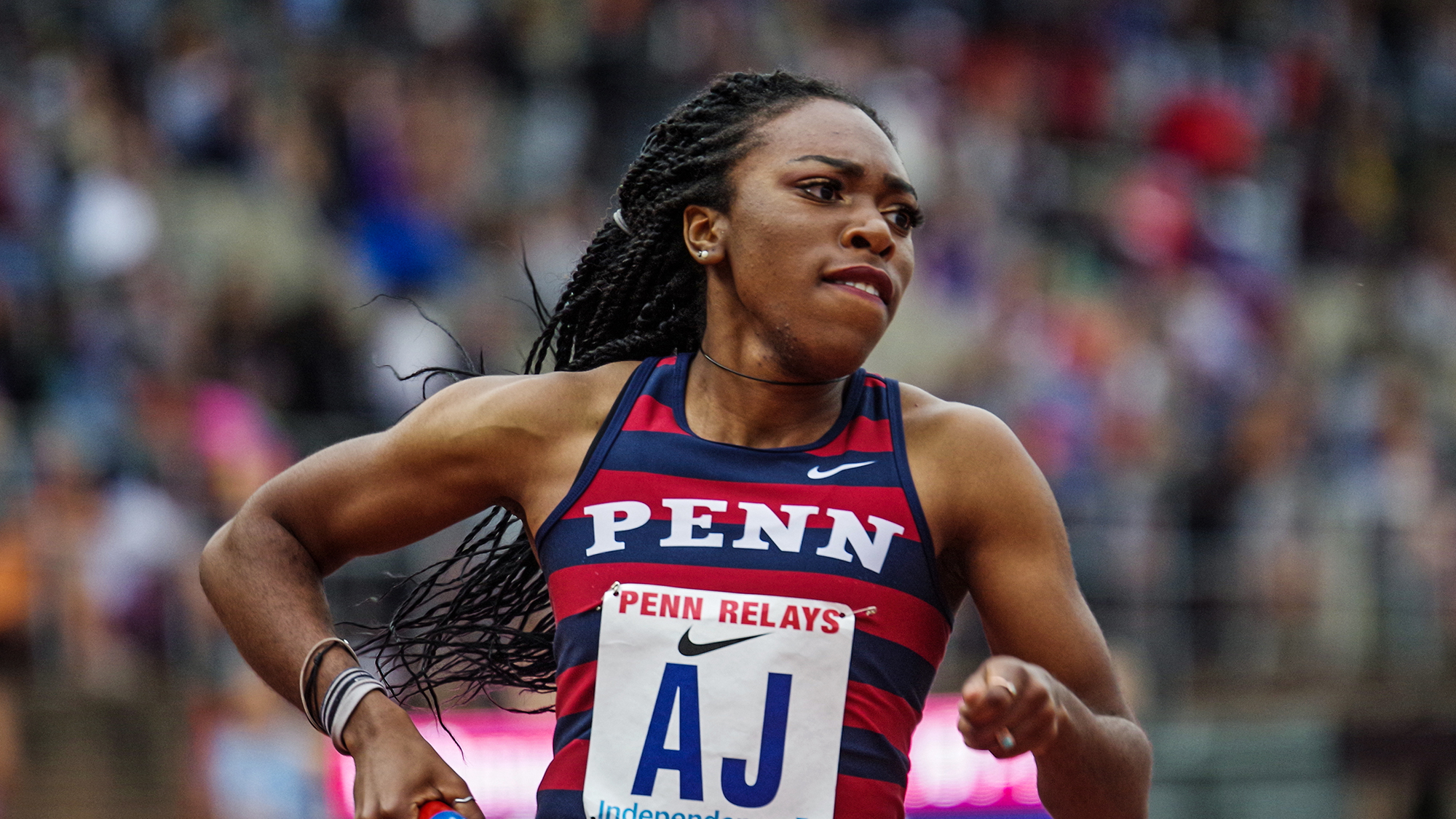 As she sets her feet into the starting position, Uchechi Nwogwugwu, a senior on the women's track and field team, is thinking of her race strategy—how she is going to run the race—and focusing on running hard out of the blocks. Sometimes she starts slow, so performing well in the beginning of the race is key.
When she's in the blocks, she repeats to herself, "Get out hard, get out hard, listen for the gun, and push really hard for the first 100 meters." The rest of the race will come.
At the sound of the starter pistol, she makes sure to stay relaxed. Her shoulders get really tense when she runs fast, so she concentrates on keeping her shoulders loose, her arms at 90-degree angles close to her side, and her knees coming up high, like she's riding a bike.
And she runs like the wind.
From Lansdale, Pennsylvania, Nwogwugwu, a health and societies major, holds the Penn record in the indoor 400 meter (53.21), the outdoor 400 meter (52.27), and was part of a 4x400 meter relay team that holds the top-four indoor times in school history and the top-five outdoor times.
In 2019, the last full year of track and field, she qualified for the NCAA Championships in the 400 meter and the 4x400 relay. The relay team, which consisted of Nwogwugwu, Skyla Wilson, Cecil Ene, and Nia Akins, was the first in school history to advance to the NCAA Championships.
Nwogwugwu was also a part of the four-woman team that became the first women's team in Ivy League history to capture a Championship of America title at the 2019 Penn Relays. Nwogwugwu, Akins, Maddie Villalba, and Melissa Tanaka set a new Ivy League record in the College Women's Championship of America Distance Medley Relay with a time of 10:59:44.
A winded and wheezing Penn Today caught up with Nwogwugwu to discuss her early track beginnings, her most memorable race, competing against her teammates, and her post-graduation plans.
I read an article about you in your high school newspaper from 2017. It mentions that you were at first a field hockey player and didn't start running track until middle school. Can you talk about the beginnings of your track career? When I started track in the spring of seventh grade, I was a high jumper and I ran the 4x100. I really liked high jump a lot so going into freshman year of high school, I was a high jumper. Then, at the end of my season, a girl on our 4x200 got hurt, so they asked me—well, kind of told me—to run the 4x200 just this one weekend and I did pretty well. Then they asked me to run the 4x400 and I did decent in that. Then I kept running relays and I kept getting better. I think the first time I ran the open 400 was either at the end of my freshman year or the beginning of my sophomore year. I liked it because the more I ran it, the easier it got, so I just kept doing it.
Why do you think it got easier? I think it had to do with the fact that I really did not know how to run it. I would literally just ball out for the first 200 meters every single time, so that naivete to just go out there and not be afraid of it was great. If you do that, you just get stronger every time, so slowly but surely it was getting a little bit better every time I ran it. I like to see progress like that.
Were you a fast kid? Did you know you had speed before you started on the track team? Not at all. I was a homebody. I didn't really like to play outside. My neighbors loved to ride bikes and I would do that for a little bit, and then be like, 'OK, I'm going to go watch TV.' I really liked to be home, so definitely no.
When did you realize track was something you could do in college? Definitely my junior year. Sophomore year, I got pretty good really fast, but I still didn't really know how good I was. Junior year is when I won states for the first time and then I got a lot of recruiting letters from different colleges. I was like, 'OK, maybe this is something I can actually do.'
How did you learn the running and training skills involved in track? I was really lucky to go to a high school where there were a lot of people on my team who were also really good and really passionate about track, and I got to learn from them. Our coaches were really passionate about it, too. One of our assistant coaches, who's now the head coach, was a triple jumper and high jumper in college. He went to Pitt so he knew what college track was like. Regardless of whether all of us wanted to do track in college, he was training us in a way that would prepare us for college. I think that helped a lot.
You mentioned that you received a lot of recruiting letters. Was there something specific about Penn that made you want to go here? Penn was the only school that when I was on a visit, it didn't really feel like I was visiting; I felt like I was already part of the team. The people were super welcoming and didn't treat me like I was a kid, they treated me like I was already part of the team, which was really cool. It felt the most like home, I guess.
Do you have a most memorable race? I think freshman year our Ivy League championships. I wanted to run fast, but I was a freshman and there was a girl who was senior at Columbia [Akua Obeng-Akrofi] who was really, really fast and ran for her country in the Olympics in 2016. And her [personal record] was better than mine at that point. So I was like, 'OK, just go out and stay with her and whatever happens at the end happens.' There wasn't a whole lot of pressure on me. I knew I could at least take second, and if I had a really good race, maybe I could win it, but I was not going in expecting to win. And I ended up winning and I PR'd by way more than I thought I could. At that point, I think my PR was like 53.1. I just wanted to run a 52.99 or a 52 anything, and I ran 52.41, so I was really hype about that. And it was at Penn; it was a home meet, too, so it was just the perfect race for me.
Can you talk about the dynamic of competing against your teammates in open races? They're your teammates but also your competition at the same time. Honestly, I enjoy running with my teammates in open races just because when you go into a race by yourself, you don't really who anyone else is, you don't really know what anyone else runs in their race strategy. But when I have a teammate in my race with me, you practice with them every day, you know their strengths and weakness, they know your strengths and weaknesses, so you can kind of work together to attack the race. For me, every year I would run Heps with Cecil Ene, one of my teammates, and in the 400, she goes out really hard. She's a really fast 200 runner, which is something I'm not good at, so every time we run together in an open race, we know that she's going to take us out and then I'm going to bring us home. We just work together and try to finish the race together.
So even when you're competing against your teammates, you're still sort of working together as a team? For sure. As much as someone wants to win, everyone wants to do well for our team, so regardless of who wins, as long as we both run a good time, that's really the goal. And to do that, you have to work together.
How have you managed during the pandemic with almost no track? We were able to have somewhat of a season this year, which was nice. I've just been training and trying to finish school, getting stuff together for next year. It's been OK. It's definitely been different. This is the first year I ever got to be a regular college kid because we still had track, but it wasn't as serious. We weren't traveling every weekend. I've enjoyed it as much as I can. I definitely missed the hustle and bustle of a real track season, but this is a nice little break for sure.
What are your plans for after graduation? After graduation, I'm going to the University of Tennessee to get my master's in public health, and I'm going to run track there as well, so I'm excited.