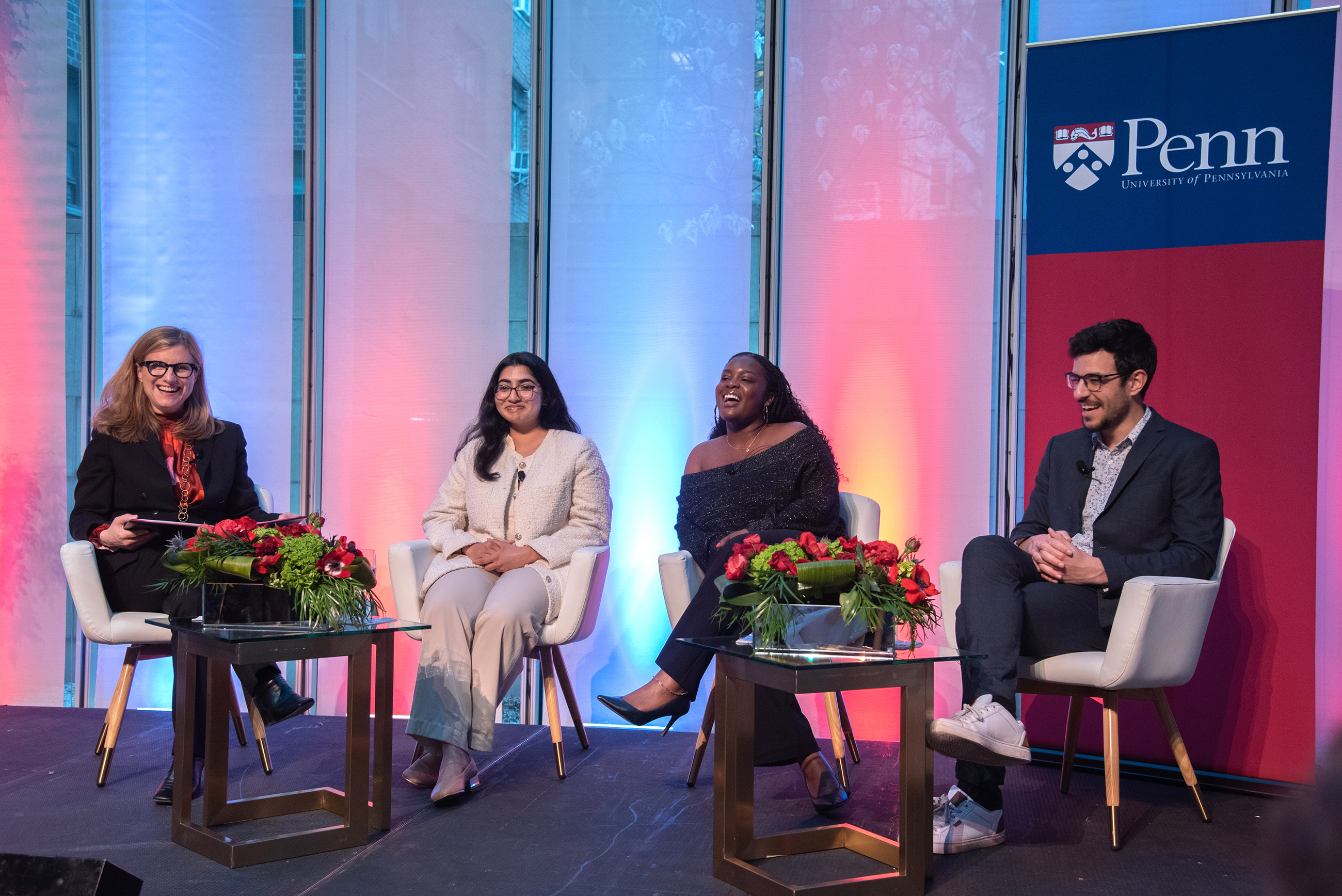 Eleven thousand, seven hundred. That's how many undergraduate students Penn's Named Scholarship Program has been able to support throughout the past 15 years. 
With more than 4,000 donors, the initiative has flourished, even more so with the creation and growth of Penn First Plus as well as the recently announced expansion of financial aid at the University to meet the full need—including tuition, fees, housing, and dining—of students whose families make $75,000 or less per year. 
"When we said we wanted to do more for our students, you said you could do more, too," said President Liz Magill, during her welcoming remarks at the spring Named Scholarship gathering in New York City on April 4. "What a virtuous commitment you share."
On a red-and-blue lit stage inside the Morgan Library & Museum, in front of a crowd of about 150 contributors to Penn mostly from the New York area, Magill moderated a panel featuring fourth-year scholarship students Ryan Afreen, Marissa Kesse, and Orestis Skoutellas. The students—a neuroscience major, nursing major, and candidate in the Jerome Fisher Program in Management & Technology, respectively—spoke of their unique paths to campus and their experiences at Penn. 
Afreen, a Gray Scholars Endowed Scholarship recipient who was born and raised in Bangladesh but calls East Elmhurst, New York, home, said getting into Penn "was a dream come true." Once she got here, she added, "it was just resource after resource." On a mission to combine her interests in advocacy and entrepreneurship with health care, Afreen will soon be studying to be a doctor at the Icahn School of Medicine at Mount Sinai. 
During the event, Afreen spoke of her involvement as the inaugural Shleifer Family Penn First Plus Center student coordinator; her creation of the peer wellness program #AsianTalks; and the work she's done with Footsteps, a social justice nonprofit that has gained worldwide attention and even brought her to the United Nations Water Summit in March.
Prompted by a question from Magill, Afreen also shared her most unique class at Penn: her global seminar trip to Australia.
"We got to spend three days with the Indigenous people in Australia," Afreen said. "We slept under the stars and we danced to their traditional songs and enjoyed amazing food … we got to see how they use music to cope from the generational trauma that their entire community faced, and keeps on facing." She noted how the experience spurred her interest in using the arts and nature as a type of medicine, to help heal from different disorders including depression or anxiety.
Skoutellas, an international student from Cyprus, said one of his most interesting courses while at Penn, too, was a global seminar. His class traveled to Hiroshima for five days, talking to survivors of the atomic bombings—a "super meaningful" experience, he noted, that he wouldn't have otherwise gotten to do without generous financial aid support.
Skoutellas and Afreen's description of their experiences abroad pointed directly to something Magill had mentioned earlier in the evening: That higher education "can create life-changing moments," and how "educational opportunity and human potential go hand-in-hand."
Skoutellas also talked about his "incredible" and "passionate" teammates working together on their senior design project; how he is combining his interests in business and engineering with robotics, a field he is pursuing for his master's degree; and his experience "paying it forward" as an orientation peer adviser at the University, "helping the newbies adjust to Penn and answering similar questions to what I've had over my time." 
Marissa Kesse, from Long Island, New York, discussed her interest in bringing her health sciences training to the field of law, and perhaps even to politics (all of which Magill, a legal scholar, proudly encouraged). This past summer, Kesse served as a legislative intern in the Office of Congressman Dwight Evans and an intern with the Congressional Black Caucus Foundation. Acting as a sponge, she said she soaked up the entire opportunity living in Washington, D.C. She even got to attend the Congressional Picnic on the South Lawn of the White House, meeting President Biden and many other members of Congress. 
Kesse, who has found what she's called "a home away from home" in the African American Resource Center at Penn and has gotten hands-on experience on the medical-surgical trauma unit in a hospital, said her nursing school and clinical experience helped her bring a lot of "on the ground" expertise to her internships. 
"We were thinking about the policies we were talking about in the office and how they would actually translate," Kesse explained. "Some things sound good on paper but in actuality they might not be that good."
The rest of the evening included tours of the space—one of the finest library collections in the world—and an opportunity to network amongst fellow alumni and friends of the Named Scholarship Program. Taking place annually, this was the first time the group convened in person in New York City since the start of the COVID-19 pandemic. 
Cynthia Chang Scanlan, a College of Arts & Sciences alumna from Greenwich, Connecticut, who has been a Named Scholarship donor since 2010, attended the event before meeting up with her children, Kevin and Paula Scanlan, also both Penn alumni, who live and work in the city. She spoke of the immense pride she feels for the three students she and her husband, Brian Scanlan, a Wharton alumnus, have helped support through the Named Scholarship Program at Penn.
"The scholarships are a game changer for many families," Chang Scanlan said. "Part of the experience is of course helping them get a good education at Penn, but I see the second part as also helping to mentor them, helping to connect them with opportunities. I am so happy to have stayed in touch over the years with all the students we've supported, and it's great to see how they are growing in their careers."
Herald Chen, an alumnus of the M&T Program and chair of the Undergraduate Financial Aid Leadership Council, said he thoroughly enjoyed hearing from Afreen, Kesse, and Skoutellas—three students who are truly making the most of their opportunity to attend Penn. 
"It's amazing to hear about what they have already accomplished, and what they plan to do with their careers," Chen said. "A lot of this was made possible by the Scholarship Program." 
He added: "The Named Scholarship program is just an incredible way for generous Penn donors to make a direct impact on a student."
Chen, who benefited from financial aid while an undergraduate student, too, said he is hopeful to continue supporting the growth of the Program, as well as other connected initiatives, including Penn First Plus, the University's comprehensive umbrella of financial, academic, and social supports for first generation and limited-income students.
"Just showing up on Locust Walk is half the battle," Chen said. "There are so many areas where we can help these students thrive and succeed during their time at Penn." 
Photos by Ben Asen.