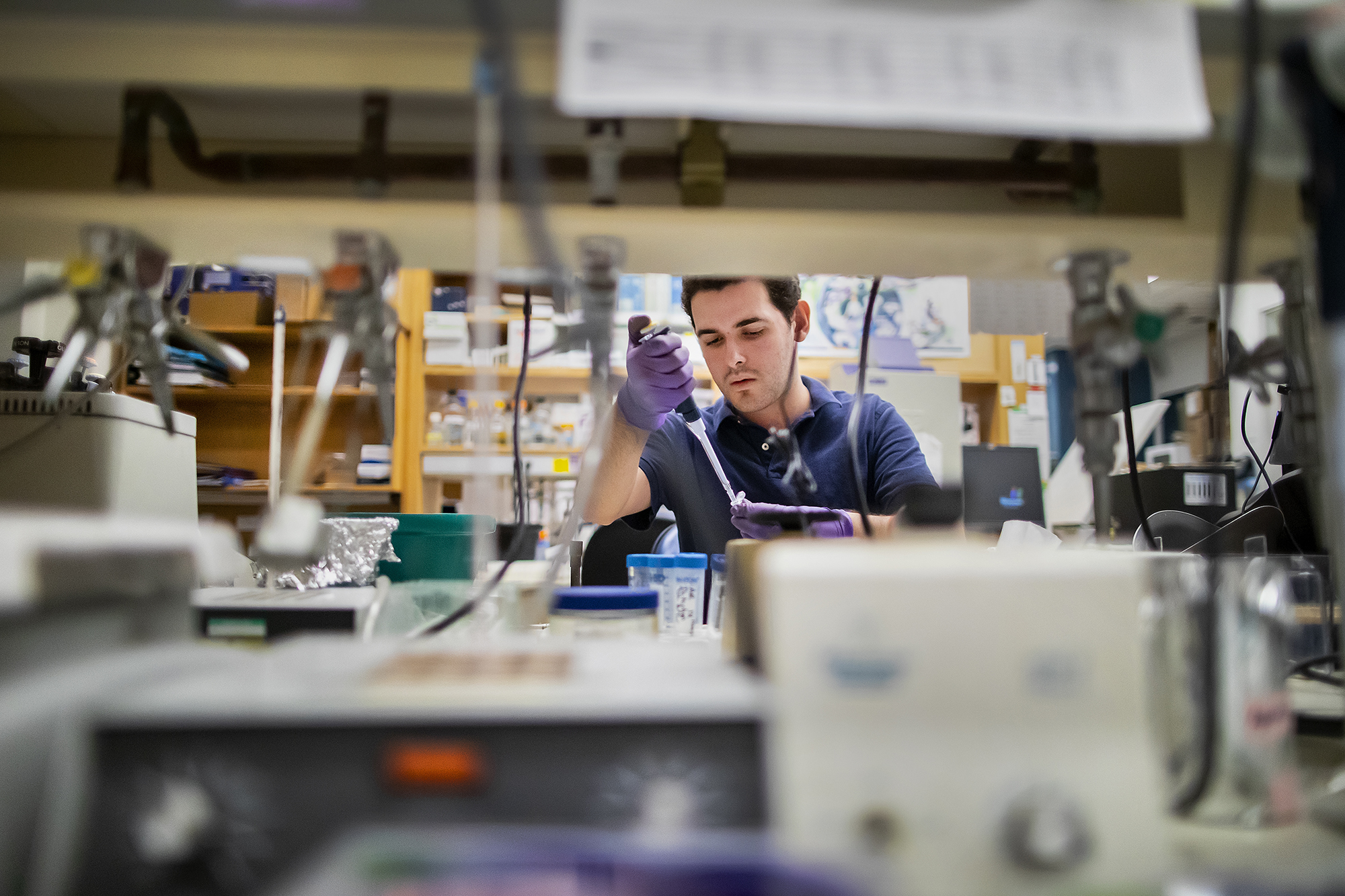 As a biology major, senior Andrew Ravaschiere spends much of his time in a laboratory conducting cellular research.
But this past summer he got out of the lab and into the world of filmmaking, working as an intern for Jigsaw Productions, a New York-based documentary film production company.
Can he seriously pursue both of his interests, in cellular science and film studies?
"That's a fair question," says Ravaschiere, who is on track to earn a minor in cinema and media studies, in addition to his major in biology at Penn. The answer, he says, is "yes," in part because storytelling is central to both disciplines. 
"Experiments have shown that the parts of our brains that control our five senses light up when we're immersed in a good tale. It doesn't matter whether the story is a mystery, a comedy, a romance, or true-life scientific thriller about finding that enzyme that will cause a cancer cell to self-destruct," he says. "We have a drive to learn something that helps us to carry on."
Nicola Gentili, associate director of the Cinema Studies Program in the School of Arts and Sciences, says it is "very, very rare" for a student to major in a science and also pursue a degree in cinema and media studies, in part because the courses are not cross-referenced to meet degree requirements.
The ability to cross those disciplines has been central to his academic experience, says Ravaschiere, who is from New York City. "There is an interesting parallel between conducting a shoot for a film or conducting an experiment. You are seeking the bits of information that will lead you to a truth that you're trying to convey," he says. "That's your overall mission, but, as you're going through the experience, unanticipated obstacles appear, and also unanticipated solutions."  
Since his freshman year, Ravaschiere has been a work-study researcher with Frank Lee, an associate professor of pathology and laboratory medicine at the Perelman School of Medicine. "It has been a pleasure to have Andrew conduct research in my lab," Lee says. "He has contributed to our studies examining how cells respond to low oxygen concentration, which is a feature of many human diseases."
In addition to cellular research, Ravaschiere was also drawn to the power of film and decided to pursue the minor after taking his first cinema-studies course, Screenwriting Workshop.
"Andrew was an ideal candidate for the Jigsaw internship," says Gentili, his cinema studies adviser. "He was very much dedicated to the same sort of films that Alex Gibney produces," referring to the filmmaker who heads Jigsaw Productions.
Coincidentally, this summer Jigsaw was working on a film that documents the fall of health care company Theranos for HBO Documentary Films. "It was a perfect combination of my science background and film interests," Ravaschiere says.
In addition to fact-checking, he conducted research in peer-reviewed scientific journals and summarized his findings in lay terms. He also attended screenings, assembled the thoughts of viewers, and analyzed trends in their responses.
"It was similar to being a lab scientist," he says. "When you are a documentarian, you are looking for ways to package complex information in a way that's accessible."
Both in science and storytelling, it is about "getting to that truth with a capital T," Ravaschiere says, a good fit for documentaries like those made at Jigsaw, where Gibney has accepted Penn summer interns since 2013.
Highlights of Gibney's career include "Taxi to the Dark Side," about torture at a United States military base in Afghanistan, which won the Academy Award in 2008 for best documentary feature, as well as "Enron, The Smartest Guys in the Room," on the corporate scandal, which was nominated for an Oscar. 
"To be able to put together news stories like these, filmmakers need to amass incredible amounts of research," Ravaschiere says. "I'm so honored to have been a part of the research that went into this production about Theranos." 
Ravaschiere's previous work experience was in laboratories. With Lee at Penn Medicine, he has been working on experiments related to cellular hypoxia, or low-oxygen conditions, and was the fourth author on a published study, "Identification of Small Molecule PHD2 Zinc Finger Inhibitors that Activate Hypoxia Inducible Factor."
Over the course of several summers, starting while in high school at the Riverdale Country School, he worked on a research study investigating environmental stressors in mussels native to the Bronx River and also to the cleaner waters off of Greenwich, Conn. He was the first author of that published paper.
"It's very interesting to look at cellular stress response and think about how it applies to us," he says.  "Is there an advantage, in our human journey, in experiencing prolonged stress?"
Science and cinema require both problem solving and organization, Ravaschiere says. With 6.5 credits this semester and his work-study job in the lab, Ravaschiere has to be good at both.
He also is involved in extracurricular activities, as an officer of the Kinoki Senior Society for students interested in film, and the Wharton Undergraduate Healthcare Club.
"I'm an old-school guy I have a physical calendar on my desk, and I always take it with me. As soon as I set a date, I put it in there. And I have a grid hour by hour," he says. "It's easy to get stuff done if you know what you have to get done."
Ravaschiere's parents both studied law, he says, but his mother, who earned her undergraduate degree from Penn, was also interested in biomedical science. Growing up, Ravaschiere reports that he was "always the kid loving science experiments. The baking soda volcano that flowed onto the living room rug was particularly memorable."  
After graduation in May? Conducting cellular research and writing scripts to continue storytelling through film are both appealing, he says.
"Penn does a really great job of saying it's OK for students to make an impact in whatever field we choose," he says. "I think this summer helped enforce my love for both medicine and film."