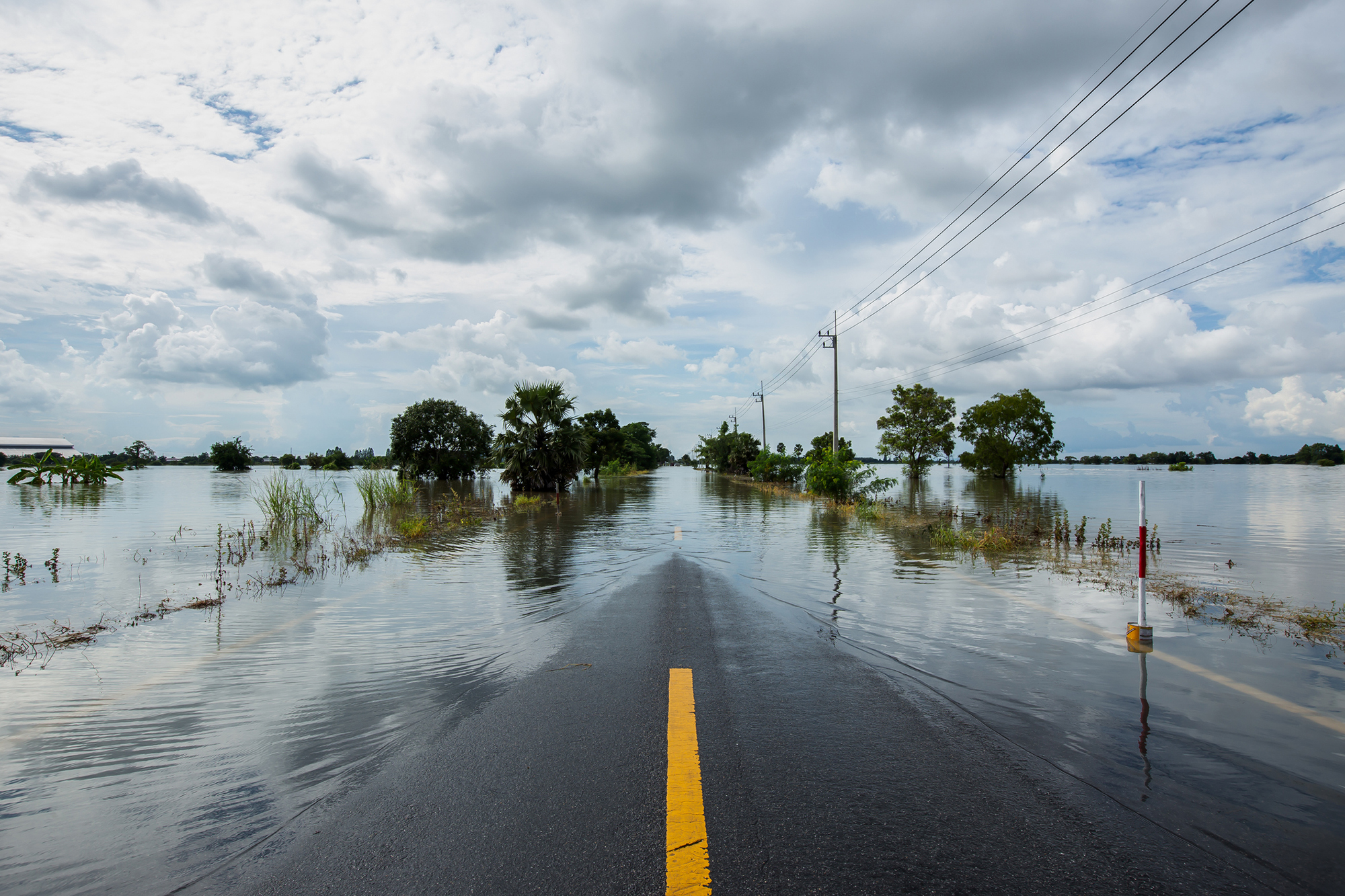 Climate change is driving an increase in the frequency and scale of major natural disasters like floods, windstorms, earthquakes, or droughts with a devastating effect on how and where people are able to live.
As part of its ongoing speaker series, the School of Social Policy & Practice (SP2) hosted an event on "Climate Refugees: The Implications of our Changing Environment," with SP2 assistant professors R. Jisung Park and Alice Xu, both of whom study climate change from an interdisciplinary perspective. Park, an economist, has published papers on the human capital consequences of natural disasters and how the green energy transition may contribute to labor market inequity. Xu, a political scientist, studies public goods and political polarization and how political competition facilitated deforestation in the Brazilian Amazon. 
Dean Sally Bachman introduced the event, saying, "This conversation reflects SP2's understanding of the climate crisis as a significant social justice issue and is an example of our dedication to addressing complex social problems through education, research, and civic engagement."
The event was moderated by Professor of Practice Ben Jealous, who asked the speakers to define their fields and how they provide insight into the climate crisis. Environmental economics offers a set of tools to apply to policy solutions for the benefit of communities, Park said. "I like to think of it as trying to put numbers behind some of the human consequences of climate change."
"Climate change is arguably one of the greatest challenges facing our world today," Xu said, "and the political challenges are at least as pressing." Environmental politics can provide timely and relevant insight, she said.
Often economic and social policy issues can be at odds with environmental issues. Xu does research in the Global South, where migrating poor populations often form informal slum settlements in parks, the only undeveloped areas in most urban settings. Because of these historical settlement patterns, the slum residents of developing cities are often at risk of eviction by the government, she said. "Usually, these demolished slums are located in central parts of the city on urban land that has high real estate value, but the government use the justification of environmental concerns to evict the settlements."
This polarizes local elections, Xu said, creating a split in leftist political coalitions between those that value protecting land and those that value protecting the slum residents.
The intersection between climate change and economic inequality cannot be overstated, Park said, noting that wage inequality has been rising in the United States. "It's really important that we understand the broader trends and economic inequality totally distinct from climate change, so that we can think about the effects of climate change in that kind of contextualized environment."
Jealous also asked the speakers how they see climate change impacting opportunity in the future.
Park lumps climate risk in two buckets. One has to do with physical risk—such as flooding and wildfires—and the other is transition risk, which is the impact of extreme weather conditions or market shifts that accommodate policies aimed to reduce CO2 emissions, he said. 
"We as a global society need to collectively reduce emissions, but, if some parts of society are going to pay more of the cost, it may behoove policymakers to think carefully about how we're going to engage in redistribution because it's a collective response to a global problem," Park said.
"I was genuinely surprised at how many jobs and workers there are, even in the U.S., which is one of the richest economies in the world, that are really, really exposed to the elements," Park said, noting that at least 100 million U.S. workers labor outside. 
Workers' compensation insurance claims data show that extreme heat increases the risk of workplace injury, he said. "For us, a 90-degree day is kind of an annoyance. But it turns out for many of these workers, it could be life or death, or at least serious bodily harm." Whether from accidents or dehydration, "heat seems to increase the risk of things going wrong."
Jealous asked about the concept of climate migration. More than 300 million people worldwide have already been displaced due to extreme weather or erratic weather patterns and its impact on crops, Xu said. "This is something that's happening right now.
"For stateless refugees, there is no going back because their homes have been destroyed or they've been displaced for these precise reasons related to climate or other reasons conflict," Xu said. "And therefore, there's very little leverage for these populations once they arrive in host countries. All they can ask is for empathy and solidarity and asking for open borders because there's nowhere to return."
Park noted that there could be in increase in both climate refugees and in authoritarianism, populism, "and just the general human instinct to, in tough times, demonize entities that we either don't understand or don't look like us, outsiders. I find that to be just a very heart-wrenching phenomenon," he said.
Yet for many, climate change may be an immobilizing force. "You need some resources to be able to make an international migration," Park said. "There may be many more who are suffering more silently and maybe making rural urban migrations within their country, if they can do that."
"There's just so many storms, so many disasters," Jealous said.