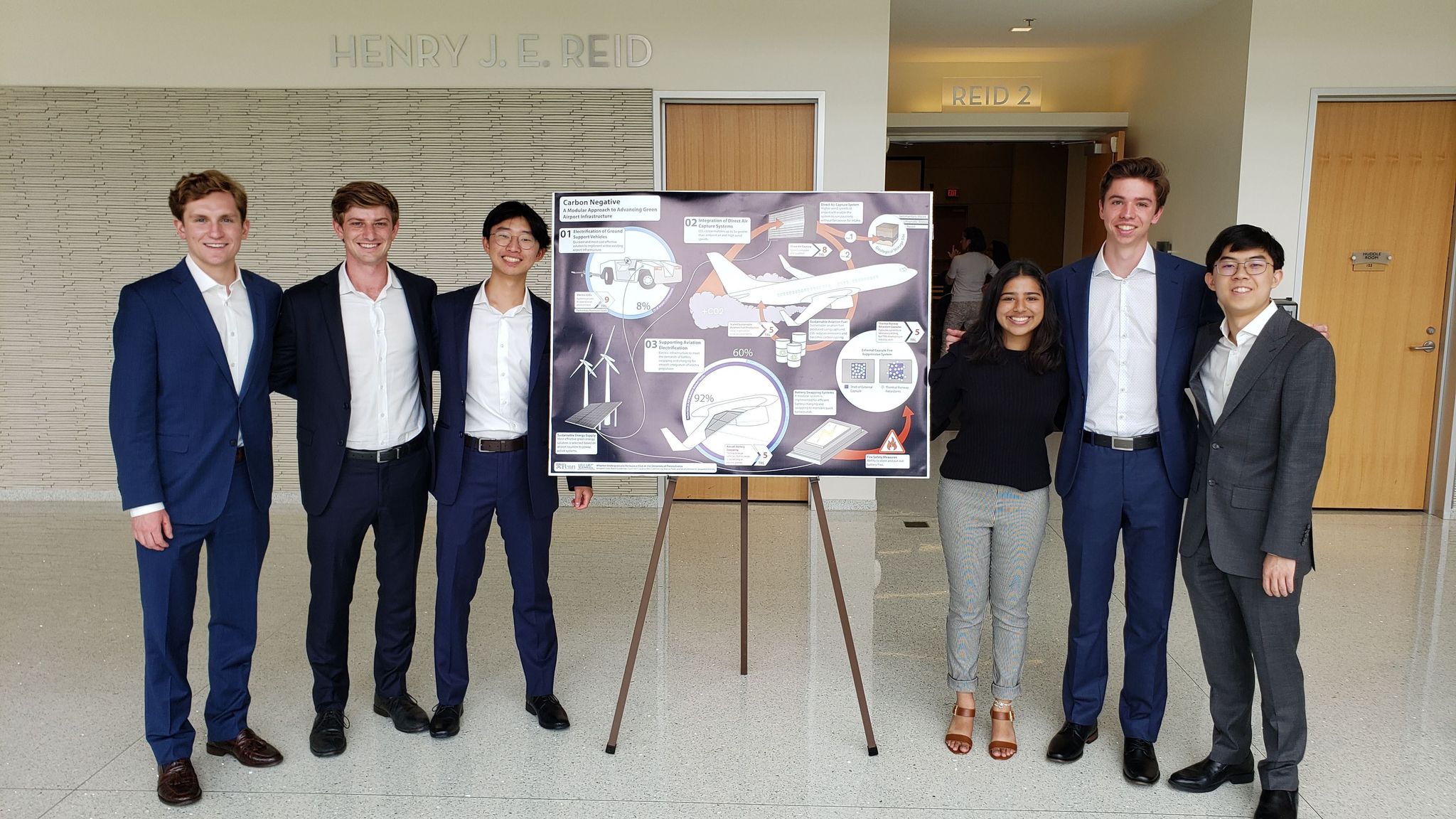 Airplanes and airports don't have the best reputation when it comes to climate. As an industry, aviation is responsible for nearly 3% of global carbon emissions. But when a NASA competition charged student teams with envisioning a more climate-friendly future for airports, six students from Penn's Wharton Undergraduate Aerospace Club (WUAC) stepped up to the challenge. 
Last month, the team traveled to NASA's Langley Research Center in Hampton, Virginia, to present its well-researched vision: a modular set of technologies that could transform any airport into a greener, cleaner operation.
Their proposal entailed implementing direct air capture technology that removes carbon emissions from the air, alongside a move to electrify airplanes and the ground vehicles that help make airports run. One of eight finalists to present, the Penn group was awarded the "Most Intriguing Concept" award.
"The people at NASA called it the boldest idea they'd seen," says Marcus Tsuei, a rising sophomore from Denver who led the team. "We really tried to think outside of the box in our proposal. It was a true collaborative effort."
At the intersection of business and aerospace
The team assembled last fall, after WUAC founder Ethan Markwalter posted about the NASA challenge—Gateways to Blue Skies: Airports of Tomorrow Competition—on the group's Slack channel. He had established the club in the spring of 2021 as a gathering space for students interested in the operational side of the aviation and space industries.
"When I came to college I wanted to find my niche," says Markwater, a rising junior in the Wharton School from Pennsburg, Pennsylvania. Also a member of the Penn Aerospace Club, he founded WUAC to carve that niche more precisely in the cross section of business, aviation, and space exploration.
"This is the next trillion-dollar economy," he says. "There is a lot of opportunity here for business to push it forward."
The club has a large following online, with a few dozen core members. Tsuei was among those who expressed interest in the NASA competition, along with what ended up being his five teammates from across the University: Benjamin Chan, a rising sophomore in the School of Engineering and Applied Science; Bryce Gunderman, a rising junior in Wharton and Penn Engineering; Gavin Hart, a rising senior in the College of Liberal and Professional Studies; Lavanya Neti, a rising sophomore in Wharton; and Liam Lasting, who earned a master's in architecture from the Stuart Weitzman School of Design in May.
"Our group was unique really diverse in our backgrounds," says Neti. "It was just a really nice mix of people."
They submitted a research paper, infographic, and video outlining their ideas. In April, they received the news that their group been chosen as a finalist to present a proposal to NASA staff and industry leaders at NASA Langley.
A unique approach: Direct-air capture
After many Zoom brainstorming sessions and check-ins with advisor Jacqueline Kirtley, an assistant professor of management at Wharton, this June was the first time all six team members met in person. The road trip to Virginia was a bonding experience, with stops at a diner that surprised the group by accommodating Neti's vegan diet and opportunities to mingle with the other finalists in the hotel lobby.
Instead of designing a new airport from scratch, which several of the other finalists did, the Penn team turned attention to how they could improve the design of existing airports.
"We landed on a modular framework that could retrofit existing airports with decarbonization technologies," says Tsuei.
The proposal had three main concepts, including one aimed at supporting the emerging electrification of the aviation industry. "By 2050, we would see the emergence of new electric planes," Tsuei says. "In order to give this new technology as smooth of an entry as possible into the market, we would do things to the exterior of the airport, like developing a battery charging and swapping infrastructure to make sure electric planes could have quick turnarounds."
A second thrust of their proposal concerned electrifying the ground vehicle fleet, sourcing electric options for vehicles that push planes, ferry luggage, and so on.
It was the group's third focus that the judges appeared to find most intriguing and unique: a system capable of removing carbon emissions from the air, a technology known as direct air capture.
"We gathered research that showed that airports generally have higher wind speeds compared to normal ambient air," Tsuei says. "We thought we could take advantage of that by having fast-moving air pass through a direct-air-capture system that could separate out the carbon dioxide and compress and store it."
The students didn't need to look far for expertise on this technology. Jennifer Wilcox, a Penn Presidential Distinguished Professor of Chemical Engineering and Energy Policy, who is currently on leave while she serves in the Biden administration's Department of Energy, is a pioneer in the field of carbon capture. They worked directly with Peter Psarras, a research assistant professor in the Clean Energy Conversions Laboratory at Penn, to explore the possible applications of direct air capture at airports.
The proposal delved into the nitty gritty—considering the fire hazards of lithium batteries and new fire extinguishing agents that could be used to mitigate risks, for instance—as well as broad issues, with examples how they could scale their modular approach.
After their presentation, judges asked questions and the students found themselves the specialists in the room on some of the technologies they had proposed.
"It felt nice to be able to explain to experts something we ourselves had become experts on," Neti says.
Later that day, a judge from the Harry Reid International Airport in Las Vegas approached the group.  
"He pitched an opportunity for us to present these design concepts to the strategic planning committee of the United States' newest international airport that is going to be built in southern Nevada," Tsuei says. "He said that our presentation may be able to dramatically influence some of the design choices for this new facility."
In October, the team will reconvene, perhaps bringing their vision of a climate-friendly airport of the future one step closer to reality.