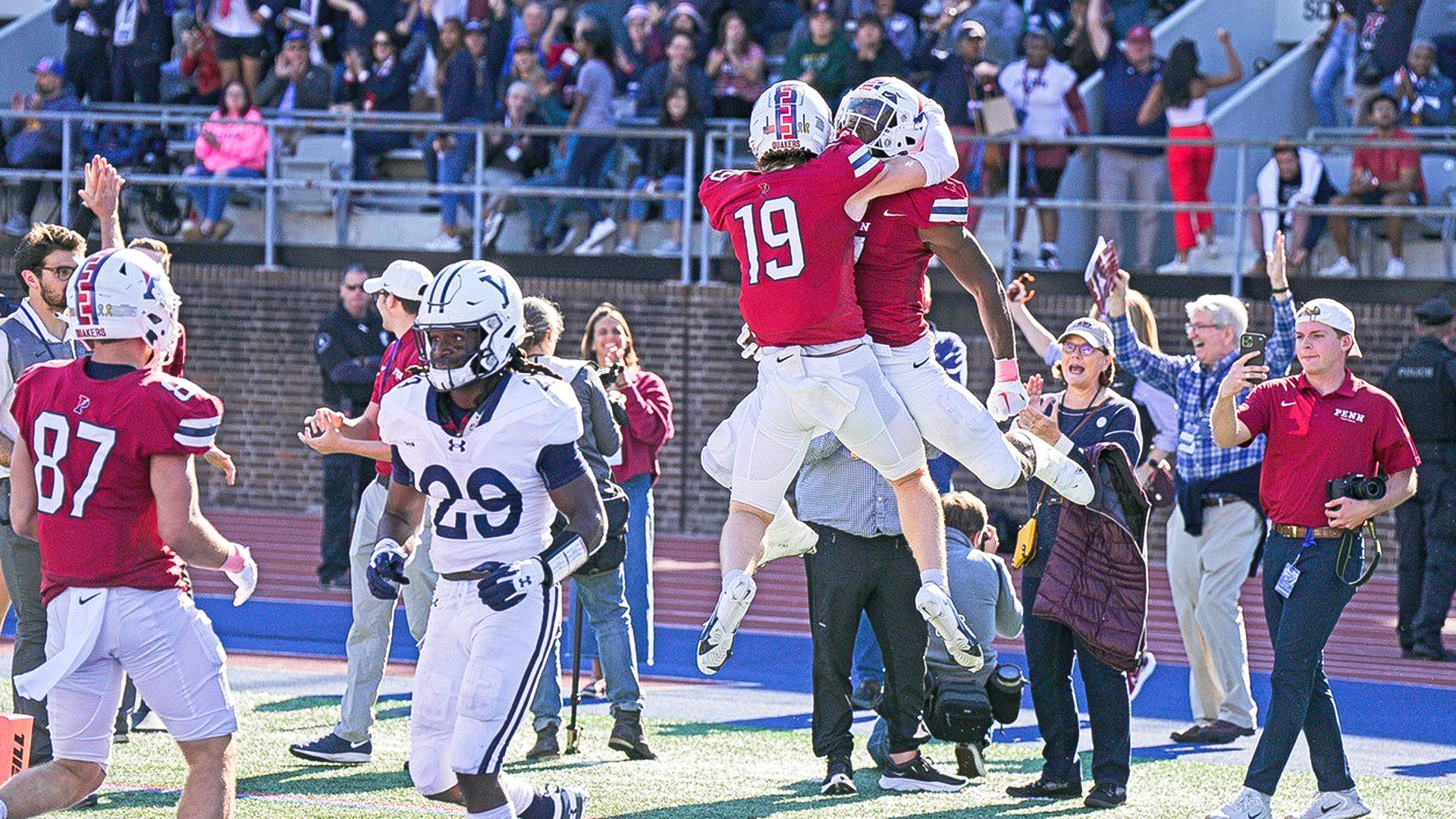 Pundits were predicting a good game, and Penn and Yale put on a certified classic.
The 5-0 Quakers and 4-1 Bulldogs faced off on Saturday at Franklin Field, Homecoming for the Red & Blue. With the game tied up at 13-13 with 5:14 remaining in the fourth quarter, second-year quarterback Aidan Sayin put together a clock-eating clutch drive to seal the hard-fought 20-13 win.
After third-year defensive lineman Joey Slackman and fourth-year defensive lineman Micah Morris sacked Yale quarterback Nolan Grooms on 4th-and-three, the Quakers set up shop at their own 41-yard line.
On 1st-and-10, Sayin completed a pass for no gain to fourth-year running back Jonathan Mulatu. On second down, Sayin and fourth-year wide receiver Rory Starkey, Jr. connected for a 15-yard gain.
Recharged with a fresh set of downs, Mulatu rushed up the middle from the Yale 44 for a seven-yard run. On 2nd-and-three from the Yale 37, Sayin found third-year wide receiver Joshua Casilli for a seven-yard completion, followed by a 17-yard laser to Mulatu.
At the 2:09 mark in the fourth quarter, the Quakers were in business at the 13-yard line. Mulatu rushed up the middle for three yards, and then Sayin hit second-year wide receiver Julien Stokes for a four-yard gain.
Yards from the endzone with less than a minute remaining, Multau rushed three straight times, the third being the game-clinching touchdown.
Sayin was 28-43 for 298 yards and a touchdown. He completed passes to seven different receivers. Starkey, Jr. caught a career-high nine passes for 86 yards and a touchdown. Casilli had six catches for 46 yards and Stokes had five catches for 44 yards. Fourth-year defensive back Jaden Key and third-year linebacker Jack Fairman both had eight tackles. Slackman had seven tackles, 1.5 tackles for loss, and 1.5 sacks.
Starkey scored Penn's first touchdown of the day—a three-yard reception from Sayin with 14 seconds left in the second quarter—with key assist from the defense. With 37 seconds left in the half, Slackman tipped a pass and fourth-year defensive lineman Jake Heimlicher intercepted the ball at Yale's 46-yard line. Sayin completed a 37-yard bomb to fourth-year wide receiver Malone Howley and then connected with Starkey for the score.
The game was delayed for around an hour after halftime due to a student protest.
Penn (6-0 overall, 3-0 in Ivy League) is off to its best start in 19 years and sits atop the conference with archrival Princeton (6-0 overall, 3-0 in Ivy League).
The Quakers take on Brown (2-4 overall, 0-3 in Ivy League) on Saturday at 12:30 p.m. in Rhode Island.