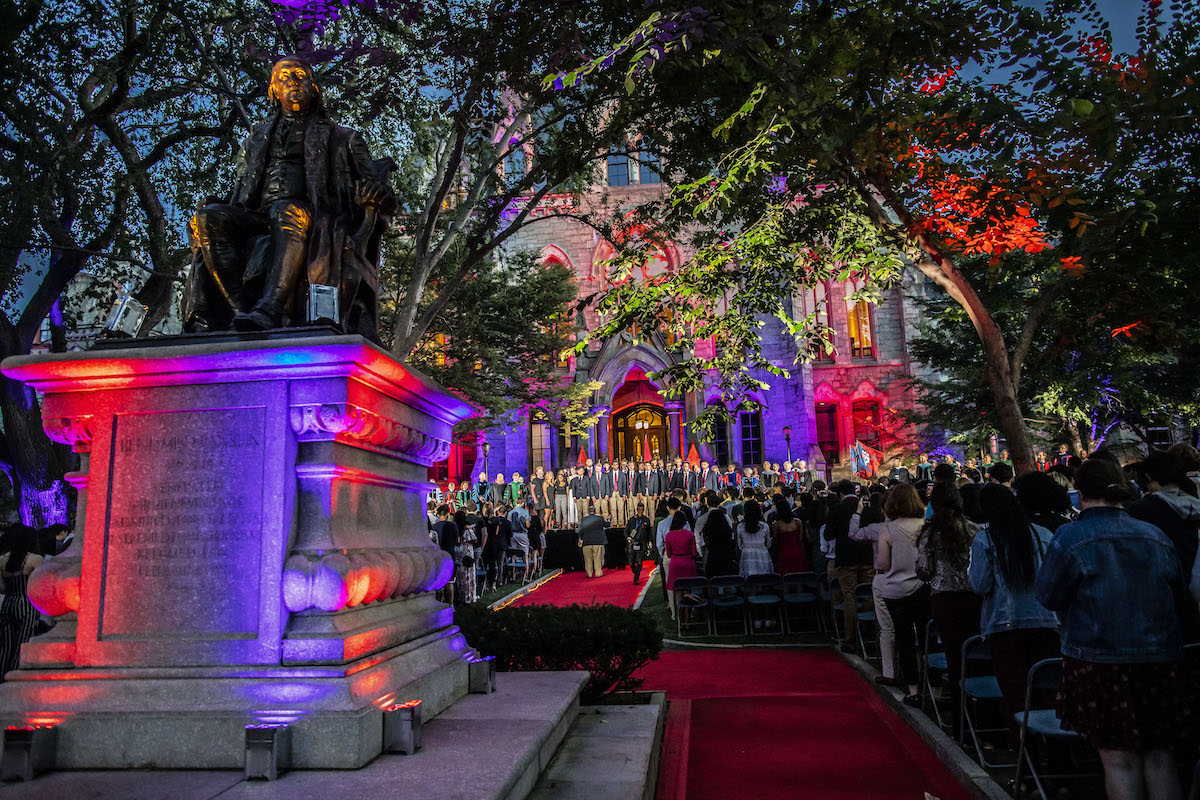 There's nothing quite like Convocation at Penn. 
Every year, more than 2,000 freshmen, after nearly a week of busy New Student Orientation activities, process—following members of the Penn Band—from their respective college houses down Locust Walk, taking their seats on College Green. They look forward at College Hall, lights shining red and blue, and take a deep breath.
"It was really moving," said Sherry Liu, on Monday night. "Just sitting there, when [a cappella group Counterparts] were singing. The wind was blowing, the trees were swaying."
Liu, from Cherry Hill, New Jersey, knew that in just one day, when classes begin, her life would be changed forever—in the best possible way.
"I welcome you all to the Penn family," said President Amy Gutmann, to the Class of 2023 and also the 100-plus transfer students in the crowd. "I also congratulate you on the journey you made to arrive right here."
From all 50 states, Washington, D.C., and 79 countries across the globe, she continued, "the sheer diversity you represent is nearly impossible to capture in words."
With a space-themed nod to this year's 50th anniversary of the Apollo 11 mission (Penn alumni, unsurprisingly, helped put that very person on the moon), Gutmann challenged students to "expand your orbit."
"The very first step in expanding your orbit is reaching out to somebody new," she said, beaming, and suggesting each student take a moment to introduce themselves to a nearby classmate. Noticing many smiles and laughs after a few minutes, Gutmann declared the students' "first launch" a success. 
Liu sat next to new friends from Ware College House—Paola Rosa, from Riverside, California; and Jacqueline Tong, from San Diego, California. The trio mentioned that they already signed up for various clubs and groups on campus.
"The buzz of events [at NSO] kept us on our toes," said Rosa, who has plans to study math and physics. "It really got me out of my bubble, meeting people with similar interests and similar goals, and also people with completely different goals and completely different interests."
The Penn Glee Club showcased the group's talents at Convocation with a rendition of "Let the River Run," and Counterparts, Penn's oldest co-ed a cappella group, sang "Evergreen."
Provost Wendell Pritchett, kicking off Penn's 280th year, described how different Penn's students are today compared to 1910, when the University's first Convocation took place.
"Penn has changed a lot since then," he said. "The Class of 1914 didn't look much like your class. They didn't have the same diverse backgrounds, or diversity of goals. But, sitting here that evening, their thoughts were probably not that much different."
They may have been thinking, "I got this," Pritchett said, or, "I don't got this." They were likely excited and uncertain about the future—two emotions that are "natural," Pritchett said, when "confronting the unknown."
Pritchett's message? For students to be fearless, especially when it comes to speaking and reaching out, as well as listening. He also challenged students to take classes in subjects they know nothing about, and to join groups composed of people who are "nothing like you."
"I think you'll be surprised," he said. "Choose the more difficult thing because it's more difficult. You'll have lots of choices here, some of them will be difficult. The most rewarding ones usually are."
Penn Provost Wendell Pritchett and President Gutmann, J. Larry Jameson, dean of the Perelman School of Medicine; Eric Furda, dean of admissions; Medha Narvekar, vice president and University secretary welcomed the Class of 2023.
Tseion Mebratu, a freshman health and societies major, who's living in Du Bois College House, knows a thing or two about tough decisions already. It certainly was no easy feat to choose a college across the country from her family, who live in Las Vegas, Nevada.
"But opportunity-wise, I felt like it was so full here," Mebratu said. "When I visited, I felt like everyone was on their grind and hustle, and I wanted to be part of that grind and hustle. I knew I was coming here for all the right reasons."
It was a bit of an easier decision to come to Penn for Nikolas Mihailidis, from Montgomery County, Pennsylvania. He chose the University in part, he says, because of its proximity to his family. A computer engineering major living at Hill College House, Mihailidis said, even while close to home, he is looking forward to all the diverse offerings Penn presents. 
"I like the whole idea of expanding your [boundaries], seeing new things, and expanding your horizons," Mihailidis said, noting that he'll "100 percent" be taking the advice shared by Gutmann and Pritchett, as well as Charles "Chaz" Howard, the University chaplain, who reflected in his invocation that all students be "free from a lack of flexibility, both in an openness to having their minds and perspectives change, but also a vocational flexibility, that might allow for surprising new paths to present themselves."
As all the new students embark on what Gutmann called their "Penn odyssey," she noted their joining of a University where "all of us take to heart our commitment to helping each and every one of you work together, succeed, discover together, and celebrate together."
"Most of all, every day, in countless ways, we will expand our orbits—together," Gutmann said. "It's going to be a blast."