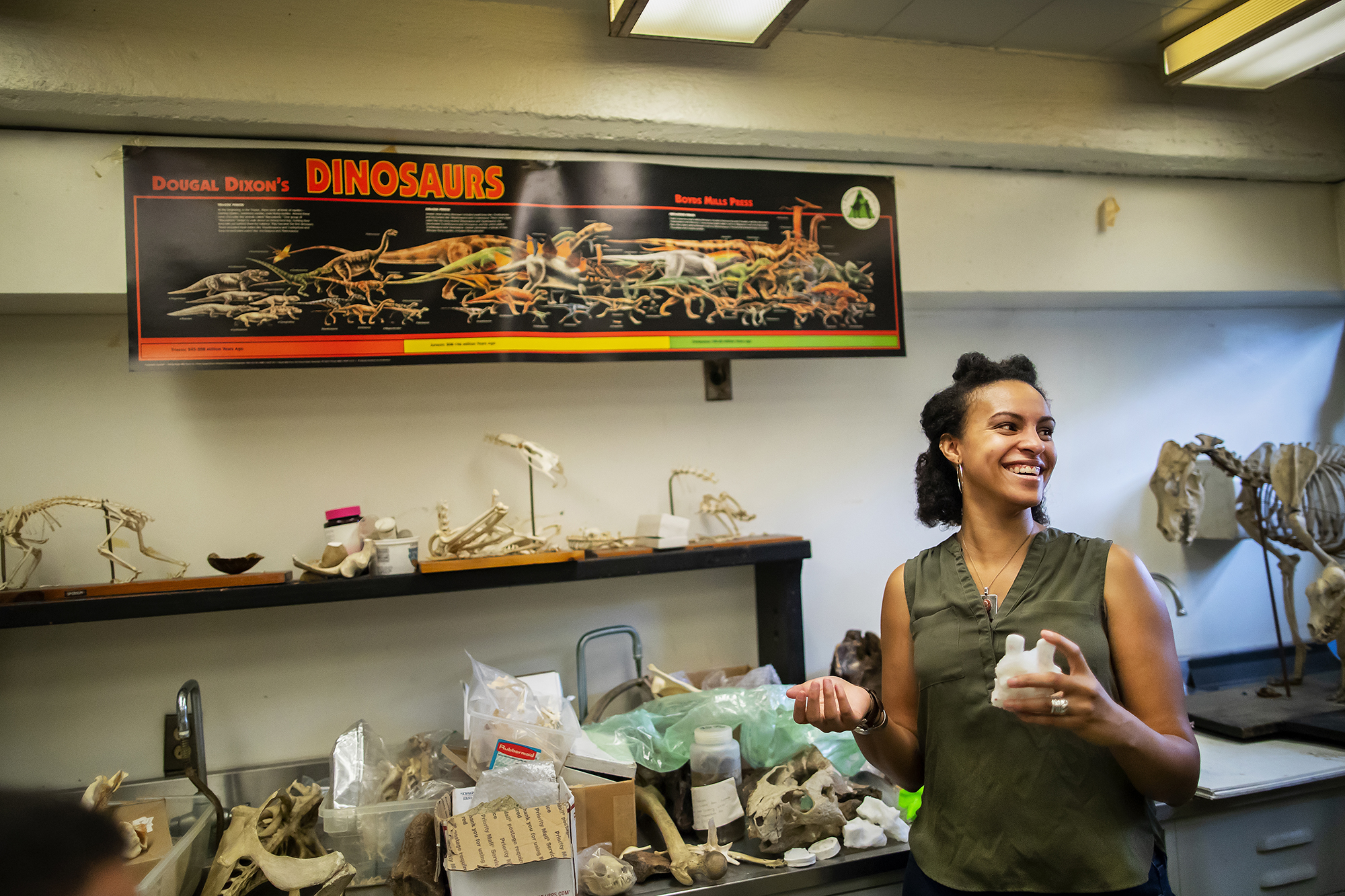 At the end of a dissertation defense, after the presentation ends and the committee has done its deliberating, there's a special moment. Away from the audience, the doctoral candidate meets with committee members to hear their thoughts, then together, the group reenters the room. For the first time, the student gets introduced as a doctor. 
"Everyone hears that and cheers," says Elise Tarbi, who recently earned her Ph.D. from Penn's School of Nursing. 
As most aspects of University life moved online this spring because of COVID-19, so, too, did dissertation defenses, the final hurdle before a doctoral candidate finishes years of graduate study. Though a virtual event meant that the pronouncement of doctor and the celebration that follows couldn't happen in person, the shift had some unexpected benefits. 
Without the need for everyone to be physically be in the same space, scheduling conflicts became slightly less daunting. Ph.D. candidates felt added support from others in their shoes, mentors, department administrators who worked to make the process as seamless as possible. And more family and friends could participate from afar.
"When I got the news that I was going to be defending online, I was heartbroken," says Aja Carter, who earned a doctorate from the Department of Earth and Environmental Science in the School of Arts & Sciences. "But now I think the way this was done is how theses should always be done. My grandma was able to come and that was awesome. I have family in the Caribbean who were able to watch. The room I would have defended in holds 30 people."
Nearly 60 showed up to hear Carter discuss the paleontology that's dominated her life for the past six years. The defense experience may have gotten flipped on its head, she says, but the virtual one turned out to be just as rich. 
Technological challenges
Whether a PowerPoint will load or videos will run smoothly is always a consideration for live talks. But when that presentation is a dissertation defense via technologies suddenly being used by hundreds of millions of people daily, it can add anxiety to an already stressful situation. What happens if someone freezes? Who can provide a technical assist? How will a disruption affect the presentation flow? 
Tarbi, who studies patient-clinician communication during serious illness, turned to her academic community on Twitter. She found tips on keeping presentations engaging and on navigating technical logistics like muting an audience and sharing a screen. Two friends from her cohort were defending around the same time, so for weeks the trio practiced for one another. 
"We were the first three to do it in the School of Nursing, and we were figuring it out together," says Tarbi, who starts a postdoc at the Dana-Farber Cancer Institute in July. "We did run-throughs and talked through how we could handle potential problems, like if no one can see your presentation or if you have a Zoom bomber. I don't know how I would have done it without that network." 
Paul Masih Das, who earned his Ph.D. from the Department of Physics & Astronomy in the School of Arts & Sciences in April, says beyond the technologies, his biggest concern was connectivity. 
"I don't spend that much time at home," says Masih Das, who studies how to fabricate and characterize materials just a few atoms thick. "I was a little worried that my internet would fail or that I would have general computer problems. I tried to minimize that by practicing with my classmates and lab mates, by testing the internet connection multiple times. These are problems you don't think about when you have an in-person defense." 
Sometimes a glitch does occur but doesn't end up mattering, like during Carter's defense. She studies how the structure of the vertebrae in the spinal column changed over time and how that affected the way animals move. She uses short videos to illustrate her points. But during the defense, the videos she prepared—which worked fine from her end—didn't play for the audience, who saw still images or nothing at all. She was unaware of the hiccup until much later. "I'm really happy that didn't come across for me during the talk," she says, "that I didn't have to see confused faces." 
A broader audience 
Beyond small snafus, technology didn't hinder the recent graduates' experiences. In fact, most say the virtual setting brought a much wider audience than if they'd done the defense in person. 
Aldo Anzures Tapia, who completed the Education Linguistics program in the Graduate School of Education, focuses on early childhood education in Indigenous contexts in Mexico. Family, friends, peers, and professors joined his online discussion, as did people from the town where he conducted his fieldwork. "After a defense, you want to hug people and you want to celebrate. In my case, it was just closing the computer," he says. But "it did warm my heart to see so many people." 
For Douglas Guilbeault, who earned his Ph.D. from the Annenberg School for Communication, the remote defense provided a way to share with the important people in his life what he had spent the past five years doing. 
"It's the most significant and meaningful project I've ever done," says Guilbeault, who starts as an assistant professor at the University of California, Berkeley, in July. "It was really special for me to think that all these people from different times in my life could hear about it at the same time. Everyone was in the same virtual room. It was cool to have that." 
Such a moment was unlike any Peter Dodson had experienced in nearly four decades of mentoring Ph.D. students. Carter and Erynn Johnson, his final two mentees, both defended their dissertations virtually to substantial audiences. "I was pleasantly surprised at how well both went," says Dodson, who has appointments in the School of Veterinary Medicine and the School of Arts & Sciences. "Young people are more adept at technology than some of us old dinosaurs are, but both students are very good speakers and each gave the best presentations that they've ever given." 
Tarbi describes the experience as a "crazy blending of all worlds," of committee members and professors, family members and friends from college, even nursing colleagues listening in from clinics, masks firmly in place. 
Unparalleled support 
Doctoral students, who take years to finish their degree, rely on peers, family, friends, faculty, and administrators along the way. But in light of pandemic-related circumstances beyond anyone's control, the students' support networks seem to have pushed even harder to ensure a smooth process. 
Guilbeault mentions Annenberg's assistant dean for graduate studies, Joanne Murray, who worked out all the technical kinks leading up to his defense. Tarbi recalls how her advisor, Penn Nursing's Salimah Meghani, graciously answered five frantic emails the week leading up to hers. Carter's family and friends held a surprise virtual party for her after she finished. 
"The thesis was exhausting, but the parties after were also exhausting," she says. "What a great complaint to have." 
And all still got to celebrate being called a doctor for the first time. Tarbi's committee members left the public Blue Jeans room where she'd given her presentation and moved to a private room to discuss the talk. When the consultation finished, she and her committee reentered the room. "Welcome Dr. Tarbi," said Meghani. Everyone cheered and clapped; Tarbi cut a cake on screen. 
"Leading up to the defense, I had so much anxiety. Initially I was grieving the loss of this big ceremony I'd been looking forward to. But I adapted to it because there are so many things we're grieving right now," she says. "Then I had a lot of anxiety about the technology, which I think was displaced anxiety I would have had no matter what. On the day of, though, it was amazing."