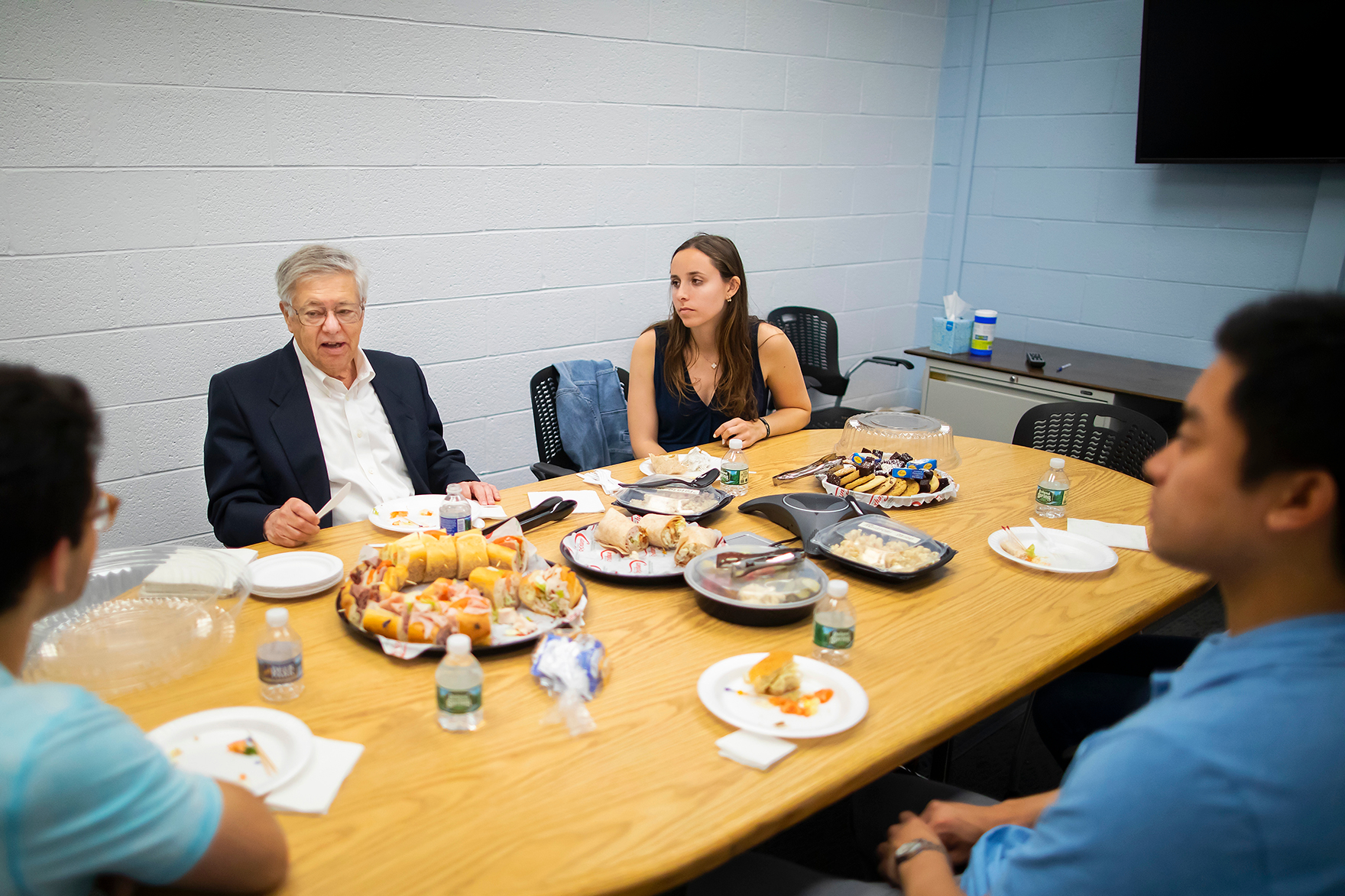 A group project usually has a few expected outcomes: classmates that become friends, long days in the library putting everything together, and insights into a new topic or way of thinking. For a group of biochemistry students at Penn, it led to something completely unexpected: Lunch with a Nobel laureate. 
The video created by seniors Aaron Kim of Phoenixville, Pennsylvania, and Emma Rodney of New York City, along with juniors Mallory Harrower of Jackson Hole, Wyoming, and Christian Rodriguez of Morristown, New Jersey, led to the opportunity to connect with Michael S. Brown, Penn alum and winner of the 1985 Nobel Prize in Physiology and Medicine. 
The video was produced for Chemistry 251, an introductory undergraduate course in biological chemistry taught by James Petersson and Jeffery Saven. In the class, students learn a number of complex biochemical pathways through lectures and exams, but they also have the opportunity to work in teams on a group project. Their assignment? Read papers on a contemporary topic in biochemistry and translate their findings into a five-minute video. 
"In most natural science courses there's not necessarily a lot of opportunities to be creative, but, when it comes down to actually doing science and doing research, it's all about creativity," says Saven, who wanted his students to learn how to take what they learn in class and create something that's clear, scientifically accurate, and engaging. 
Saven also uses peer review to help students understand how to receive and provide feedback, a crucial aspect of scientific research. The goal is "to have people give comments about strengths and weaknesses, the same sort of procedure you would go through if you were to submit a manuscript to a journal or a proposal to a funding agency, and to get students to think about doing that," he says.
Wanting to do something that was both scientifically sound as well as creative and relatable, Harrower, Kim, Rodriguez, and Rodney decided to study how alcohol affects the body. They followed several research paths before deciding to look at SREBP, a gene that codes for how the body stores fat in the liver that is activated by long-term excessive alcohol consumption.
While studying the biochemical mechanisms of SREBP inhibition, in the hopes of finding a pathway that could be targeted for future treatments, they read through a number of Brown's research papers that delved into the mechanisms of how SREBP works. 
After putting together drafts of the script, creating the video, and having the project peer-reviewed by classmates, the teams were sent the final video to the lead authors of the articles they cited. Saven tells his students that responses will vary: Some might send a brief thank you, others might share the video with colleagues or on social media, and some might not say anything at all. 
They were surprised with Brown's response: He applauded their work, shared it with members of his group, and also told them how their perspectives had opened his eyes to potential new areas of study. 
"He was really interested in our research and hadn't considered SREBP inhibition a treatment to fatty acid liver disease," says Rodney. "He said that he and his colleagues were going to try and look into that research a little bit more."
"And our professors were really excited, too," Harrower added. "They emailed us and said, 'This is great! You really captured his attention.'"
With Brown on his way to Penn to receive an award from the Department of Chemistry, Saven arranged for the students to have lunch with the Nobel laureate. Kim and Rodney enjoyed the opportunity to hear about Brown's childhood growing up in Brooklyn and the Philadelphia suburbs, funny stories from his time as a student at Penn, and the origins of his work that led to his winning a Nobel prize. 
"He was extremely down-to-earth, and to sit down and have lunch with a Nobel Prize winner was a great experience," says Kim. "It was fascinating to hear his story, how he got into medical research, and advice he had for us. It was very humbling to see how much he loved our video," says Kim.
Brown later delivered a public lecture to more than 60 undergraduate students, research associates, and faculty members after receiving his alumni award from department chair David Christianson. The Nobel laureate detailed the research that first connected cholesterol to heart disease, how high LDL levels cause heart attacks, and the background of his collaboration with Joseph L. Goldstein, with whom Brown shares the Nobel Prize, that led to the discovery of the LDL receptor and its role in regulating cholesterol levels in the blood. 
Brown describes himself as a "pre-med guy" who loved chemistry and extended his gratitude to Madeleine Joullie, who was at Penn while Brown was taking organic chemistry. He spoke of how his career in medicine revolved around asking "why?" and his motivation of helping others by studying the biochemical causes of disease. 
Beyond what they learned from their interactions with Brown, the students are thankful for the experience of learning how to do and think about science through a creative, hands-on approach. "Normally, science classes are just tests, but I think [this video project] is really valuable because this is more like real-life science," says Rodney.
The students also said that this experience showed them just how accessible scientists really are. "Before this, I never would have realized that sending them an email would work. You just assume they're so busy and so high up in the field, so it's really cool to have a new perspective," says Kim. 
Saven agrees, and he hopes to continue to foster creative research projects and the connections they make in the future. "The whole idea is to have something that's forward facing that you can share with other people, including leaders in the field, and then to establish a dialogue or some sort of connection with them," he says. 
Jeffery Saven is a professor in the Department of Chemistry in the School of Arts and Sciences at the University of Pennsylvania.