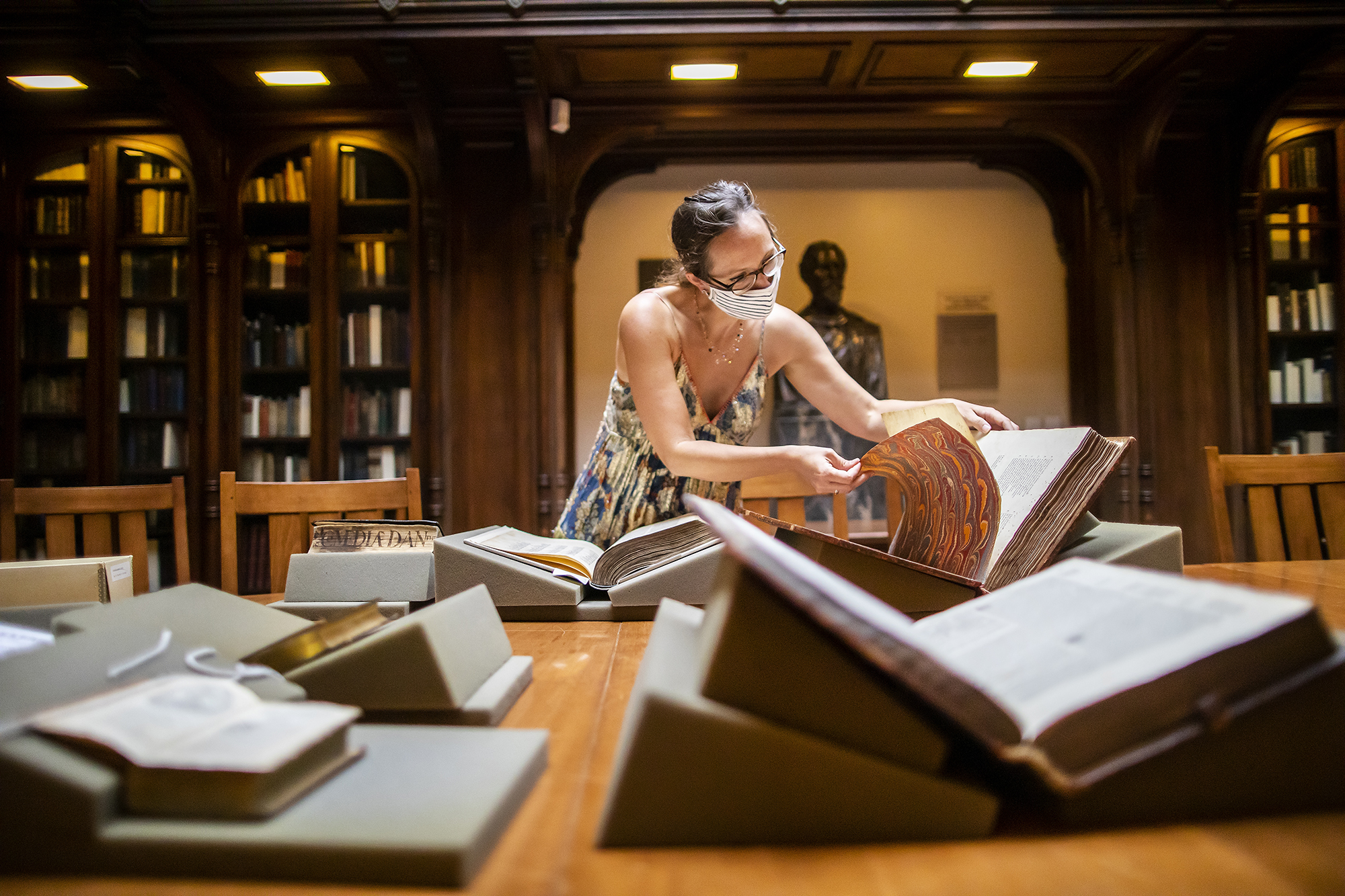 "When you live in a city like Florence, it's impossible to escape" from Dante, says Eva Del Soldato. Now associate professor of romance languages, Del Soldato—like Dante—was born and raised in Florence. "You go around Florence and everywhere on monuments named for Dante you will find a plaque with his verses," she says. Although a statue of the poet now looks down at passersby in the Piazza Santa Croce, Dante Alighieri was exiled from his home city, ultimately dying in Ravenna on Sept. 14, 1321.
Dante's magnum opus is widely considered to be the "Divine Comedy," a poem in which an autobiographical protagonist journeys through hell, purgatory, and paradise under the guidance of the Roman poet Virgil. Along the way he meets both historical figures, like Plato and Aristotle, both in limbo as enlightened pagans, and contemporary figures, like Francesca da Rimini, situated in hell for falling in love with her brother-in-law. Dante employs philosophical and theological concepts as the poem evolves, Del Soldato says.
After being exiled for his political views, Dante chose to people hell with his former neighbors and old haunts as "a sort of revenge against a city that had expelled him," says Del Soldato. "There are Florentines basically everywhere," including Canto 25 in "Inferno," where the damned souls are Florentine thieves.
While Florence has since reclaimed Dante as a native son, his influence reverberates throughout the world. Religious studies professor Justin McDaniel notes that the "Divine Comedy," while rarely read in its entirety, has become an integral part of the Western canon.
"Dante's difficult verse, with its countless intertextual references to figures in Biblical and Classical literature, as well as to Mediterranean religious, social, and economic history, is dizzying to the modern reader," he says. "Nonetheless, many are familiar with the nine levels of hell, the images—made famous by Dore's etchings and Botticelli's 'Map of Hell'—of men condemned to push boulders up the sides of mountains or the image of Satan with three heads lodged in ice."
"The Divine Comedy" and its literary successors have had "more of an impact on Christian images and ideas of hell than the Old or New Testament," McDaniel says.
With the advent of the printing press, it was the Aldine small books in octavo editions that launched Dante into the canon, positioning him alongside Virgil and Petrarch, Del Soldato says. Penn houses some of these rare volumes in the Kislak Center for Special Collections, Rare Books and Manuscripts at Van Pelt-Dietrich Library Center.
"What's the advantage of a small book?" asked curator John Pollack. "It's portable, and as it turns out, it's a little bit cheaper." Pollack showed some of these texts to students in Giuseppe Bruno-Chomin's Renaissance! class (Italian 300). Tangible objects help to connect students with the concepts they're learning, Bruno-Chomin says.
Pollack called the students' attention to doodling in the margins of one of the books. This pointing finger is a manicule, he said, which draws attention to a particular section of text. "Don't write in our books, but you should definitely write in your own," Pollack advised students. "In two, three hundred years, people are going to be really interested in what you had to say."
Pollack, who doesn't speak Italian, brought some of these annotations to Del Soldato's attention. He has good instincts, she says. She assigned this volume to graduate students Andrea Gazzoni and Peter Lesnik, who connected the Penn copy to the reception of the Italian poet Alessandro Tassoni, whose annotations were transcribed in the copy 200 years after Tassoni's death. Another graduate student, Natale Vacalebre, worked on the library's copy of Dante's "Convivio" with manuscript annotations by Torquato Tasso, publishing an article on his findings.
While the books have been around for centuries, there are still new things to learn from them, Del Soldato says. Looking at two octavo editions of Dante, one beautifully bound with gold leaf, one falling apart, is a bit like Indiana Jones choosing the Holy Grail, she says. It's the plainer volume that holds the richer material, full of notes, drawings, and doodles. "Ugly books are more interesting because you understand something about the readers," she says. "The book isn't just about the text." The interaction between the reader and Dante creates a dialogue.
"I started by saying that Dante is very close to Florentine sensitivity, but I would say that Dante speaks to humanity," Del Soldato says, with references in John Milton's "Paradise Lost" to David Foster Wallace's "Infinite Jest," in Primo Levi "If This is a Man" to "The System of Dante's Hell" by Amiri Baraka.
Penn's Italian studies have collaborated on a number of events commemorating the 700th anniversary of Dante's death, including "Africana Dantes 2021," an upcoming event at Kelly Writer's House where four poets will offer creative responses to the "Divine Comedy." Together with the Center for Italian Studies and Penn Live Arts they have also invited a world-renowned theater group from Ravenna, Teatro delle Albe, to return to campus in February 2022 to present a show focused on Dante.
"Dante constantly inspired generations," says Del Soldato. The story of a man journeying towards his salvation has a universal message, and everyone can find a reflection of their own experience. "In the plight of Dante, you can mirror your own plight," she says. "In the pilgrim, everyone can find him or herself."
The poetry has a cinematic quality, and its "cultural influence goes in every direction," says Pollack, even to video games, which mirror the structure of Dante's "Inferno." Gamers all begin at the bottom of a foreign landscape, battling demons and making sense of this new world, trying to rise up to the next level and the one beyond that, a solitary journey towards mastery, constantly ascending, with each round getting a little closer to the light.