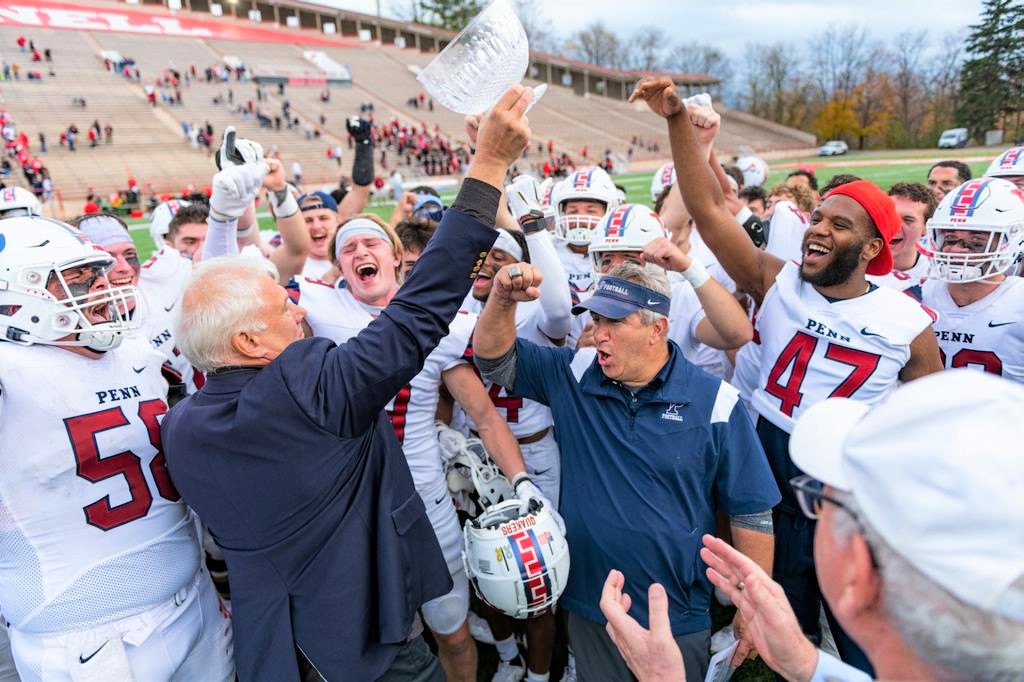 Bouncing back from their first loss of the season, the football team's defense, special teams, and running game reigned supreme in Penn's 28-21 victory over Cornell on Saturday in Ithaca, New York.
The defense was stout, the punt return team blocked two punts, and fourth-year running back Trey Flowers, who missed nearing a month due to injury, came back with a vengeance, rushing for 124 yards and two touchdowns.
The Red & Blue scored the game's first points, a 47-yard touchdown pass from second-year quarterback Aiden Sayin to third-year wide receiver Sterling Stokes with 3:47 left in the first quarter.
Cornell's Javonni Cunningham returned the ensuing kickoff 60 yards to the Quakers' 30-yard line. Two plays later, Big Red quarterback Jameson Wang found wide receiver Thomas Glover for a 31-yard score.
A blocked punt early in the second quarter led to Flowers' first touchdown. On 3rd-and-9 from the Cornell 21, second-year defensive lineman Paul Jennings sacked Wang for a 14-yard loss, which forced the Big Red to punt from their own endzone. Fourth-year linebacker Luke Hoggard blocked the punt, and Penn took possession at Cornell's 20-yard line. Four players later, Flowers rushed up the middle for a four-yard score.
Late in the second quarter, the Red & Blue once again found themselves with the ball deep in Cornell's territory, this time thanks to the Quaker defense. On 3rd-and-9 from the Cornell 30, fourth-year linebacker Garrett Morris intercepted Wang's pass and returned it to the 13-yard line. Two plays later, Flowers scored his second touchdown, a six-yard run.
At halftime, Penn was ahead 21-7.
By way of another blocked punt, the Quakers made it a three-score game on their first drive of the second half. On 4th-and-10 at the Cornell 25, fourth-year defensive back Jake Gonzalez blocked the punt and the Red & Blue took over at Cornell's 47-yard line. On 2nd-and-1, Sayin completed a 38-yard touchdown pass to third-year wide receiver Joshua Casilli.
Aided by unsportsmanlike conduct and targeting penalties, Cornell matriculated down the field on the next drive, which ended in a four-yard touchdown run by Wang.
After three periods, Penn held a 28-14 advantage.
Cornell was close to cutting the lead to seven with eight minutes left in the fourth quarter. A 53-yard run by Wang set them up in the redzone, but Penn's defense held strong and forced a turnover on downs. The Big Red were threatening to score once more with 6:17 on the clock. On 3rd-and-two from Penn's 21, Sayin's pass was intercepted. Using all four downs, Cornell was unable to get 10 yards and the Quakers took over on downs.

Cornell scored a touchdown with four seconds remaining in the game, but the Quakers recovered the onside kick and closed out the win.

Sayin finished 8-18 for 137 yards, two touchdowns, and one interception. Morris had 10 tackles (five solo), one interception, and one pass breakup. Third-year defensive lineman Joey Slackman had eight tackles (four solo), 1.5 tackles for loss, one sack, and one quarterback hurry.

The Quakers took home the Trustees' Cup for the seventh time in the last eight seasons, and defeated Cornell for the eighth straight time in Ithaca.
On Saturday, Nov. 12, Penn (7-1 overall, 4-1 Ivy League) takes on Harvard (5-3 overall, 3-2 in Ivy League) at 1 p.m. at Franklin Field, the Red & Blue's final home game of the season.