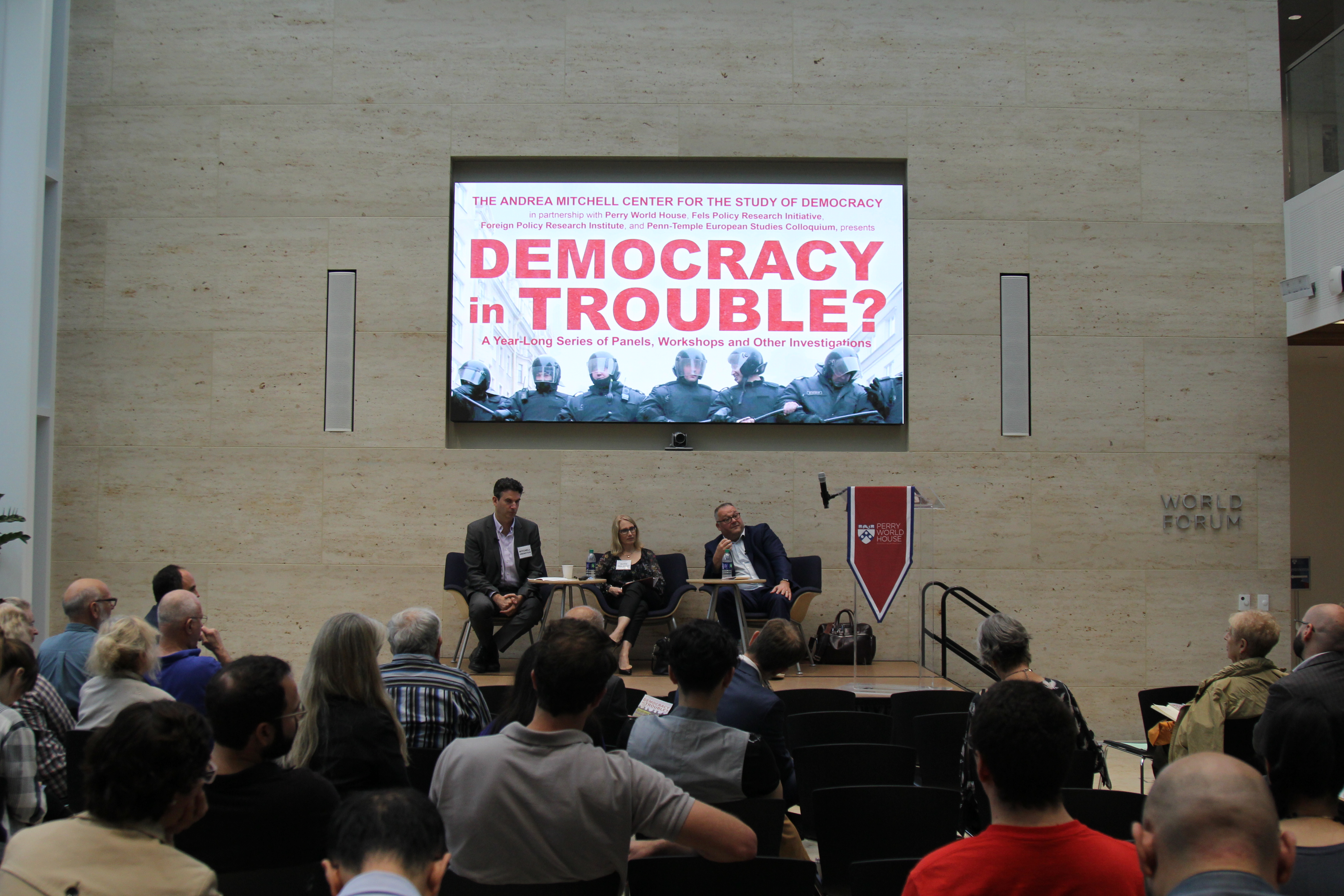 "Democracy in Trouble?" is the focus of a year's worth of programming at the Andrea Mitchell Center for the Study of Democracy. During its opening conference at Perry World House on Friday, Sept. 14, "Democracy in Trouble?" addressed topics such as why democracies fail and the rise of authoritarianism.
The leader of the "Democracy in Trouble?" planning committee, Mitchell A. Orenstein, is a professor of Russian and East European studies, who holds a secondary appointment in the Department of Political Science in the School of Arts and Sciences. He attributes the sudden popularity of authoritarianism in America to mental short-cuts among susceptible voters with the false hope that a strong leader can easily fix problems.
"What they may fail to recognize is that authoritarian rule has problems, too," Orenstein explains. "With a democracy, you can kick the bums out. But, with an authoritarian regime, you are often stuck with them and the problems they create for decades."
Jeffrey Green, a professor of political science and the director of the Andrea Mitchell Center, says, "Many have pointed to a host of challenges imperiling democracy today, from the rise of authoritarian movements, growing inequality in a large majority of liberal democracies, the threat of climate change and migration crises to democratic governance, and the ways in which new technologies may be impeding civil discourse."
Green adds the series will address not only "Where did we go wrong?" in terms of democracy, but also less commonly asked questions like "Where did we go right?" and "When were the 'good old days' for democracy?" To answer, he turns to American history.
"In the U.S. context, the decades following World War II, the late 1940s to early 1970s, are sometimes upheld as a better time, democratically speaking, because economic inequality was lower and so, too, was polarization. But the racial and gender politics of this time period—legalized discrimination—would make this era unpalatable to most liberal democrats today," says Green. "And from a global perspective, the early 21st century has seen the greatest extension of liberal democracy in history, so if democracy is in crisis in 2018 this moment of crisis is extremely close in time to a period of relative triumph.
"What this means is that, in addition to understanding the threats to democracy, the conference—and the broader yearlong series of events of which it is a part—places those threats in historical context, with some appreciation that democracy has probably always faced serious challenges since its re-emergence 250 years ago."
It is clear to most political scientists that democracy really is in trouble, Orenstein says.
For instance, the number of democracies has been on the decline since 2007, and the quality of democracy has also weakened. This is happening for multiple reasons, he adds.
"The neoliberal economic reforms that promised widespread prosperity turned into a big disappointment after the 2008 financial crisis. Some countries like Russia have been actively undermining democracy in countries around the world, including the U.S.," says Orenstein. "U.S. wars in the Middle East and the Arab Spring revolutions caused a massive wave of immigration that has resulted in a nationalist and populist reaction in Europe. But most concerning of all, young people no longer consider democracy to be essential. That is why we decided to make this year a series of public events to discuss the future of democracy among the young people on campus."
The opening conference, co-sponsored by Perry World House, the Fels Policy Research Initiative, the Foreign Policy Research Institute, and the Penn-Temple European Studies Colloquium, wrapped up with an afternoon debate that questioned whether democracy was worth saving.
Felipe Calderón, resident of Mexico in 2012-16 and Distinguished Global Leader in Residence at Perry World House, was in attendance.
"In this era of uncertainty, democracy is worsening. It's a terrible failure that there is no mechanism in the democratic process that guarantees equal participation. It's important to close the door to money—or the power of money—regarding the electoral process here in America," Calderón says, adding that the manipulation of information and images on social media is contributing to the damage that's being done to democracy. 
In order to rescue democracy at this point, Orenstein says, active engagement is required. That means people have to look more critically at information and assess its quality. He suggests starting with taking charge of one's own social media channels by only paying attention to verified people with real names and identities.
"Start by blocking the anonymous pseudo-people who feed your ego by following you. Sometimes they are just seeking to manipulate you by feeding your worst instincts," he explains. "Take some time to seriously think through your politics. A lot of what is happening now sounds like a collective venting about a bunch of frustrations. I urge people to get past that and start to think more constructively about what we want to achieve."
The 2018-19 Speaker Series "Democracy in Trouble?," is co-sponsored by Perry World House, the Fels Institute of Government, the Foreign Policy Research Institute, the Center for Ethics and Rule of Law, the Center for the Study of Contemporary China, the Department of Russian and East European Studies, the Marginalized Populations Project, the Department of Political Science, the Department of Africana Studies, and the Center for Media at Risk.
________________________________________________

Future "Democracy in Trouble?" events include:
Are Youth the Future of Democracy?
Thursday, Oct. 11, 4:30 p.m. at the Ronald O. Perelman Center for Political Science and Economics Forum (Room 250)
Foreign Interventions in Democratic Elections:
Countdown to the Midterms
Friday, Nov. 2, 4 p.m. at the National Constitution Center (525 Arch St.)
Co-sponsored by the Center for Ethics and the Rule of Law
Is Immigration Good or Bad for Democracy?
Thursday, Nov. 15, 4 p.m. at the Perry World House, World Forum (3803 Locust Walk)
Co-sponsored by The Penn-Temple European Studies Colloquium
Is America Becoming Less Democratic?
Thursday, Dec. 6, 4:30 p.m. at the Ronald O. Perelman Center for Political Science and Economics Forum (Room 250)

________________________________________________