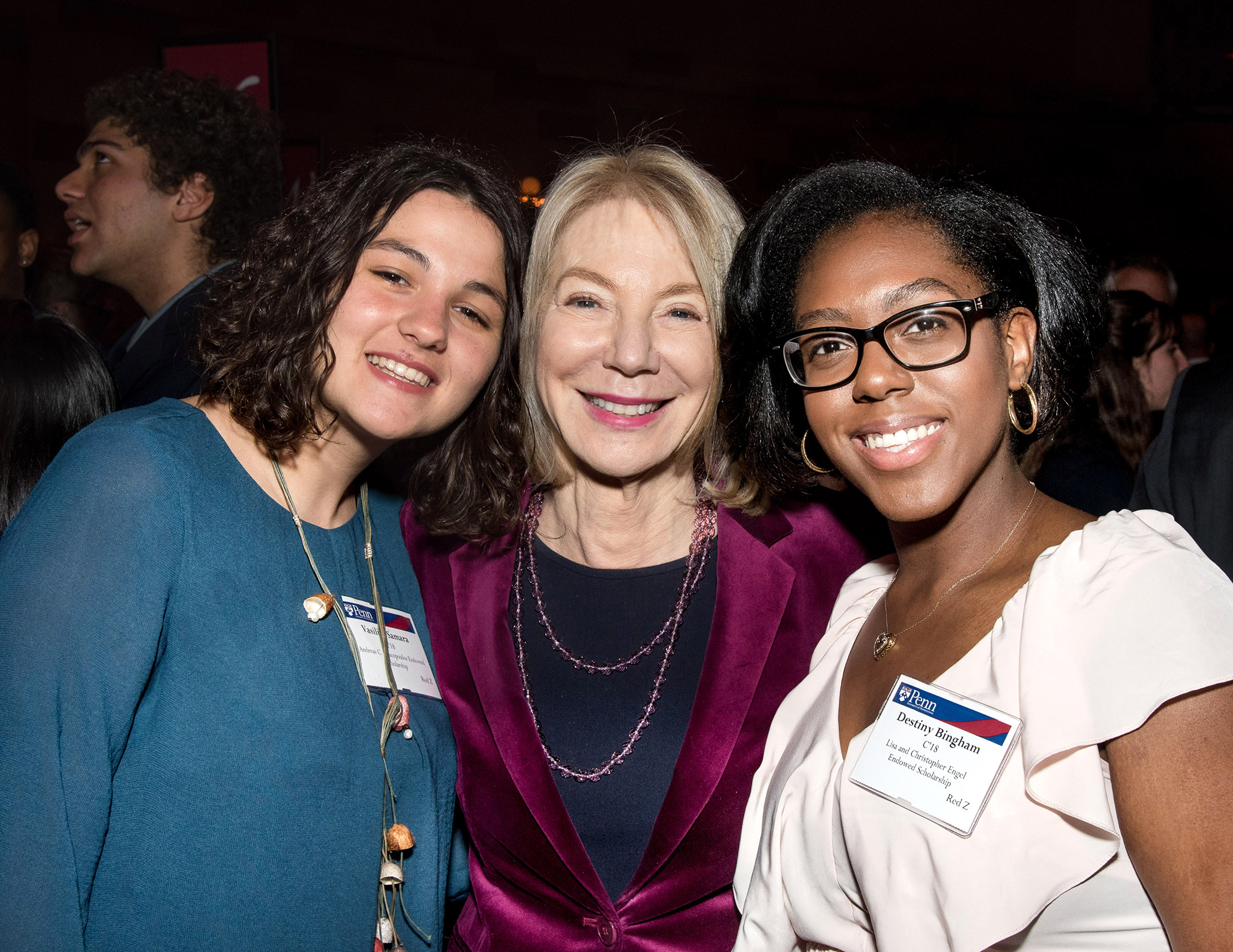 Hovering over hundreds of students and donors at the April 3 Spring Scholarship Celebration in New York City—purely by chance—was this quote from Penn founder Benjamin Franklin: "Waste neither time, nor money."
The recipients of Penn's Undergraduate Named Scholarships surely have wasted neither. 
Spotlighted at the event, held every spring at Gotham Hall in Manhattan to bring together donors and students receiving endowed named scholarships as a part of their financial aid package, were two especially impressive young scholars: Destiny Bingham, a graduating student with a challenging upbringing in Camden, N.J., to become a champion for early education and low-income access to college; and Vasiliki Samara from Greece, another graduating student who, despite family financial setbacks from the Greek economic collapse of the late-2000s, overcame discouragement from her high-school advisers by studying her way to Penn, where she's since traveled the world through University programs.
"Benjamin Franklin would love to see how our students are committed to the education of themselves and fellow students, as citizens of our democracy and citizens of the world," remarked President Amy Gutmann during the event. "How our students are using their knowledge to make a difference in the world; how our students are committed to translating ideas into outcomes; how our students are committed to the education of themselves and fellow students.
"The stories of all the students assembled here today are proof-perfect that the value of education is actually invaluable," she said. "The stories of our students are the stories of the future." 
For Destiny Bingham, that story began with her name. 
"[My mother] would tell you she always knew I was destined for greatness," Bingham remarked. "And she claimed this destiny the moment she named me." 
But, Bingham acknowledged, that positive outlook wasn't such an easy buy-in for someone growing up in one of the most impoverished and violent cities in the country. She had little hope that she could bridge the 15-minute physical gap between Camden and Penn and succeed at one of the top universities in the world.
In fact, she hardly knew the opportunities were a short ride away.
"Until I was 16, I had no idea what an Ivy League was," she said. "I had no idea such an opportunity, or key to achieving this destination my mom always talked about, was just right over the Delaware River. And needless to say, my transition to Penn was hard."
Until her junior year, she said, she quietly suffered from what she calls "imposter syndrome"—a psychological condition that could be described as intense feelings of inadequacy, in this case, gripped by feelings of not stacking up to the usual Ivy League standards. 
But, she said, counselors, mentors, friends, family, and an all-around supportive environment at Penn offered her the resources to—mostly—overcome these feelings. The scholarship, she said, especially helped.
"If someone is investing in me, and if they see something in me, there must be something for me to see as well," she said. "It really encouraged me."
Those imposter feelings spurred her to become heavily involved with the PennCAP Program during her time at Penn, which offers support to low-income and first-generation college students. Her involvement first began as a participant, then as a worker. The experience has since inspired her to continue working after she graduates as an advocate for early education, with a hope to someday work in education administration to transform communities like Camden through early access to education. After Commencement, she'll start a position teaching secondary English with Teach for America in Baltimore. 
Samara's story, meanwhile, began while watching TV. 
"You know how people talk about that young love that happens in your life, unexpectedly, and changes it forever? For me, that happened at 6 years old when I fell in love with a Spanish soccer player my father and mother were watching during the European championship on TV," she said. "I announced to my parents I wanted to learn Spanish."
In short: The moment jumpstarted her fierce curiosity about the world. 
She began taking language classes almost immediately—first Spanish, then Italian, French, Portuguese, Swedish, and more. She took it upon herself to find travel opportunities during her adolescence, to places like the United Kingdom and Seoul, South Korea, and eventually realized she wanted to study abroad in the most diverse nation of all: the U.S. 
But her professors and guidance counselors weren't quite on board with the idea—at best, one adviser said, she could study at a university in the Midwest. 
So, Samara took matters into her own hands: She ordered SAT preparation books online and got accepted to Penn. Given that her acceptance came in the aftermath of the Greek financial crisis, however, she knew a celebration was premature. Her father was in danger of being laid off, and her mother—a public servant—had her salary reduced by 40 percent.
The financial hardships her family was facing made her scholarship package exhilarating.
"The moment I heard about financial aid at Penn, about my scholarship package, was even more thrilling than when I got admitted," she said. "Finally, my dream was taking shape: 'I'm going to the U.S.! This is real life! I'm going to Penn!'"
And she hasn't wasted a minute of her time here.
She's traveled, through Penn programs, to countries around the world, from China to Brazil; she's taken on countless internships and learned from former United Nations advisers, and even taken up synchronized swimming. 
Penn, she said, "changed my life." 
"The significance of this event is directly related to the importance of undergraduate financial aid at Penn," said Mark First, chair of the Undergraduate Financial Aid Leadership Council and a donor. "Everybody has passion for the scholarships program and cares about the cause, and what this does is bring engagement back to the University, connection to students, all at one place and at one time."
In the past decade, named scholarships have afforded more than $500 million in financial aid to students at Penn, doubling the amount of named scholarship money from the previous decade. The University will also soon launch Penn First Plus, a new set of initiatives for first-generation and low-income students. 
"When it comes to increasing affordability and access among our nation's universities, you have made Penn the gold standard," Gutmann said, speaking to a crowd of donors. "And for that, you have my heartfelt thanks."
Photo at top: Penn students Vasiliki Samara (left) and Destiny Bingham (right) with President Amy Gutmann at the April 3 Spring Scholarship Celebration in New York City.
Photos by Ben Asen