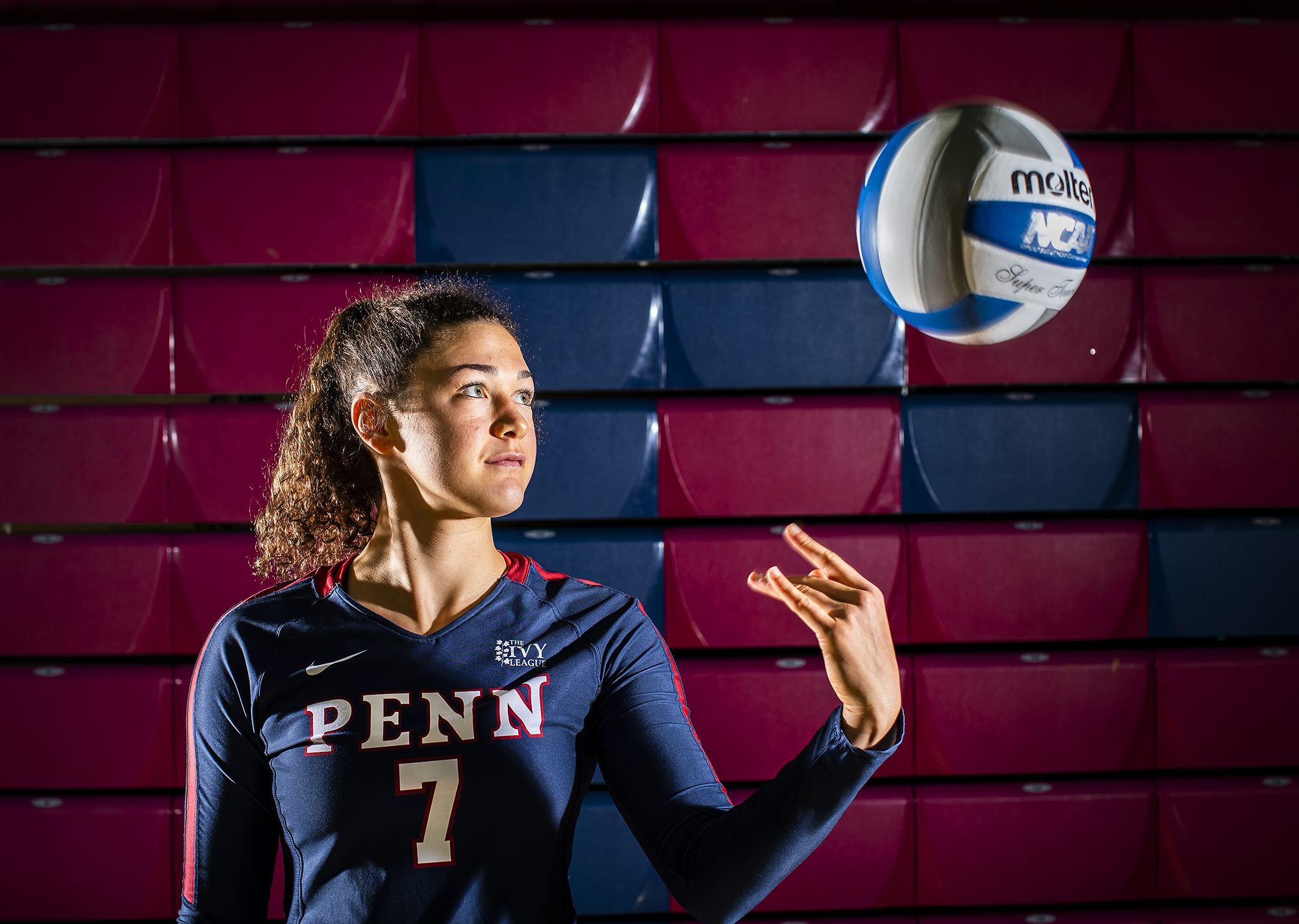 In the sport of volleyball, you never do anything alone. You win together as a team and lose together when you fail.
There is no "I."
The inherent comradery of the game is what junior Parker Jones loves about the sport.
"I really like how you have to learn how to solve problems together," she says. "I think that's a great social skill to have. Being able to get everybody on the same page in order to achieve a goal is one of the beautiful parts of the sport."
At Penn by way of Lafayette, California, Jones is an outside hitter on the 8-6 volleyball team. She is the team leader in kills (173) and points (188.0), and tied for third in digs (102).
Last season, she finished with more than 200 kills for the second straight year and was an All-Ivy honorable mention. She was a Second-Team All-Ivy honoree as a freshman, a three-time Ivy League Rookie of the Week, and led the team in total kills (319).
Parker has been playing volleyball since she was in seventh grade. Because of her height (she's 6' 1"), her parents sent her to basketball, swimming, and volleyball camps over the summer. She ended up enjoying volleyball and sticking with the sport. 
Penn Today parleyed with Parker at the Palestra to discuss her responsibilities as an outside hitter, her interest in Penn, the joy of beach volleyball, sports writing for the DP, and coaching the freshman team while she was in high school.
What are your responsibilities as an outside hitter? I'm a sixth rotation outside hitter so I don't normally get subbed out, so I have to hit, I have to block, I have to pass, I have to serve, play defense. The only thing that I don't have to do is set, so that's fine with me. I don't have the best setting hands.
So, when one of your teammates sets the ball, you come and… I come and I hit it. That's probably my favorite part of the game.
Why so? It's one of the main ways that we score in the game. Setters put up really nice sets—and they don't get enough credit—but just getting the winning kill or being able to score points for a team is something that has always been really gratifying.
Why were you interested in coming to Penn? I definitely wanted something different from California. I absolutely got it. I'm really regretting the weather decision, but we get through it. You need a jacket and some boots and you're good. I wanted to be able to play at a competitive level while also receiving an education. I did tour some Ivies, but I felt most at home at Penn. Coming into the Palestra, it's just such an amazing gym, but also the people on the team sold me. They were so authentic and genuine. It just felt like they were my speed.
What's the training like for the volleyball team? A lot of our training comes from spring and then in the summer. Our season is probably the shortest one. We go from late August to early November, but we play doubleheaders every weekend. Our preseason in the summer is conditioning, lifting weights, working out, and pushing yourself as hard as you can so that you are ready for when the season rolls around. In the spring, when we're off, technically, it's conditioning, which also includes weightlifting three times a week and then practice on the days that we don't have lift. 
In the season, though, it's definitely a grind. We have lift. We just had a lift this morning, actually. A 7:30 lift. That goes for about an hour. Our practice goes from 4:30 to 6:30 p.m. every day, Monday through Thursday, and then on Friday/Saturday we have games. And even on game days, you have to be here hours before—I want to say like four hours before the game—for premeal, scouting, making sure you're getting treatment, and then we warm up once for about a half an hour. Then we take a small break to grab water, and then we warm up again with the opposing team. It's definitely go, go, go during season.
 Have you ever played beach volleyball? Oh my gosh, I love beach volleyball. I'm from California so beach volleyball was always a part of the summer. I try to play beach as much as I can. This past summer, I was up in New York interning and Central Park had some beach courts so me and one other of my teammates went to the beach courts. It's a great way to get great reps, but also be able to train your jumping abilities because it's pretty humbling when you get back into the sand and you try to jump and you don't go anywhere.
You are also a sports writer for the Daily Pennsylvanian, correct? I started with the DP my freshman spring. Originally, I just wanted to get out and meet some new people, but I ended up being able to find joy in writing. I'm a communications major so I love to write. I like the type of journalism writing that I get exposed to, which is different than writing a literature review in class, or something like that. But also, being a sportswriter let me get to know more athletes, which was great. It's been an awesome experience. It's always fun writing weekly articles.
Is sports journalism something you are considering pursuing? I really do like journalism. I think it's interesting and the stories that you can take ownership of are something that's always rewarding to see either posted or you hear people talk about. It's also a different way to think about writing, and think about questions to ask, and learn more about people that you end up interacting with.
Your bio says that when you were a junior and senior in high school, you coached freshman team. Yes, when I was in high school, I ended up coaching the freshman team both my junior and senior year. 
By yourself? I was an assistant coach. There was one adult coach at my high school. I was always in the gym anyways, either helping out or setting up nets, and they asked me, 'Come coach these girls. They're freshmen, you're a junior, they'd love to have a role model and someone to look up to, so just come in and help out when you can.' I ended up really, really enjoying doing that. I thought it was really cool to see the girls progress, even in the short period of time, and even though it's high school volleyball where people are mostly just there to have fun. I enjoyed building those bonds with the girls and seeing them excel. Some of them are now seniors in high school, which is crazy to think about. If I had an impact on their lives, that means the world to me.