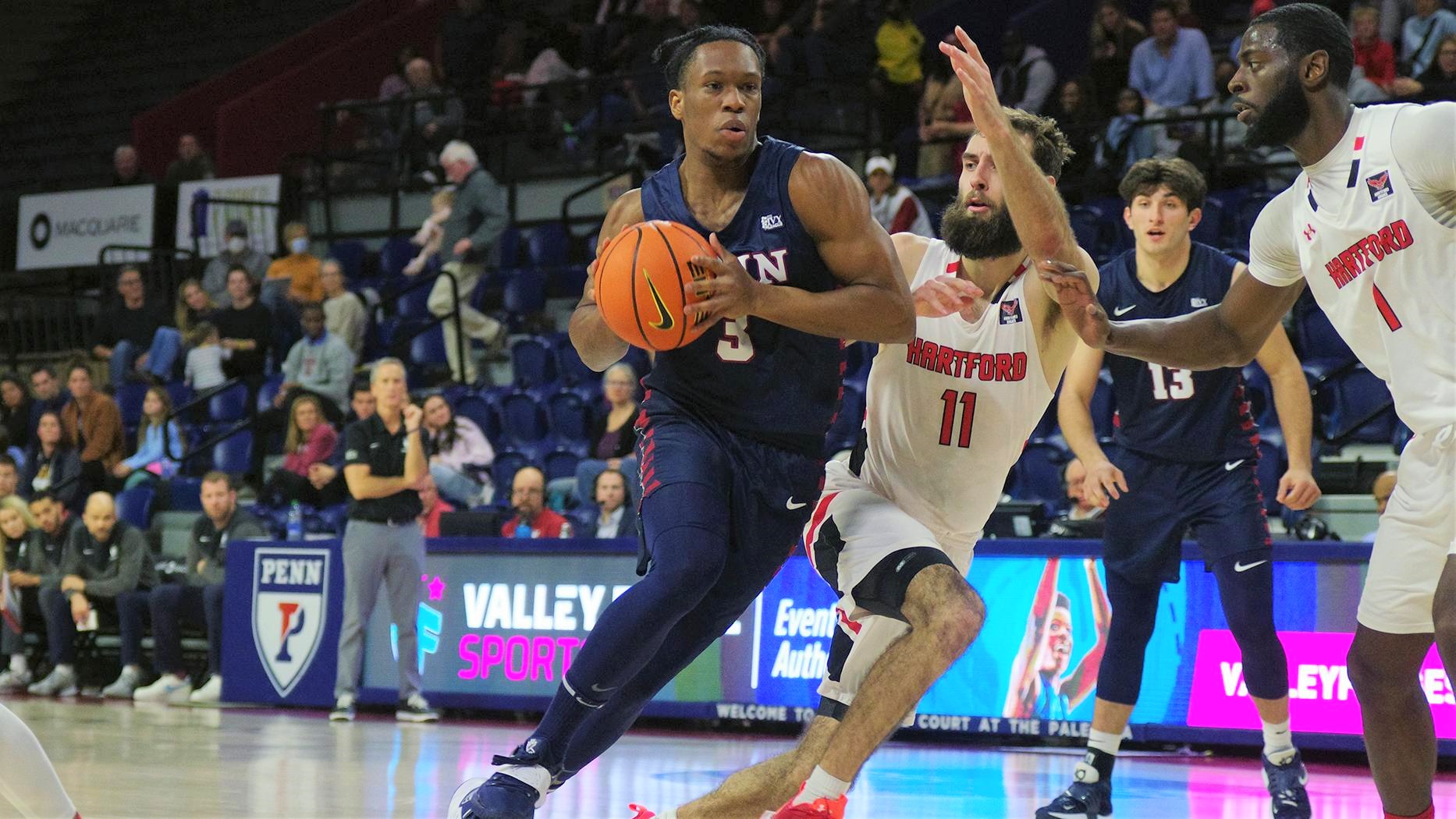 To no one's surprise at all, third-year guard Jordan Dingle of the men's basketball team has been named Ivy League Player of the Year.
A native of Valley Stream, New York, Dingle led the conference in scoring, averaging 23.4 points per game. His scoring average ranks second in the country and is the second-highest in the conference in the last 25 years. He finished second in the league in free throw percentage (.856), second in three-point field goals per game (2.8), third in minutes per game (33.5), and 11th in steals (1.1 per game) and three-point field goal percentage (.356).
Dingle is only the fifth Penn junior to be named conference Player of the Year, joining Paul Little (1981-82), Jerome Allen (1993-94), Ugonna Onyekwe (2001-02), and Ibrahim Jaaber (2005-06). He is the 15th Quaker overall to earn Player of the Year honors, and one of only six Quakers to be awarded both Ivy League Rookie of the Year and Player of the Year.
The 656 points scored by Dingle this season are second-most in school history, trailing only Ernie Beck's 673 in 1952-53. He scored 20 or more points 22 times, second-most in school history behind Beck's 25 in 1952-53.
Dingle's biggest performance came against Big 5 foe La Salle. He scored 37 points in Penn's 84-81 overtime loss at the Palestra on Dec. 3, the most points scored by a Quaker in almost 30 years. He shot 12-22 from the field, 6-10 from the three-point line, and 7-8 from the foul line. He also had five rebounds, one assist, and one steal.
He also scored 30 points in the Red & Blue's 77-57 win over Big 5 rival Temple at the Palestra on Dec. 10. He shot 10-22 from the field, 1-7 from behind the arc, and 9-10 from the free throw line. He added four rebounds, six assists, and three steals.
His highest-scoring Ivy League game was a 33-point feat in the Quakers' 84-55 victory over Columbia in New York on Jan. 7. He shot 11-17 from the field, 7-9 from the three-point line, and 4-5 from the charity stripe.
Dingle is also a unanimous First-Team All-Ivy selection for the second year in a row. The Red & Blue finished the 2022-23 season with a 17-13 record overall and a 9-5 mark in conference play. They reached the semifinals of the Ivy League Tournament, where they fell to Princeton on March 11, 77-70.
Entering his final season next fall, Dingle is eighth on Penn's all-time scoring list with 1,536 points. If he has a similar output, he could shatter A.J. Brodeur's all-time scored record of 1,832.