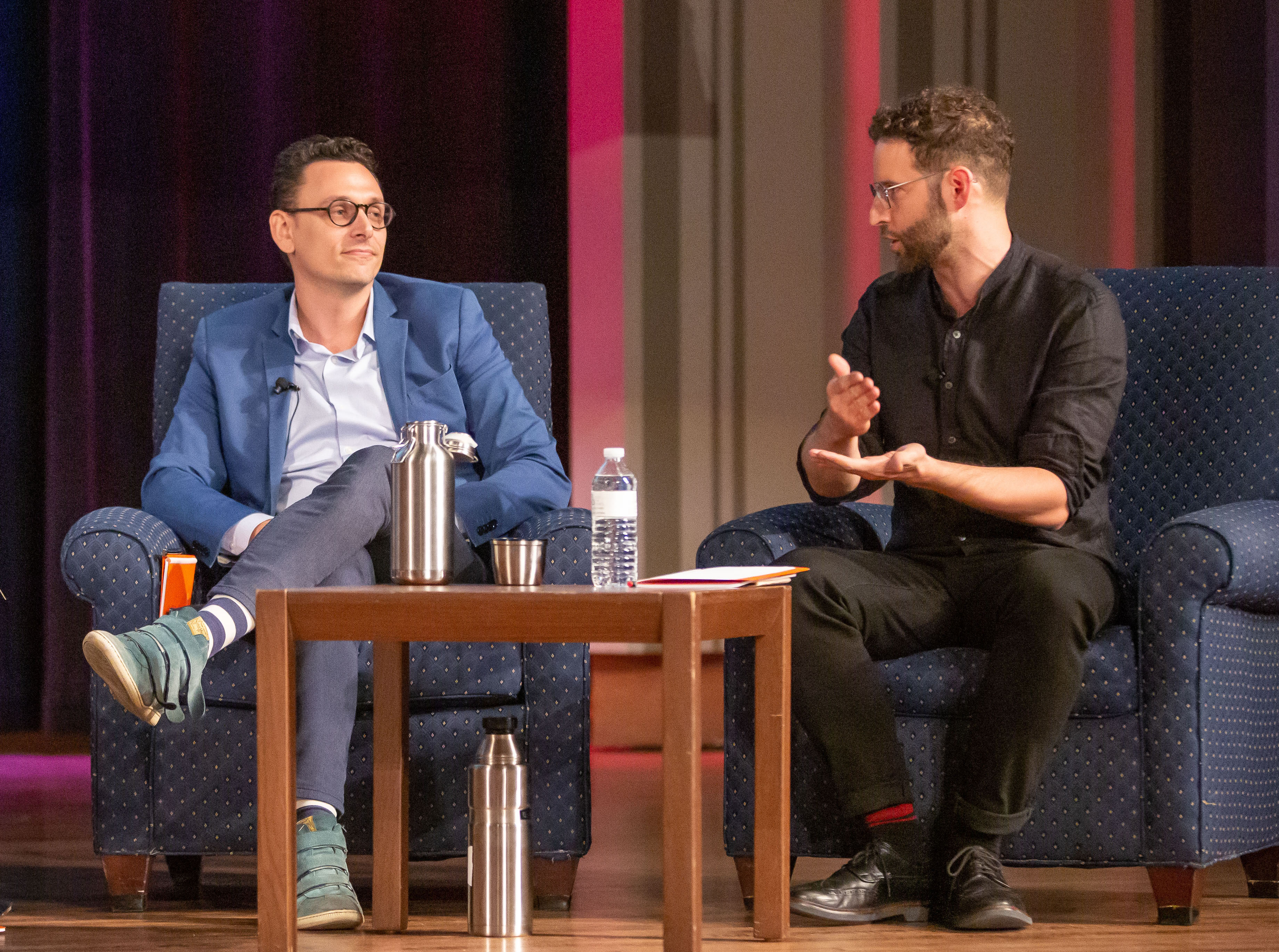 Nearly 1,400 people filled Penn's Irvine Auditorium on Friday to spend a day listening to experts discuss the practicalities and implications of a Green New Deal like the one U.S. Rep. Alexandria Ocasio-Cortez (D-N.Y.) and U.S. Sen. Edward Markey (D-Mass.) introduced in Congress in February. 
The event, organized by Penn sociologist Daniel Aldana Cohen, Penn landscape architect Billy Fleming, and Kate Aranoff of Type Media Center, brought together experts from economics to social justice to discuss the New Deal as an analog to the Green New Deal, the nuts and bolts of the most recent proposed legislation, and its big-picture repercussions moving forward. 
"So much of the Green New Deal conversation has been really focused—necessarily—on energy and labor policy, but very little has focused on the real and dramatic ways that its big ideas, like decarbonizing and adapting to climate change, will actually impact everyday lives," says Fleming, Wilks Family Director of the Ian L. McHarg Center at the Stuart Weitzman School of Design. "Interventions in the built environment are really important. We thought this was the right place to add to the Green New Deal conversation." 
It's a topic Fleming and Cohen have each been contemplating separately for some time, in their respective research areas. During a conversation in December, they realized there was great potential to bring together many other fields on this topic. 
"We've been thinking a lot about how to cope with the onslaught of climate change on physical spaces where we live and other landscapes," says Cohen, who runs the Socio-Spatial Climate Collaborative (SC)2 at Penn. "We thought an event like one we envisioned could bring value to the Penn community and to broader debates, having social scientists and design scholars working together." 
Their theory panned out, as the day-long conference quickly filled to capacity and speaker after speaker said yes without hesitation. They secured Varshini Prakash, founder of the Sunrise Movement, and Rhiana Gunn-Wright of New Consensus, both leaders in the Green New Deal conversation, as well as activist and world-renowned scholar of food systems and farm labor movements Raj Patel and economist Stephanie Kelton. 
The first session analyzed how the New Deal set the stage for today's Green New Deal proposal. During the second session, Vox journalist Dave Roberts, who is also a senior fellow at Penn's Kleinman Center for Energy Policy, and other panelists discussed what the policy package actually requires and might look like. 
Roberts urged caution: "We're in a Democratic primary, and there's a lot of enthusiasm about this; a lot of polls show that Democratic voters are super into the Green New Deal," he says. "But there's a danger of getting out over our skis and overestimating the extent to which this fever has caught on beyond our group." 
The day's third panel, moderated by Cohen and Fleming, focused on broad implications for a Green New Deal, leading into the keynote session, which saw labor scholar Jane McAlevey in conversation with writer Naomi Klein and Julian Noisecat, who has done significant work on the built environment and climate policy. 
"We wanted to talk about the built environment and social politics, and we wanted to have the biggest thinkers on these issues," says Cohen, who has called the Green New Deal the most crucial thing to happen to climate-change politics since the Paris Climate Accord. "It's arguably more important than that," he adds. "There could not be a more important idea for the future of human beings on the planet." 
The size of the crowd at the conference, called "Designing a Green New Deal," suggests that many share Cohen's viewpoint. 
"This is very likely going to be the largest climate event Penn has ever held," Fleming says. "This was our hope, that people across the country would realize this moment is an opportunity to help shape a generational and transformational moment in climate policy." 
Daniel Aldana Cohen runs the Socio-Spatial Climate Collaborative (SC)2 and is an assistant professor in the Department of Sociology in the School of Arts and Sciences at the University of Pennsylvania. 
Billy Fleming is the Wilks Family Director for the Ian L. McHarg Center at the University of Pennsylvania Stuart Weitzman School of Design.