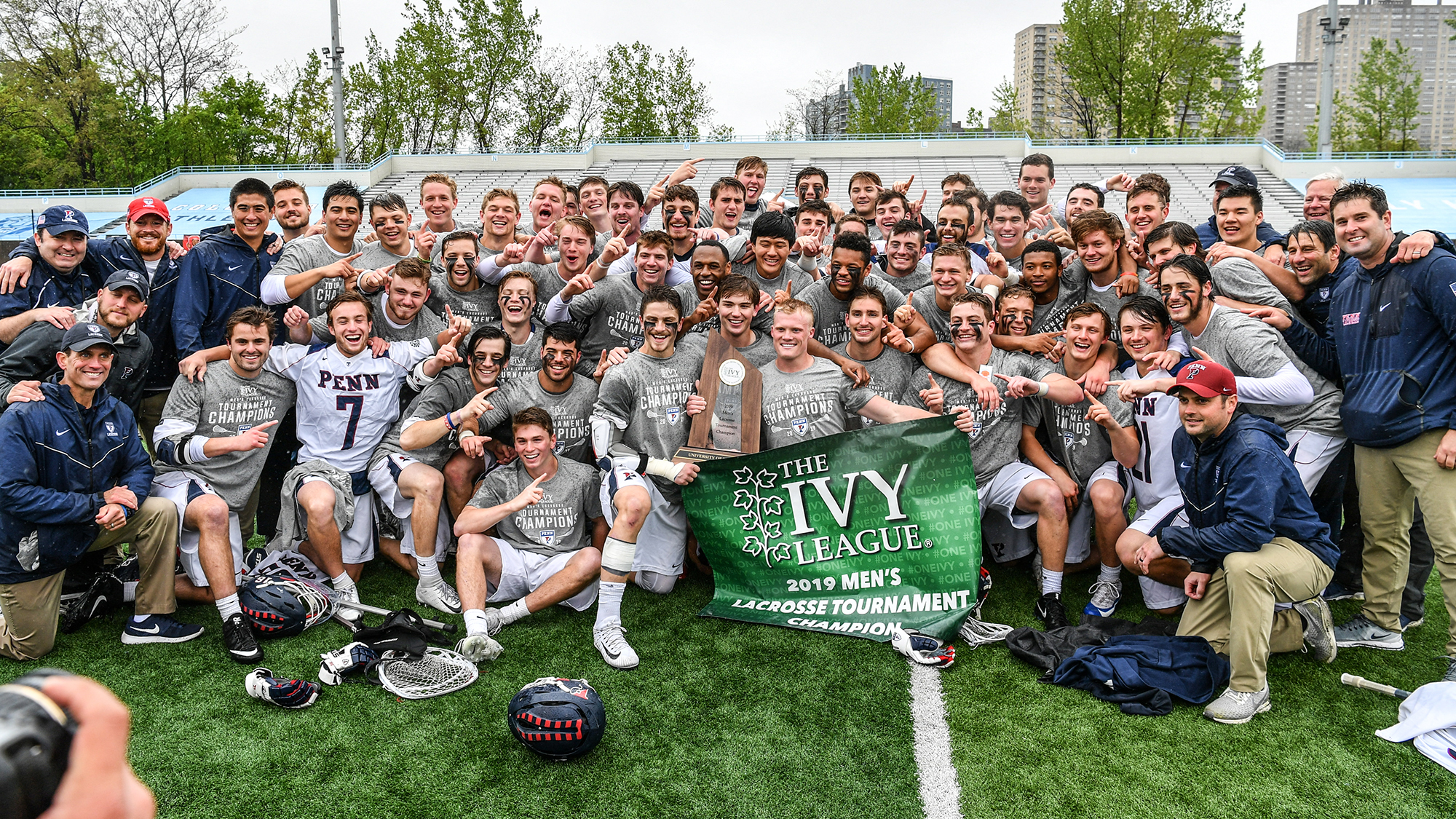 And new.
At Columbia's Wien Stadium on Sunday, the men's lacrosse team, ranked No. 3 in the nation, defeated Yale, ranked No. 2 in the nation, 12-11 to win the 2019 Ivy League Tournament. The victory marked the first time ever that the Quakers have won the conference regular season title and tournament crown. 
Penn led wire to wire, up 4-1 after one. Sophomore attacker Sean Lulley scored the Red & Blue's first goal of the game, on an assist from senior midfielder Alex Roesner. Sophomore midfielder Mitch Bartolo, junior attacker Adam Goldner, and junior midfielder Keyveat Postell scored the other three goals in the opening period.
Yale scored three lightning-quick goals early in the second quarter to tie the game at 4-4. Goldner's goal with 10:44 on the clock gave the Quakers a 5-4 lead, and subsequent goals by Lulley and senior attacker Simon Mathias put Penn ahead 7-4. Yale scored two goals to cut the lead to one; Mathias' goal with six seconds remaining in the half made it an 8-6 contest at intermission.
The Bulldogs tied the game up again in the third with two goals less than a minute apart. Goldner and Roesner countered with a goal each to give the Red & Blue a 10-8 lead. Yale scored a goal to cut it to 10-9; junior midfielder Matt McIlwrick put the ball in the net to make it 11-9, and Yale scored a goal in the closing minutes of the quarter to cut Penn's lead to 11-10 headed into the final quarter.
A goal by the Bulldogs with 8:48 left tied the game at 11-11. Lulley scored a goal with around five minutes remaining to put the Red & Blue up 12-11, and senior goalkeeper Reed Junkin protected the lead thereafter, with six saves in the final minutes.
Goldner finished with three goals. Lulley had three goals and two assists. Mathias had two goals and two assists, and extended his goal-scoring streak to 34 consecutive games, which is tied for the longest in the country. 
Junkin had 16 saves and was named the Tournament's Most Outstanding Player.
Sunday's win earned the 11-3 Quakers the Ivy League's automatic bid to the 17-field NCAA Men's Lacrosse Championship. The Red & Blue are a No. 4 seed, and will host Army on Saturday at 5 p.m. at Franklin Field.