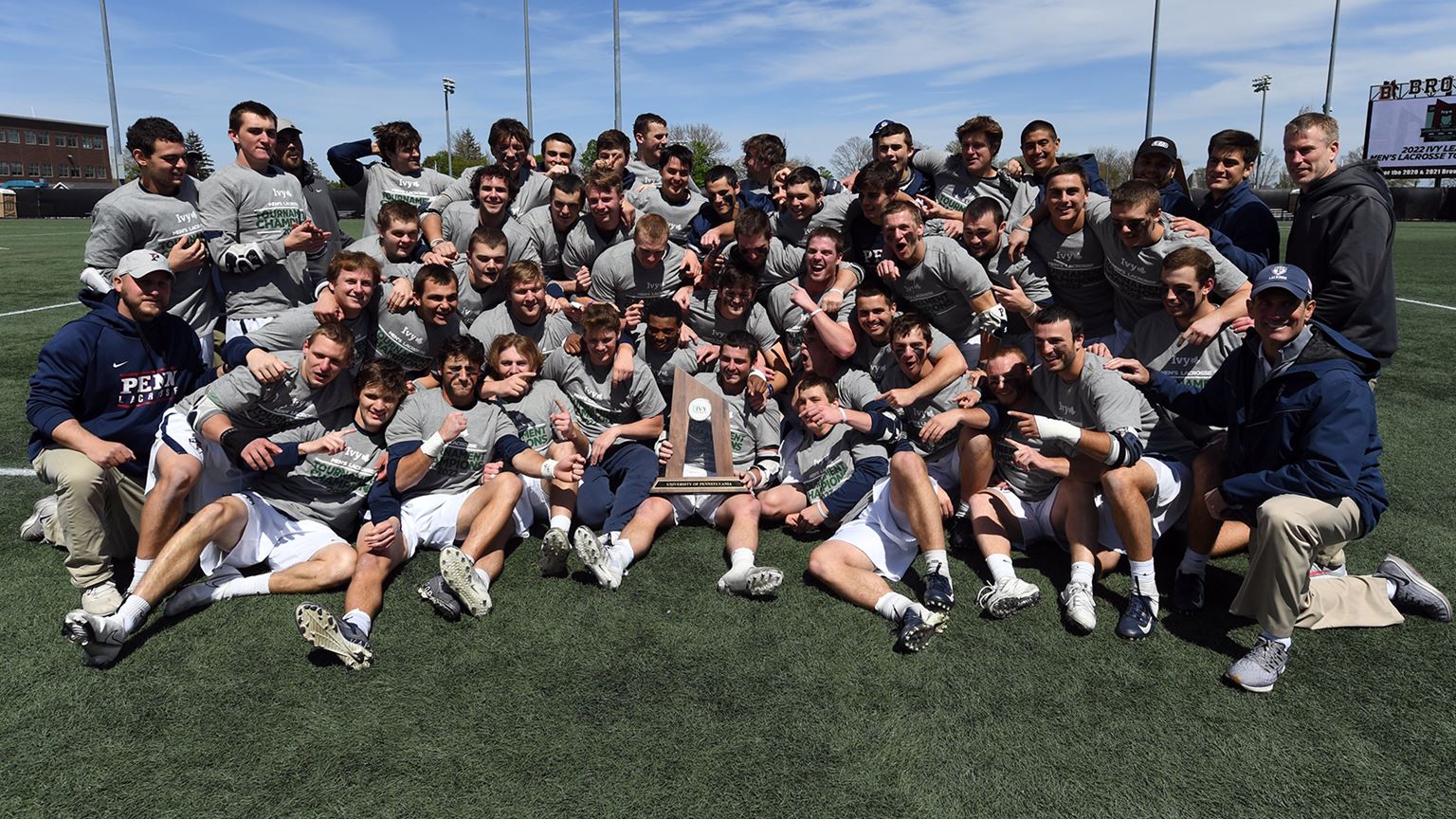 Mother's Day was a day of champions for the Quakers with two teams winning Ivy League titles.
On Sunday afternoon, the 13th-ranked men's lacrosse team won its second consecutive Ivy League Tournament by defeating fifth-ranked Yale 16-9 at Brown's Stevenson-Pincince Field in Providence, Rhode Island.
Up until halftime, the game was competitive. Penn held a 6-4 lead at the break, and then scored the first five goals of the third quarter to take a 11-4 advantage. They ended the quarter up 13-7 and scored the first two goals of the fourth quarter to go up 15-7. That was all she wrote.
Senior midfielder Sam Handley had 10 shots, five shots on goal, three goals, two assists, and five points. Senior attacker Dylan Gergar had 10 shots, seven shots on goal, four goals, two assists, and six points. Junior Gabe Furey had five shots, three shots on goal, two goals, two assists, and four points.
Senior goalkeeper Patrick Burkinshaw, the Tournament's Most Outstanding Player, had 16 saves, which gave him 36 for the weekend, a tournament record. On Friday, he set the Tournament single-game record with 20 saves against top-seeded Brown.
The Red & Blue's seven-goal win was the largest in an Ivy League Tournament final in 10 years, and the third-largest margin in Tournament history. It was also Penn's most lopsided win over Yale since an 18-9 victory in 1997.
The Quakers (10-4) will be a No. 3 seed in this weekend's NCAA Tournament. They take on Richmond in the first round on Saturday at 2:30 p.m. at Penn Park.
On Sunday evening in New Haven, Connecticut, the women's track & field team won their third consecutive Ivy League Heptagonal Outdoor Track & Field Championship.
Penn was in third placed headed into the final two events: the 4x800 and the 4x400.
Senior Caroline O'Sullivan, freshman Chloe Hassman, senior Olivia Babski, and freshman Bronwyn Patterson did their part and won the 4x800 with a time of 8:50.52.
The title rested on the legs of freshman Caia Gelli, sophomore Isabella Whittaker, freshman Jocelyn Niemiec, and senior Skyla Wilson—and it wasn't even close. They won the 4x400 with a time of 3:38.84, nine seconds better than the second-place finishers. Their win gave the Red & Blue 137 points, one point better than second-place Harvard (136 points) and four points better than third-place Princeton (133 points).
Wilson, Whittaker, and Patterson also excelled in individual events. Wilson won the 200m with a time of 23.54, a new program record. Whittaker placed first in the 400m with a time of 54.07. Patterson won the 800m with a time of 2:10.30.
Additionally, senior thrower Mayyi Mahama placed first in the hammer throw on Saturday with a toss of 64.03m, and senior jumper Victoria Agyin finished first in the triple jump on Sunday with a mark of 13.32m.
Next up for the Quakers is the NCAA East Region Preliminaries from May 25-28 in Bloomington, Indiana.