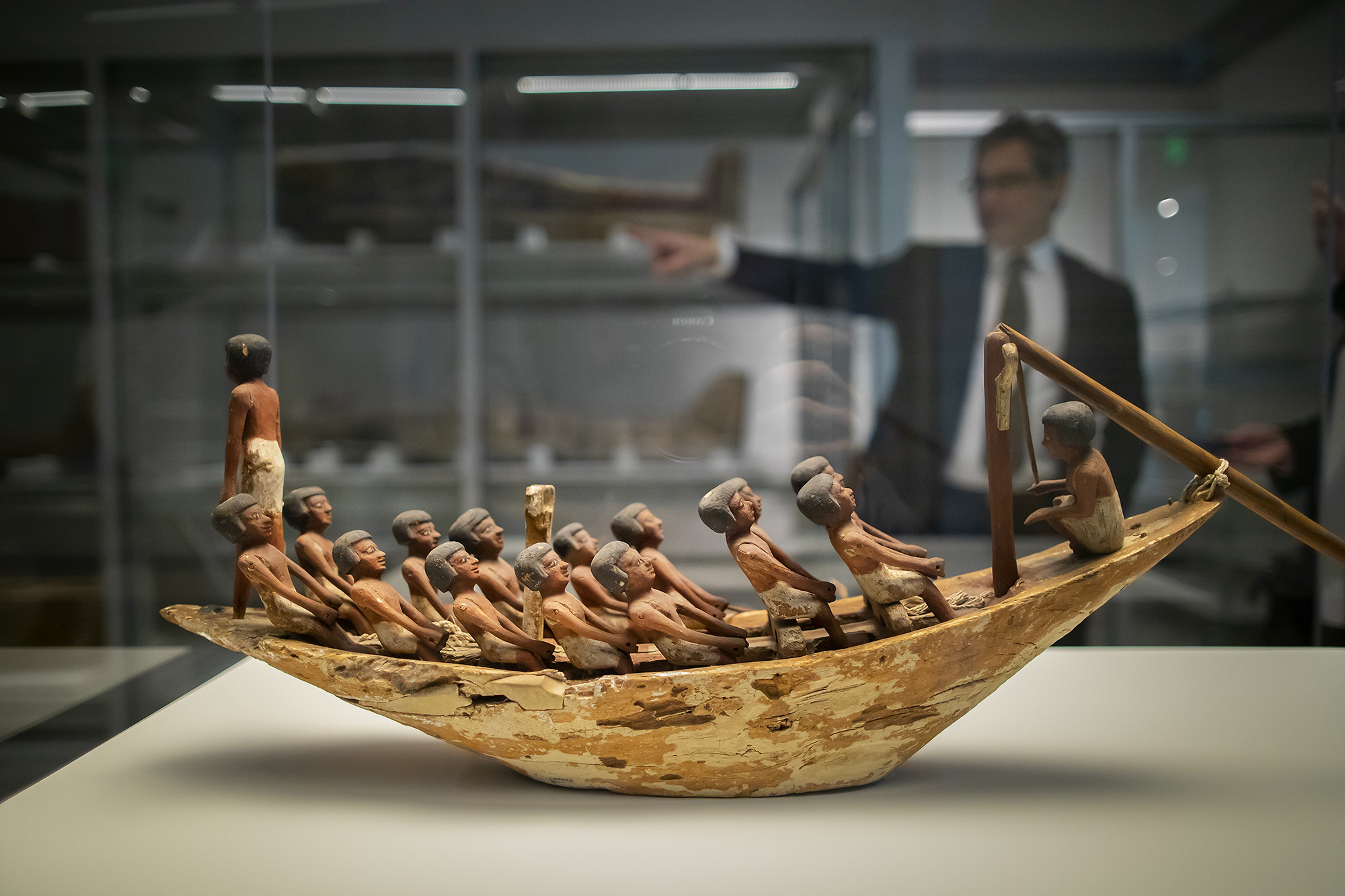 While parts of the Egypt Gallery are closed for renovation, the Penn Museum is opening a new exhibition to display artifacts from its vast Egyptian collection, and to highlight the importance of conservation and storage practices.
"Ancient Egypt: From Discovery to Display" includes more than 200 objects, some on view for the first time, in a 6,000-square-foot exhibition in three rooms on the third floor. An innovative "visible storage" section—the only Philadelphia museum to have one—provides a showcase as the artifacts go through conservation in the adjacent Artifact Lab.
"You very rarely get to see an exhibition as it unfolds," said Julian Siggers, Museum director, at a preview before the public opening on Saturday, Feb. 23.
"We wanted visitors to share in the journey from excavation to exhibition, to experience not only the wonders of ancient Egypt," he said, "but also to share in the history of how these incredible objects came to Museum in the first place, and the skill and expertise involved in the efforts to preserve them." 
The Egyptian collection includes more than 50,000 objects from ancient Egypt, most of them found by Penn archaeologists. 
The Egyptian Galleries are undergoing a complete renovation as part of a historic transformation of the Museum, which was founded in 1887. To make that possible, the lower Egyptian gallery, home to the Sphinx, was closed last year. The upper gallery will eventually need to close as well.
Expected to re-open in 2022, the reimagined space of the Ancient Egypt and Nubia Galleries will feature some 3,000 objects, including a reconstructed pharaoh's palace.
The temporary exhibition is a way to keep Egyptian collections on view in the meantime, with the added benefit of giving the public a window into how the objects are stored, used for research, and conserved and prepared for display.
"This is the only place in Philadelphia where visitors can experience Egyptian objects in this way," said Jennifer Wegner, exhibition curator. "It will be a very active exhibit. You will be able to see the staff behind those glass walls."
Mummies of four adults and two children are now in the all-glass cases in the "visible storage" area, including one that last year went through a CT scan at the Children's Hospital of Philadelphia. 
Some of the mummies were recently given to the Museum by The Academy of Natural Sciences of Drexel University, Siggers said. "They are remarkable. We are working on conservation right now," he said. "You very rarely acquire new mummies. And it is a chance for us to show them as well."
When asked what are his favorite pieces in the new exhibition, Siggers first went to a 3,500-year-old sandstone statue of Sitepehu, an overseer of priests, discovered by archaeologists in 1900. The hieroglyphs carved into the base are clearly visible. "I'm extremely fond of this piece," he said. "He's amazing. You can still see the pigment."
Another is a small bronze and gold statue of King Tutankhamun. "There are very few statues of the boy king that weren't found in his tomb, and this is one of them," he said. "It's quite rare." 
Both Siggers and Wegner highlighted a centerpiece in the gallery, a pair of model boats, 4,000 years old, one a row boat and one with a sail, the figures intact with the original pigments. "This was fun to put together," said Siggers. 
Another display case has canopic jars, masks, and elaborately painted and carved coffins, all considered essential elements in a tomb to prepare for the afterlife. One of those coffin lids and its foot section belong with a 2,000-year-old, gold-gilded mask that has become an iconic symbol for the Museum, featured in street banners and other promotional materials. 
Conservators plan to restore the lid and feet and eventually reunite them with the mask to be on display as one in the new galleries. "We brought it out of storage because we knew it was a stellar piece, but it needed a ton of work to bring it to exhibition," said conservator Molly Gleeson. "It is a curatorial priority. And it is exciting. We are bringing them together through this process."
The Museum's popular Artifact Lab has opportunities to ask conservators like Gleeson questions, two times each day, Tuesday through Sunday. On display in front of the lab is a mummy of a 40-year-old man and his dog, which recently went through conservation treatment.
"We do love sharing what we are learning about our objects," said Gleeson. "We are working on so many different artifacts; you can visit several times and see the exhibit change as we make new progress on treatments."