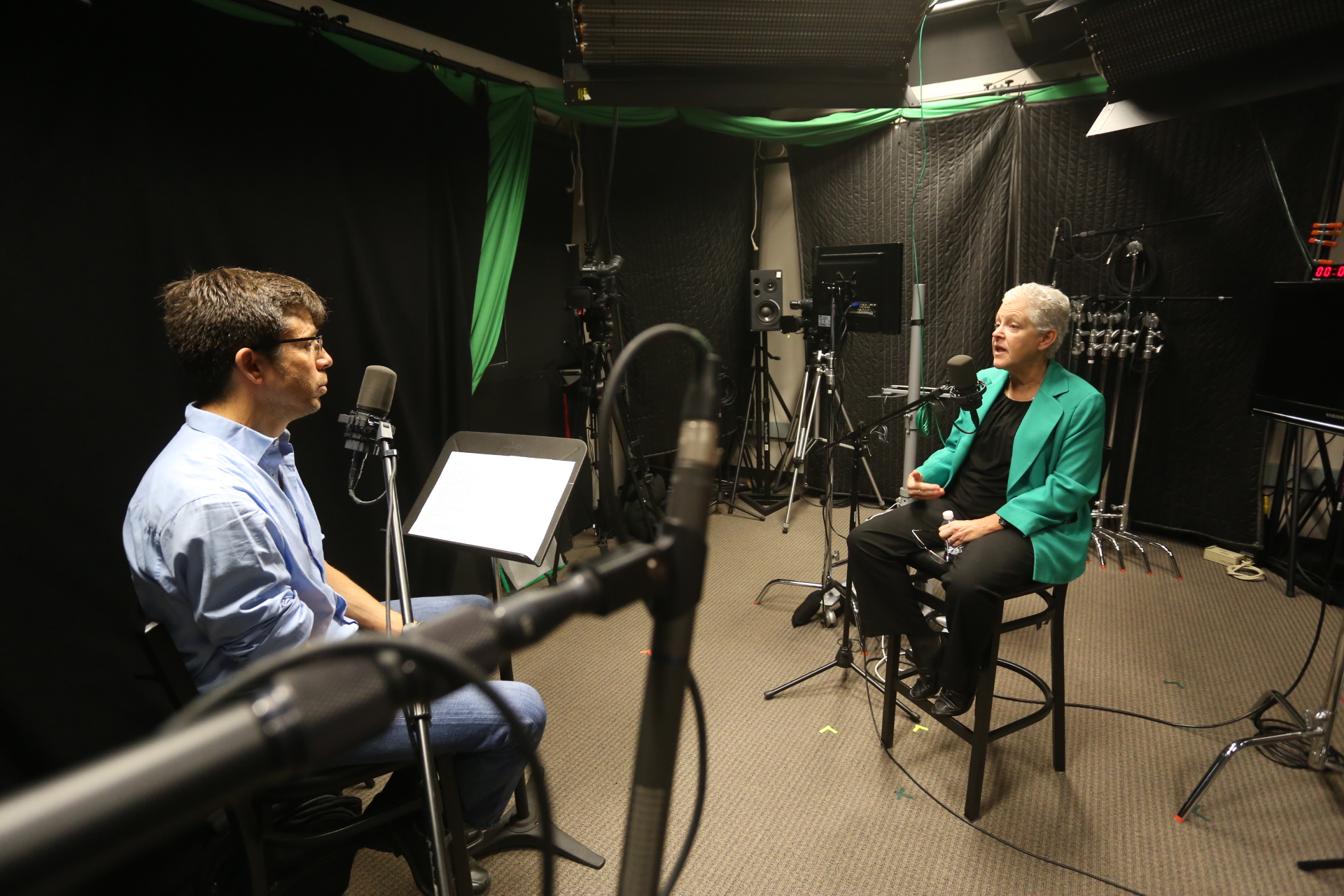 Conversations about energy policy can quickly alienate those who don't know the subject well or who aren't piqued by the ins and outs of governmental regulation and energy science. Unless, that is, the topics and speakers are hand-picked for their expertise and charisma, then presented in a casual format that both informs and engages a broad audience.
For the past 15 months, that's what the Kleinman Center for Energy Policy has done with its podcast series. Selecting speakers from a rotating cast of scholars—both those visiting campus and permanent fixtures in West Philly—and showcasing pertinent topics, from cap and trade to fracking to building resilient coastlines, "Energy Policy Now" has grown increasingly popular.
Since its premier in January 2017, the series, hosted and produced by the Kleinman Center's Andy Stone, has aired 31 episodes that have been downloaded more than 20,000 times. To date, the most popular, downloaded about 1,200 times, remains "Envisioning a Low Carbon, Lowest Cost Grid" with Jesse Jenkins, a researcher at MIT's Electric Power Systems Center.
"The podcasts are built to take topics that are very narrow and hard to unpack and make them as accessible as possible," says Cornelia Colijn, the Kleinman Center's deputy director. "We really don't have another method to access the general public in this way. As we were looking at what the market bears right now, it became pretty apparent that a necessary way to reach the broadest audience was to try out new forms of media."  
Andy Stone understands the format well and brought his know-how as a former journalist to the project. Topics for each bi-weekly show originate in a few different ways: In some cases, a person of note or with a particular knowledge on a hot topic comes to Penn, like what happened when the Kleinman Center awarded Gina McCarthy, President Obama's Environmental Protection Agency administrator, its annual Carnot Prize.  
Another common way forward is that a provocative topic re-enters public dialogue or starts to make headlines for the first time. That was the impetus for a February 2018 episode with Penn sociologist Steve Viscelli, who studies the trucking industry and, more recently, the autonomous version of such vehicles.
"The idea of self-driving trucks really has grown in terms of public consciousness," says Viscelli, also a senior fellow at the Kleinman Center. "We thought the podcast was a great opportunity to look at the energy angle on this, in a format where we could have a broader conversation. A lot of it is hard to wrap your head around"—what it actually means to add a driverless fleet to this industry, who is truly at risk of losing a job—"and the intersection is not something easily discussed in a sound bite." 
Plus, as Viscelli puts it, the process of making the podcast is just plain fun.
"Overall the series is great because there's room to cover a little more ground and at the same time go into greater depth on some of the more interesting aspects," he says. "It's also presented in a format that is more accessible to folks who aren't policy wonks."
Ask Stone about his goals for the program and he recites something similar. "I'm striving to meet two needs," he explains. "One is to provide accessible conversations that bring complex and esoteric topics down to earth. These are issues that impact people's lives. At the same time I'm probing, hoping we can provide a deeper dive than you might get from the mainstream press."
The list of previous guests reads like a who's who in this sector: energy manager for the City of Philadelphia, deputy secretary of the Pennsylvania Department of Environmental Protection, director of the Institute of Nuclear Host Communities, a reporter for E&E News, which focuses on energy and the environment. Aside from Viscelli, the range of Penn speakers has included Wharton's John Paul MacDuffie, who talked about electric vehicles, and, most recently, Arthur van Benthem, also from Wharton, discussing cap and trade.
Stone says he'd love to host Rick Perry, the current Secretary of Energy, or two members of Congress—one from each side of the aisle—from the Climate Solutions Caucus, a bipartisan coalition in the House. So far, no luck, but Stone and the team from the Kleinman Center will no doubt keep trying for intriguing guests who can simplify complicated topics. Case in point: A future show will feature Rolling Stone environmental writer Jeff Goodell and Billy Fleming of PennDesign.
With limitless possibilities for episodes, there's no end in sight for "Energy Policy Now." Colijn even mentions the potential for taking the podcast on the road.
"We've really hit our stride," she says, "and now it's about maintaining that momentum."
Photo: Former EPA administrator Gina McCarthy talks with "Energy Policy Now" producer Andy Stone. Courtesy of the Kleinman Center for Energy Policy