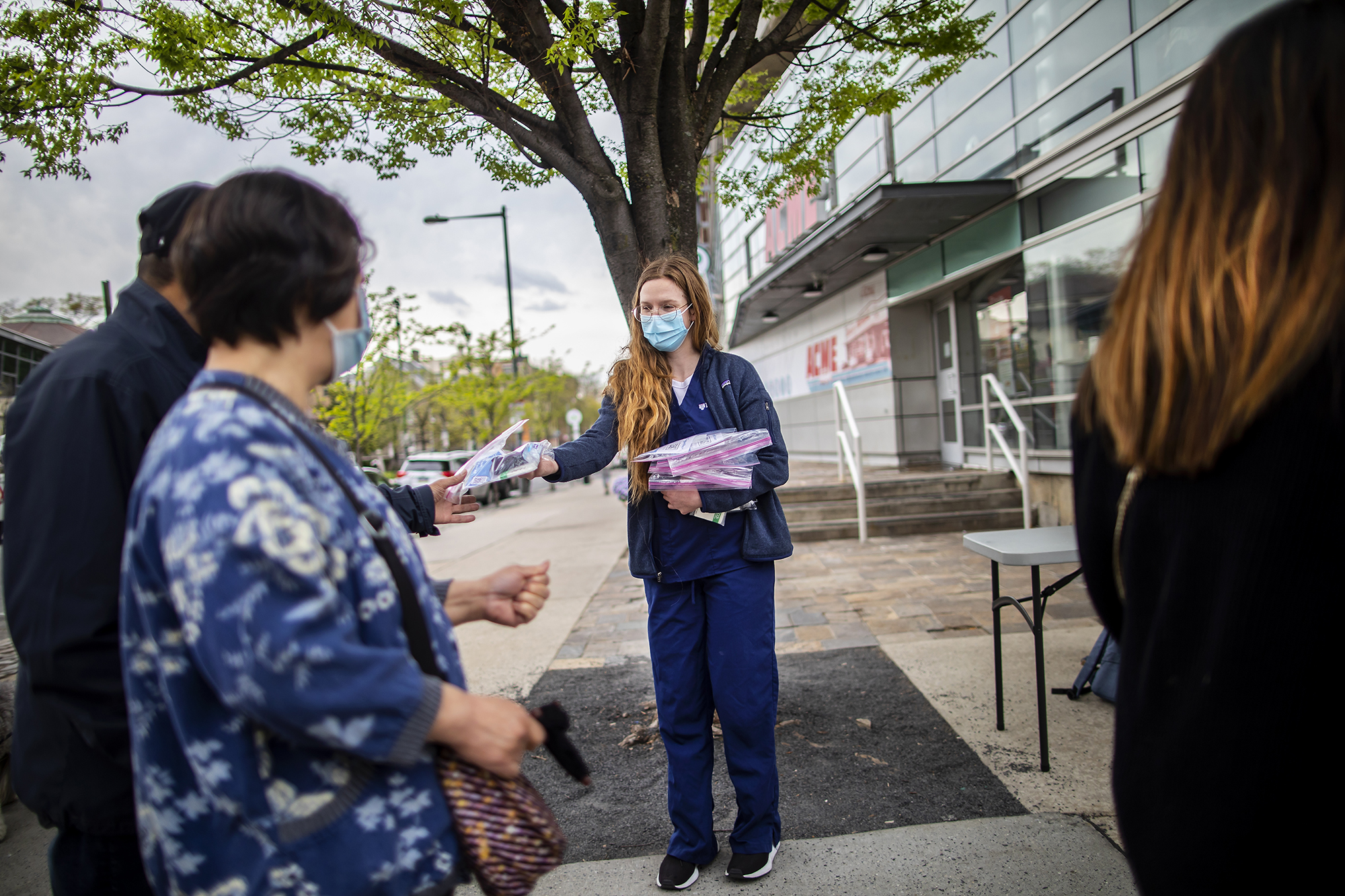 On a cold and windy April day, six Penn Nursing students stood in groups of two and three at the corner of 40th and Walnut streets. Under a gray folding table, several backpacks perched against an open cardboard box. Tallulah, junior Lily McDowell's dog and unofficial mascot of the day's events, stood at the ready, her leash attached to McDowell's backpack.
"Free mask kit," says Lauren Fisher, an accelerated bachelor's student nurse graduating in December. "It's a mask and hand sanitizer," she explains, showing a passerby a clear plastic bag that also held educational materials.
The person walked by without a glance, but Fisher was undeterred, quickly trying again with someone else. Nearby Tallulah worked her magic; as people came close to pet her, McDowell handed out kits. All told, the students gave away 400 mask kits to pedestrians, drivers stopped at the light who beckoned through open windows, a public transit bus full of people. They ran out of their stock in less than an hour.
In addition to masks, the kits included hand sanitizer, bar soap, and educational materials the students created with guidance from their instructors Dalmacio Dennis Flores and Terri Lipman, both of the School of Nursing.
That day's mask distribution signified an endpoint to a semester-long project, one driven by the community-immersion facet of the students' upper-level case study class—and a call from the Centers for Disease Control and Prevention (CDC). "The University was contacted to participate in this nationwide university surveillance of mask usage. The School of Nursing was asked to take the lead," says Terri Lipman, Penn Nursing's assistant dean for community engagement.
It was a logical fit for the school, adds Antonia M. Villarruel, the Margaret Bond Simon Dean of Nursing. "Nurses support individuals, families, and communities in engaging in health-promoting behaviors. Having the opportunity to observe, document, and support mask-wearing is consistent with our practice."
Since that January ask, Penn has participated in MASCUP, the Mask Adherence Surveillance at Colleges and Universities Project. Weekly, at 10 sites across campus, six students documented how many people were wearing masks, what type of mask, and whether they were worn correctly. At each outing, the students made 400 observations to share with the CDC. The agency then compiled the data to send back to the University, one of 53 engaged in the program.
Though Penn doesn't yet have the summary statistics, the CDC recently shared averages across all MASCUP participants for the first eight weeks. More than 83,000 observations showed overall mask usage hovering above 90%, with similar results for correct mask placement and use.
"By looking at mask usage on college campuses, we can determine whether our messaging has been effective," Lipman says. "We can also look forward. It is possible that masks will continue to be required in the coming months and perhaps the coming year. Where are those sites on our campus that need reinforcement and what can we do to improve?"
Answering the call
When Lipman received the information about MASCUP, she had just begun co-teaching a course, Social Determinants of Health: Community Engagement Immersion, with Dalmacio Dennis Flores. It's a flipped class, meaning the majority of time is spent outside an actual classroom and engaged in community initiatives.
"We had this class that was already running for the spring semester," says Flores, an assistant professor in the School of Nursing. "It became a perfect opportunity for some of our students to do this type of surveillance activity in our community. Six students indicated interest," including Lauren Fisher.
Fisher isn't a traditional undergraduate, having already completed a bachelor's degree in 2016 at the University of San Diego. She also worked in research for several years before starting at Penn Nursing, so Flores thought MASCUP could be a good fit given her background.
"I've been wanting to get more involved with the community, but during the pandemic, that wasn't always the easiest," Fisher says. The class, and more specifically, MASCUP, gave her the chance.
Every Tuesday at 7:30 a.m. for 10 weeks, she sat on the same bench in Hill Square, at the intersection of 34th and Walnut streets. Across the way, she would watch another bench, always the same one, for an hour or until she counted 40 people, whichever came first. "When someone would walk past the bench, I would note their mask-wearing," says Fisher, who is from San Jose, California. "Depending on how heavily trafficked an area was, you either counted every 3rd or 10th person. I counted every 3rd."
Students could immediately enter their observations into the CDC database or add them later. Fisher waited, so she could jot down comments for herself and to share with Lipman, Flores, and the rest of the cohort, which included McDowell, juniors Isabel Martinez and Madeline McAvoy, and seniors Farzana Talukdar and Anna Chin. Talukdar was part of a different undergraduate class, one focused on research. The team surveilled 10 total campus spots, including Huntsman Hall, Houston Hall, an area on Locust Walk, and outside Pottruck Fitness Center.
"We can tell people to wear masks all we want, but until we watch and come up with constructive ways to try to promote mask-wearing, it's not going to help anyone," Fisher says. "If we're not watching this, we're never going to know what truly is happening, especially on college campuses."
Looking forward
A year-plus into the pandemic, the COVID-19 situation still changes frequently. With no clear end in sight, at least for certain aspects like masks, Flores and Lipman see the MASCUP work as crucial to ensuring the safety of the Penn campus and the broader community. To that end, they included two neighborhood sites in the project, one outside the 40th Street Acme grocer, the other the Penn Bookstore.
"We have a commitment to our neighbors and the outlying community," Lipman says. "We saw this as an opportunity to continue with that commitment, which is why we felt it was important to also survey mask usage in the neighborhood."
And though it's not officially part of MASCUP, Fisher and her peers also tracked qualitative information, noting the circumstances in which they saw people pulling down their masks, for example, or whether certain populations like health care workers coming off a shift, say, were more likely than others to go without a mask.
Those anecdotes helped guide what education and resources the team ended up creating. "We tried to pull out larger themes so we could determine what messaging was appropriate," Flores says. "This helps with our focus on community health. Nurses aren't just confined in acute care settings. We are also out in public and observe the many ways we can make a difference in community education."
At the mask-distribution event, the team quickly saw the fruits of their labor: Someone who'd taken a bag earlier returned, wearing the mask from the kit. "He's our walking commercial," Fisher laughs.
A minute later, a Lucy Green Loop bus stopped at the red light. Talukdar got on, her arms full of bagged kits. When she stepped off again, her arms were empty, her face beaming. Nearby, Tallulah continued to attract fans, and in no time, the bags were gone.
"Through this project and this course, it was important for us to connect how watching other students wear masks is congruent with the objectives of community engagement," Lipman says. "This may not have been the type of engagement the students initially had in mind, but now they've been able to see how, by collecting data and driving messaging, they're taking part in a very important public-health initiative."
These lessons will help them, whatever their ultimate path, Villarruel says. "Our students are contributing in meaningful ways to curbing the COVID-19 pandemic." And that's something to smile about—even behind a mask.
Antonia Villarruel is the Professor and Margaret Bond Simon Dean of Nursing at the School of Nursing and a senior fellow at Penn's Leonard Davis Institute of Health Economics.
Terri Lipman is the Miriam Stirl Endowed Term Professor of Nutrition, a professor of nursing of children, and assistant dean for community engagement at the School of Nursing.
Dalmacio Dennis Flores is an assistant professor in the Family and Community Health Department in the School of Nursing. 
Lauren Fisher is a student in the Accelerated BSN Second Degree program in the School of Nursing. She sub-matriculated into the Adult-Gerontology Primary Care Nurse Practitioner at Penn, which she will begin in May 2022. 
The mask kits were made possible with support from Sandy Samberg, who graduated from the Nursing School as an undergraduate in 1994 and a graduate student in 1995, and her husband Joe Samberg.