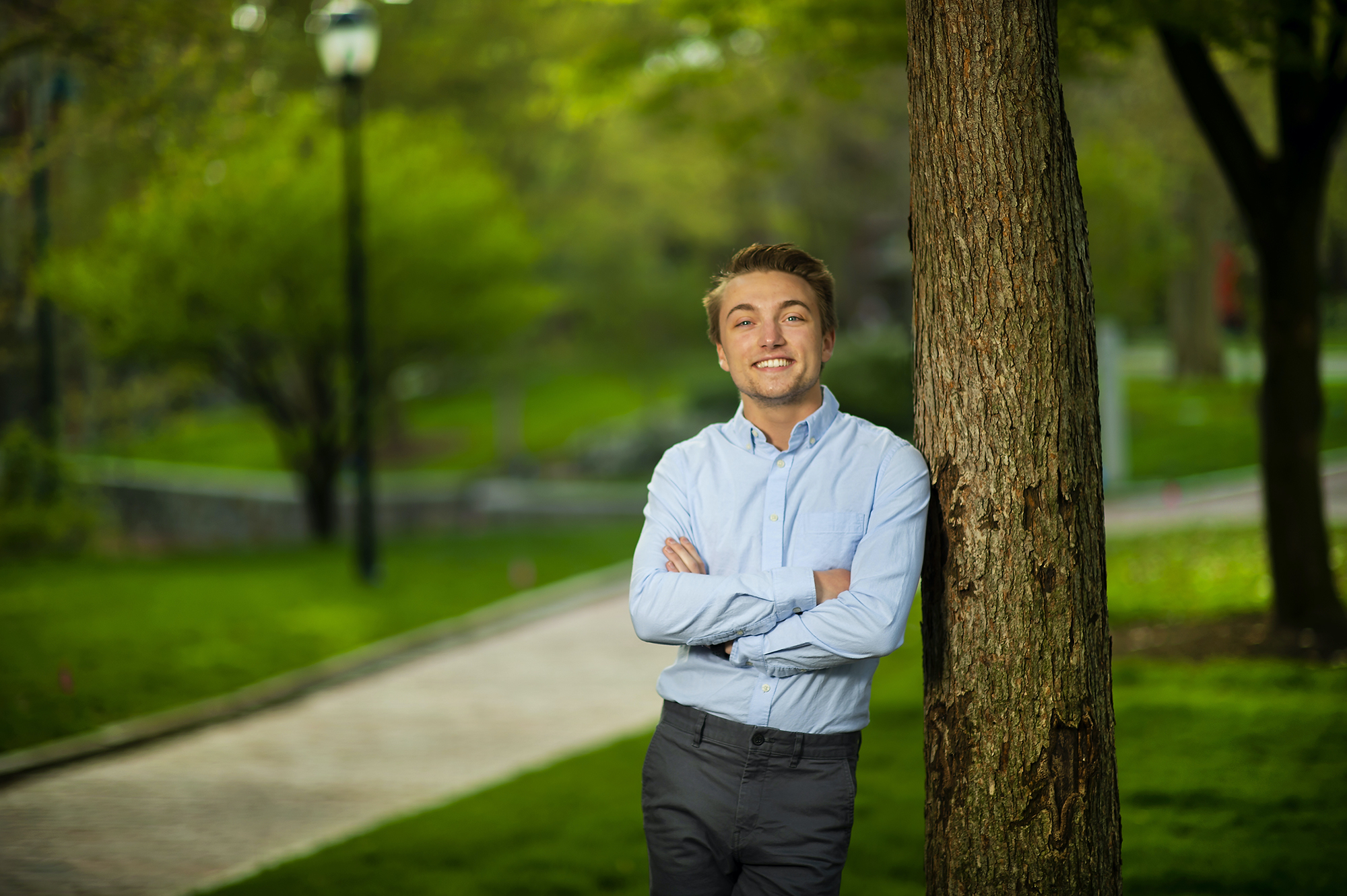 Staying in a hospital is rarely a comfortable experience. "Hospitals are disruptive. They're noisy, with bright flashing lights in your face, even in the middle of the night," says Anthony Scarpone-Lambert, a senior in the University of Pennsylvania School of Nursing.
Above almost all else, Scarpone-Lambert noticed that patients couldn't get solid sleep. "Something needed to change to create an environment more conducive to healing," he says.
Scarpone-Lambert started talking to fellow nurses, asking them about the challenges they face in the clinical setting, and one statistic stood out: 87% said they struggled to see in a darkened room while providing care to a resting patient overnight. Beyond that, nearly 100% said they wanted a better, less disruptive solution than turning on the overhead lights in a patient room.
Teaming up with nurse innovator Jennifferre Mancillas, Scarpone-Lambert started Lumify Care. The company, whose wearable three-setting light device aims to support nurses in providing care to resting patients, earned Scarpone-Lambert a 2021 President's Innovation Prize. The honor includes a $100,000 award, plus a $50,000 living stipend and workspace for a year at Pennovation Works.
"The first nurse-led startup to receive the President's Innovation Prize, Lumify Care shines a light on the critical need to support both frontline workers and patients in clinical settings," says Penn President Amy Gutmann. "Anthony's 'by nurses, for nurses' value proposition for Lumify underscores a simple truth: Nurses are frontline leaders, innovators, and changemakers in today's health care landscape."
A flagship product, plus
Scarpone-Lambert has been seeing patients in a clinical setting for the past three years. "I would always ask them what was bothering them," he says. "I would constantly hear that they were uncomfortable."
At the Johnson & Johnson SONSIEL Nurse Hackathon in November 2019, Scarpone-Lambert met Mancillas, a J&J Nursing Innovation Fellow and neonatal intensive care nurse at Valley Children's Healthcare in California. They got to talking about some of the big struggles for clinical nurses. Understanding they had a common interest and common goals, Scarpone-Lambert and Mancillas began Lumify Care, LLC, in 2020 with support from Penn Nursing mentors like Marion Leary, director of innovation, and Therese Richmond, associate dean for research and innovation, as well as Jeffrey Babin of the Engineering Entrepreneurship program in Penn Engineering.
"I've known Anthony since he came to Penn Nursing. He was always interested in innovation," says Richmond, who will continue as the Lumify Care mentor for the next year.
"As a nursing student, Anthony saw what it was like for people who are sick in hospitals trying to heal and recover," Richmond says. "It's not the most relaxing experience, and certainly at night it's hard to get uninterrupted sleep, especially when a nurse comes in and turns on the overhead lights or tries to use a cellphone or pen light to see. Anthony knew there had to be a better way."
The Lumify team intentionally started simple, aiming to create a useful product quickly that they could test in real-world settings. Their initial ideas morphed into uNight Light, a battery-powered, hands-free 1.4-ounce light that magnetically clips onto scrubs and is easily cleanable with any hospital-grade disinfectant wipe. It includes three light modes: red for night vision, white for close-up patient assessments and care, and blue for active alertness.
In 2020, Anthony conducted three pilots with 250 nurses at Penn Medicine, Massachusetts General Hospital, and Valley Children's Health. Results from those pilots showed that without uNight Light nurses were turning on overhead lights nine times on average per night, a number that dropped to two with the product.
After a soft launch of 150 lights that sold out in three days, Lumify Care officially launched uNight Light on Jan. 22, 2021. "We sold out of the first bulk order of 5,000 units," says Scarpone-Lambert. "We sold to nurses in all 50 U.S. states, which was exciting to reach that milestone pretty quickly, and we're already developing the second version of the light."
But the initial product launch is about more than just uNight Light. Lumify also created the Sleep-First Education Initiative and the uNightShift Community to accompany it. The former provides resources—clear visual reminders reinforcing the importance of sleep-friendly environments, for example—to promote better patient sleep and overall comfort. Each light comes with a scannable QR code that provides tips for providers to help patients improve in this realm. The latter is an online forum housed on HOLLIBLU, a nurse-focused social platform where nurses can communicate and support each other.
"This is nursing innovation at its best," Richmond says. "It's not just the light alone, which nurses are thrilled with, but the whole package, created by someone looking through the nursing lens and with an on-the-ground understanding."
The path forward
Over the coming year, Lumify will continue to evolve, supported in part by the team at the Penn Center for Innovation (PCI), which is well-versed in product launches, market research, and what it takes for a business to succeed.
"Lumify Care really stands out," says Laurie Actman, PCI's chief marketing, communications, and programs officer. "Anthony has a clear passion for nursing. He has innovative ideas to provide improved patient care, he's building up the nursing community around his project, and he has leveraged the many entrepreneurial resources at the nursing school and throughout the University."
Richmond describes Scarpone-Lambert as a serial innovator. Among other projects, the Chalfont, Pennsylvania, native created the nonprofit Text-911 with former Wharton classmate Kirti Shenoy, a push to make emergency-service texting available across the United States. Winning this prize has been a goal of his since freshman year. "I've always loved innovation and entrepreneurship," he says. "The PIP is like the holy grail."
As the first Penn Nursing student to win, Scarpone-Lambert says he hopes he can motivate others to at least try for it.
"I wanted to create that path, showing the broader community that nurses are innovators. We can identify problems and create meaningful solutions," he says. "The innovation prize is a great place to amplify that message. As a first-generation college student, I was nervous to take the big risk of going full-time with my startup. But this is just so incredible, an opportunity to have a real impact."
The money from the prize will help Lumify ramp up its manufacturing to keep up with demand for the uNight Light, as well as develop novel iterations and accelerate the engineering process for creating new products. The company is also working with the Global Nurse Foundation to provide uNight Lights to eight clinics in sub-Saharan Africa that lack sustainable electricity. "With the President's Innovation Prize," Scarpone-Lambert says, "we're excited to be able to ignite a greater social impact and really give back."
The President's Engagement and Innovation Prizes are intended to strengthen Penn's commitment under the Penn Compact 2022 to impactful local, national, and global student engagement, as well as to innovation and entrepreneurship. The Prizes are supported by Emerita Trustee Judith Bollinger and William G. Bollinger, in honor of Ed Resovsky; Trustee Lee Spelman Doty and George E. Doty, Jr.; Emeritus Trustee James S. Riepe and Gail Petty Riepe; Trustee David Ertel and Beth Seidenberg Ertel; Wallis Annenberg and the Annenberg Foundation; and an anonymous donor.