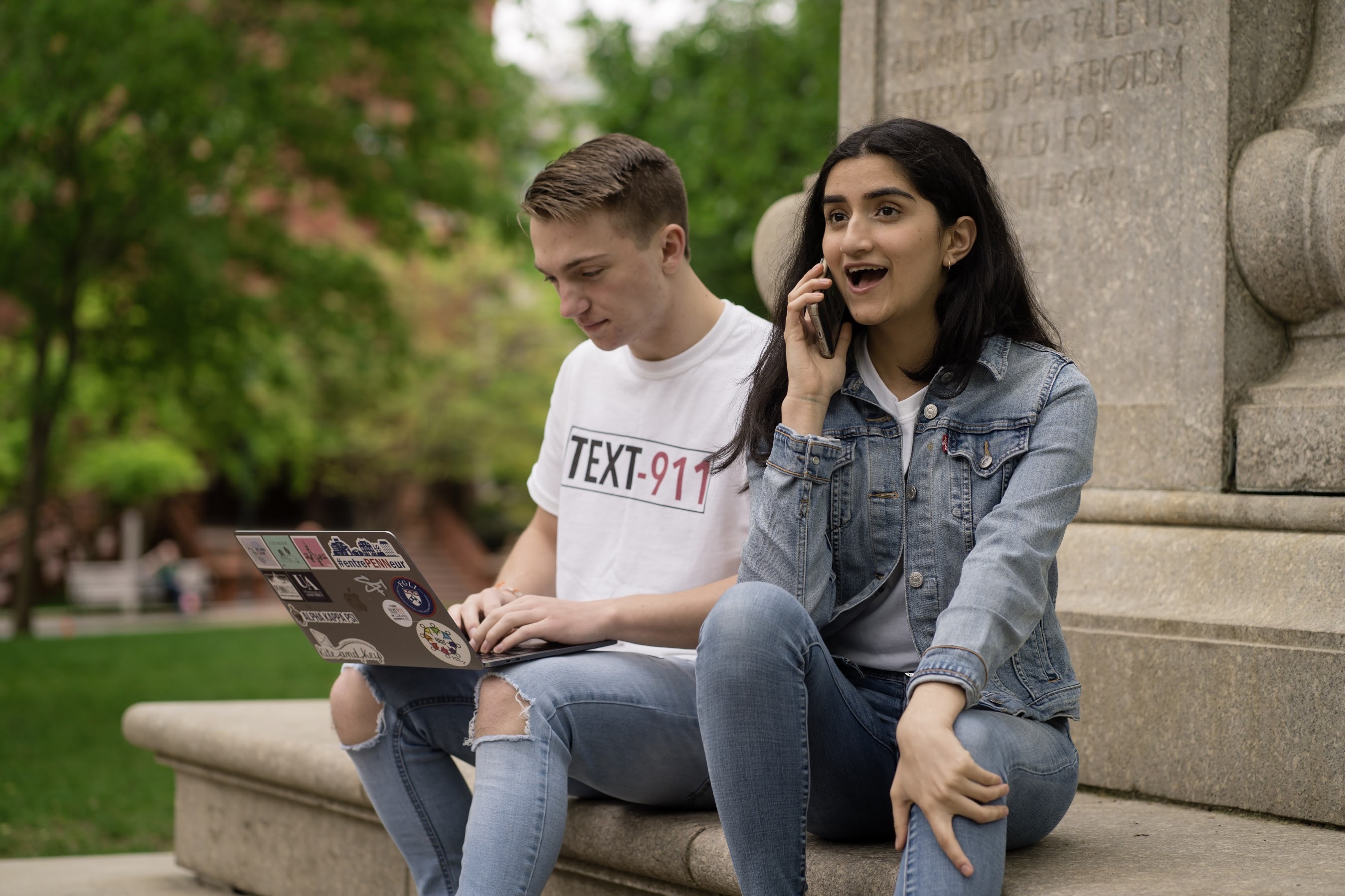 Texting has become so ubiquitous, it's hard to imagine a service without the capability. But several summers ago, when Penn rising junior Kirti Shenoy interned at a resource center that served deaf and hard-of-hearing communities, she quickly learned that not all United States counties have 911 services available via text. In fact, most do not. In an era when people can text for food or a ride nearly anywhere, they can text for help in just 43% of counties in the U.S.  
"That was devastating to me, to think that there were people in my community who couldn't contact emergency services in their most vulnerable moments," says Shenoy, a Highland, New York, native.  
She began meeting with local police dispatchers, community organizations, and the legislature in nearby Dutchess County, advocating for emergency texting there. Within a year, the county's 293,000 people had the ability to reach 911 via text, and Shenoy was motivated to broadly expand the service. When she met Anthony Scarpone-Lambert, also a Penn rising junior, she knew she'd found the right partner to create a new nonprofit, which today is called Text-911. 
The mission of Text-911 is twofold: First, bring emergency text to every U.S. county. Second, educate Americans about the availability and capability of such a service, one that could prove crucial for the deaf community or lifesaving in situations where a phone call could be risky, like in a violent domestic dispute or a mass shooting. For their work, Shenoy and Scarpone-Lambert won the Social Impact award from the Penn Wharton Entrepreneurship Startup Challenge, and they have big plans for the summer. They're aiming to finalize an interactive geomap and website, plus begin a pilot project with all 67 counties in Pennsylvania. 
"When we decided we wanted to create something more tangible, something we could implement across America, we started to dive into the data about emergency text," says Scarpone-Lambert, a Hillman Scholar in the School of Nursing. The duo looked at numbers from the Federal Communications Commission (FCC) and talked to police dispatchers, who revealed that a typical public-safety answering point—where 911 responses happen—receives just 400 emergency texts a year compared to about 100,000 emergency calls. 
"That stat in and of itself shows that people who have access aren't using it," says Shenoy, who is studying entrepreneurship at the Wharton School. "That's a huge problem and something we're working on, to make sure that the people who do have it are aware of it." 
To that end, the Text-911 founders are partnering with police dispatchers and community resource centers nationwide and creating customizable materials for police departments. They want to help expedite the process—which can take up to a year—and also make it as seamless as possible. Sometimes that means simply providing information about how to implement such services; sometimes it's filing paperwork with the FCC. 
For the education component, Shenoy and Scarpone-Lambert have already built a geomap that can show, at a glance, whether an address or location has access to emergency texting. (To find out if you can text 911 in your county, search by ZIP code on the map, updated most recently in April.) The new website will house the map and resources, both for counties and for individuals. 
It's clear the two Penn students are passionate about their startup, which, when fully functional, has the potential to help people across the country. "More than a hundred million Americans live without this capability right now," says Scarpone-Lambert. "Emergency text could save someone's life."