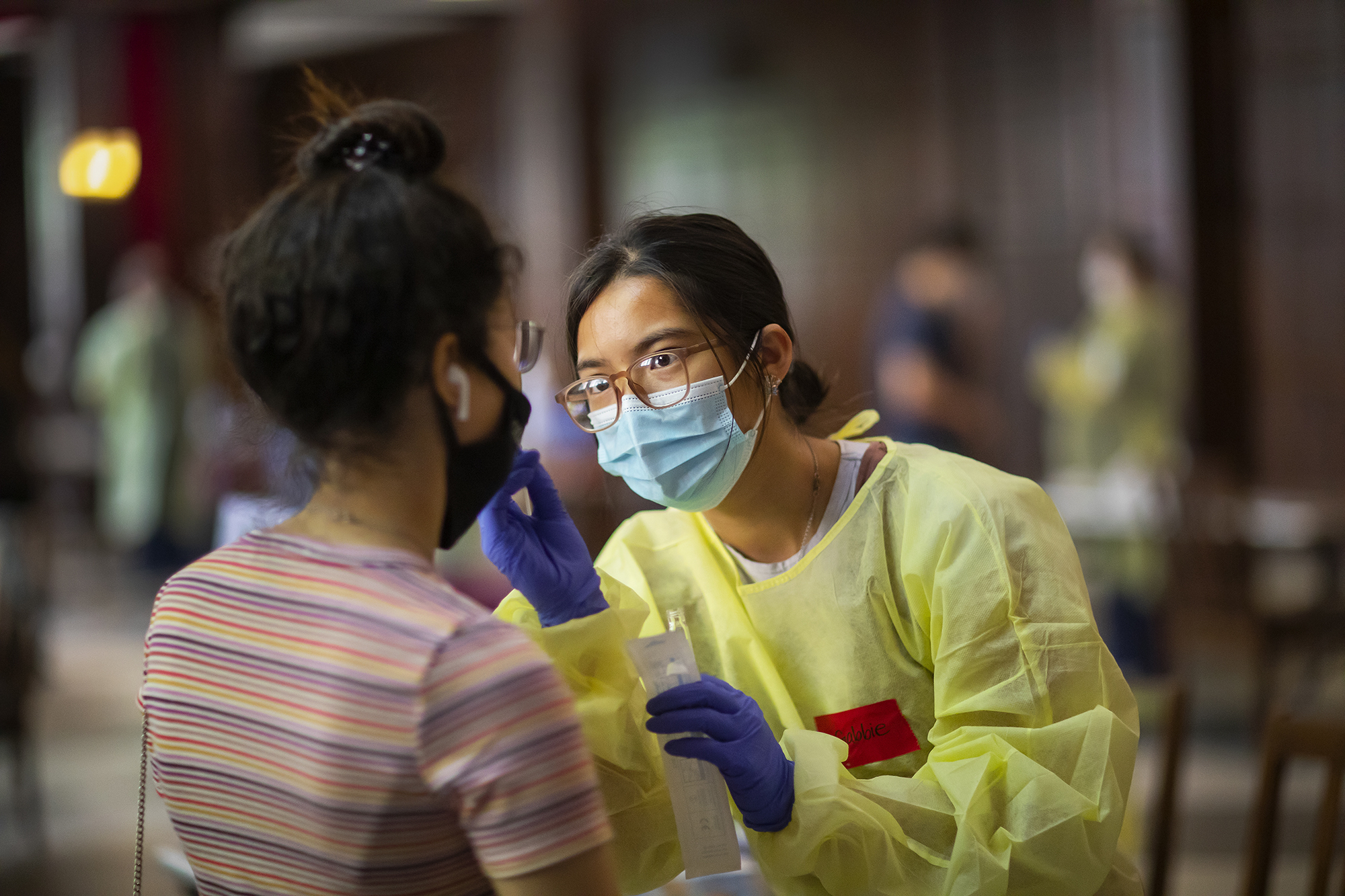 In the Hall of Flags, eight tables circled the room. At each one, nurses donning scrubs under surgical gowns, gloves, masks, and goggles stood at the ready, waiting for University of Pennsylvania students to check in at a big white tent outside Irvine Auditorium. 
The situation could unnerve even those accustomed to seeing medical professionals covered in personal protective equipment. The room in Houston Hall had become a makeshift COVID-19 testing site, yet those about to get swabbed seemed at ease, made comfortable by the friendly voices coming from behind the masks of those they'd interacted with so far. 
Many such voices belonged to seniors in Penn's School of Nursing, 37 of whom volunteered to help run the gateway site as part of the Nursing in the Community course co-led by Alicia Kachmar and Bridgette Brawner. For two weeks, the students checked people in, conducted temperature and travel-history screens, crowd-controlled, and even did some nose-swabbing, contributing to the more than 13,000 tests completed there since early August. 
"The nursing students have been an exceptional addition to what we're doing here," says Erika Gross, Penn's chief operating officer for Wellness Services. "They have brought wonderful energy, and they've also normalized a lot of the activities that we're going through right now. They're the first people that most of our students see when they show up." 
Though the pandemic has kept the majority of undergraduates from coming back to campus this fall, undergrads with certain clinical requirements and some graduate students did return. With that arrival came a necessity for getting tested. The Houston Hall location, set up by Gross' team, provided quick, easy access, offering two tests per undergrad and one test per graduate student for anyone living in college houses or off-campus but with plans to regularly visit campus. 
The site also gave the seniors in the nursing program, who are less than a year away from finishing their training, a place to see real patients at a time when such opportunities are scarce for trainees. "They are typically in clinical sites all over the city, in schools, home health care, hospice facilities, libraries. It really runs the gamut," says Kachmar, who is a lecturer in the Department of Family and Community Health and earned her bachelor's, master's, and Ph.D. from Penn. "Many of the restrictions that come with the pandemic have forced a lot of sites to not host students this semester." 
With that as the backdrop, Kachmar jumped at the chance to place her students in the Hall of Flags, working closely with Gross and Campus Health to make it happen. "They do get clinical hours logged, so that goes toward their state board requirements. But more than that, they're part of what we are all part of right now," Kachmar says. "We think about nurses as people who work in the hospital, but they're so much more than that." 
When Kachmar sent out a note about the opportunity, she quickly received 20 enthusiastic emails—more than a quarter of those enrolled in the course—indicating a level of excitement on par with her own. In the end, more than 40% participated, including fourth-year Sara Klausner, from Naples, Florida. 
Early on, and supervised by Kachmar, Klausner had the chance to do actual patient testing. Despite the brevity of the procedure itself, about 30 seconds total, she valued the firsthand experience it provided. "I got to talk to the patients, I got to explain the procedure, I got that patient care aspect in," she says. "I can't really do too much since I'm not a licensed nurse yet, so I was excited to be able to contribute in some way in this pandemic." 
Klausner also encouraged her friends to come get tested. "Even though they could just see our eyes, having a familiar face made it more normal that everyone should be getting tested if they're coming back to campus," she says.  
Gateway testing finished at the site on Sept. 12; Kachmar says the students will continue to volunteer at the testing site, helping with surveillance efforts and October flu-shot clinics. She's heard from the health care professionals involved that the students brought a unique positive energy to the room. She herself overheard conversations between the soon-to-be nurses and those already working in the field, informal mentoring sessions in between swabs. 
And that's precisely the aim of the Nursing 380 course, which centers around community engagement and public health. Thrown into a real-world situation, these students hit the ground running. 
Gross echoes that sentiment. "To be a good nurse, you have to learn how to talk to people, how to advance an important topic," she says. "You can demystify health care through that personal connection you make. Here was an opportunity for the nursing students to learn how to do that firsthand. They're approaching people that they've never met before. They're trying to normalize behavior. They're also thinking about what they can do as individuals to allow the Penn community to coexist with COVID and the new world we're in." 
For additional information and resources on COVID-19, visit coronavirus.upenn.edu/ or wellness.upenn.edu/coronavirus/. To learn about Penn's daily symptom tracker, PennOpen Pass, visit pennopen.med.upenn.edu/.
Erika Gross is the chief operating officer for Wellness Services at the University of Pennsylvania. 
Alicia Kachmar is a registered nurse and lecturer in the Department of Family and Community Health in the School of Nursing at the University of Pennsylvania. 
Sara Klausner is a fourth-year student in the School of Nursing at the University of Pennsylvania.