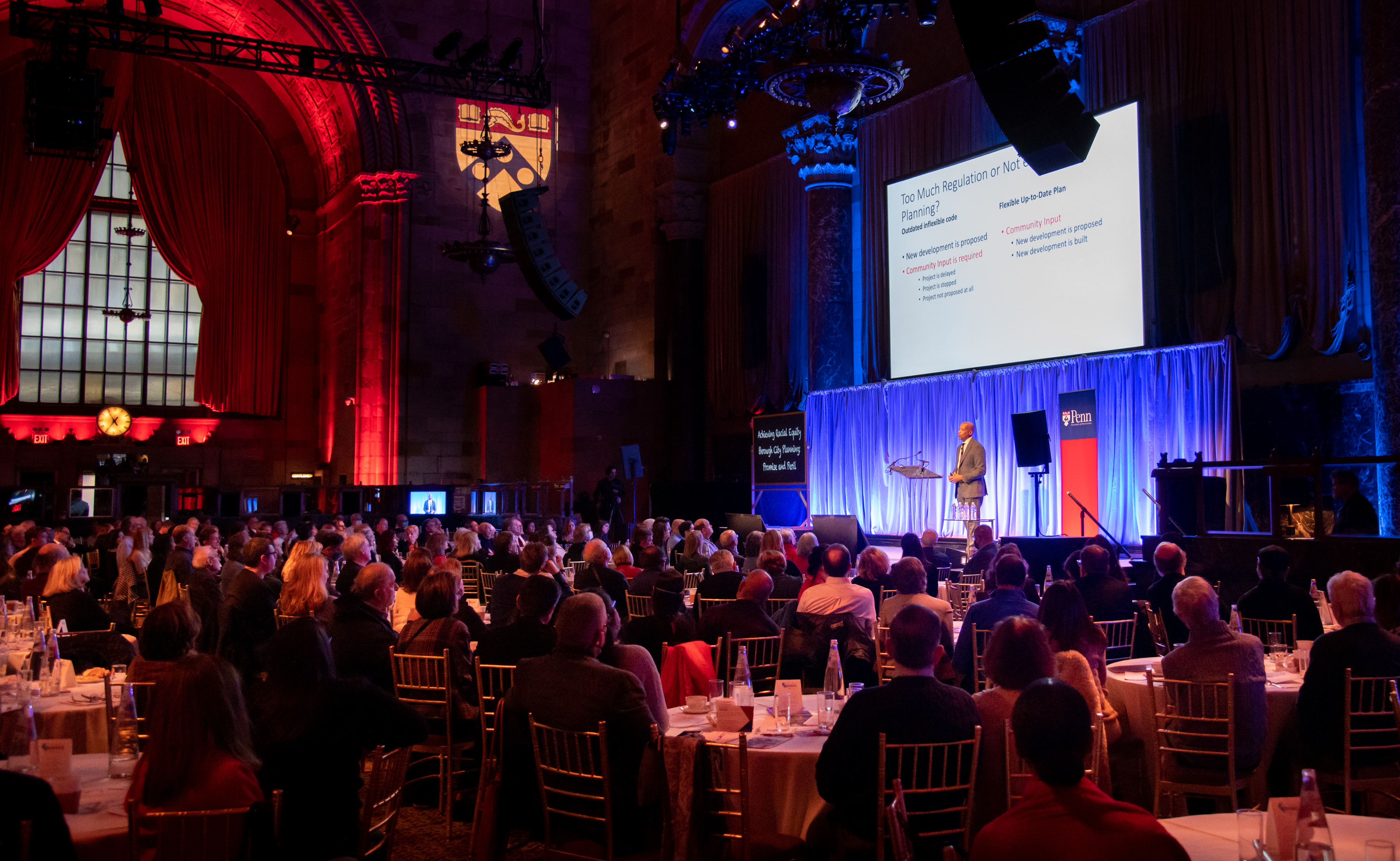 This past weekend in New York City, the University of Pennsylvania showcased its 24th Engaging Minds event, the first in person since 2019. It was hosted by Penn Alumni. 
Three Penn Integrates Knowledge University Professors—Lance Freeman, Dolores Albarracín, and Kevin Johnson—each discussed their research. The audience, at least 600 in person and remote, heard about using city planning to promote racial equity, about how conspiracy theories come to life and propagate, and about the need for physicians to communicate effectively with patients and families. 
Following brief remarks from Penn Alumni President Ann Reese, University President Liz Magill introduced the event. "As many of you know, I've been thinking a lot and speaking often about what makes Penn Penn," she said. "What are our distinctive strengths? What are the unique contributions to society that we have made in the past and can make in the future? And where do we go from the extraordinary position we are in now?" 
Magill went on to express gratitude for the speakers and invited the audience to think about how the researchers' work and expertise furthered what she described as the "twin principles of truth and opportunity." 
Interim Provost Beth A. Winkelstein echoed Magill's sentiments. "I have a front-row seat to the innovative teaching and research happening across our 12 schools," Winkelstein said. "The world's most accomplished students demand a lot from their professors, and they deliver, teaching not just what but how to learn, the value of knowledge, and the importance of intellectual curiosity." 
Freeman, Albarracín, and Johnson offer a "varied but representative sample of our top-notch faculty," Winkelstein said. "We'd expect no less from not one, not two, but three Penn Integrates Knowledge Professors."
Racial equity in city planning
Freeman, who holds appointments in the Department of City and Regional Planning in the Stuart Weitzman School of Design and in the Department of Sociology in the School of Arts & Sciences, started off by playing to his audience. 
"I'm a native New Yorker, born and raised in Queens. Go Queens, right? I see this as a homecoming of sorts," he said. "I don't have to tell you that New York is one of the greatest cities in the world. But it's also a city of great inequalities and inequities." He said growing up amid such disparities motivated him to study city planning, to understand why different groups fared better than others and how to address such imbalance.  
During Engaging Minds, he focused on racial equity. "I'm talking specifically in this context about planning that explicitly considers how different types of development and actions affect different racial and ethnic backgrounds," he said. 
Looking through a historical lens, Freeman suggested that city planning falls into three eras. During the first, in the late 19th and early 20th centuries, urban planning accounted for race, but in a way that furthered inequality. "There was intentional discrimination," he said. Around the time of the Civil Rights movement, all racial groups legally had to start receiving equal treatment. Recently, he said, the need for modern city planning to account for the legacy of past planning became clear.
That's because such historical practices reverberate through time, Freeman said, with this "legacy of discrimination" leaving low-income communities and communities of color more vulnerable in situations like the fallout from the 2008 financial crisis, natural disasters like Hurricane Sandy, and the COVID-19 pandemic. 
Freeman proposed that what's needed is something akin to the environmental impact assessments required before any development projects gets approved. "There will have to be some consideration of how any development will impact equity," he said. Several cities, including New York, Seattle, and Washington, D.C., are moving in that direction. "The justifications are reparative, for past planning practices that perpetuate discrimination and segregation, and to address ongoing and persist inequities to this day," he said.
Conspiracies, right-wing media, and anxiety
Albarracín, who has appointments in the Annenberg School for Communication, in the Department of Family and Community Health in the School of Nursing, and in the Department of Psychology in the School of Arts & Sciences, runs the Science of Science Communication Division of the Annenberg Public Policy Center.
Yet she started her talk with several images and videos of lizards. Or, more precisely, pictures of half-human, half-lizard combinations and videos of people showcasing lizard-like behaviors. Albarracín's point soon became apparent: Conspiracy theories may seem silly or far-fetched to outsiders, but those who believe them will rarely be convinced otherwise.
Dolores Albarracín and Kevin Johnson talked about conspiracy theories and science communication, respectively. The event offers an opportunity for alumni to stay engaged with varied research happening at Penn.
Conspiracy theories cut across domains, she added. She mentioned several examples, including the alleged cover up of the HIV virus as a population-control effort, the coronavirus as a bioweapon, vaccines, genetically modified organisms, and the Deep State, among others. 
"There is a laundry list of psychological terms that have come to be linked with conspiracy theories—anxiety, compensatory control, conspiracy thinking, you could go on and on—but a laundry list is not useful," Albarracín said. "We need an overarching theory that accounts especially for the socially shared reality here, that fact that these ideas are creating an alternate reality of sorts. These are not my paranoid ideas about my neighbors, the condominium association, your boss. These are shared. That means they had to come from some social influence." 
She referenced research she and colleagues published recently, which revealed a pair of those social influences: right-wing media and anxiety. "Those two are, we believe, the most immediate causes." 
Trust in science, she went on to note, doesn't protect a person from falling prey to a conspiracy theory because many such theories are, themselves, pseudoscience. In other words, they pass as scientific evidence even when they aren't. "The more you trust science, the higher the impact of the pseudoscientific content," Albarracín said, "the higher the probability you're going to disseminate the information." 
So, what does shield against conspiracy theories? "Literacy, your ability to understand something basic about methods, actually protects you," she said. "Critical thinking is better than trust in terms of obtaining this kind of protection. We have to trust our thinking abilities." She said higher education institutions have a critical role to play in this process. 
Effective communication
Johnson, the David L. Cohen University Professor with joint appointments in the Department of Biostatistics, Epidemiology, and Informatics in the Perelman School of Medicine and the Department of Computer and Information Science in the School of Engineering and Applied Science, started his talk with a case study. "That case is going to be my case," he said. 
He took the audience through his family history, education, and training, pausing at a point on the timeline when he was a young physician-scientist who had just explained a new medical topic to a journalist. "I felt really good about the conversation—and then the article came out," Johnson said.  
In the piece, he had been cast as saying that the medical community was overtreating this condition, "which is not what I said." He realized in that moment that as a physician, he had been taught to communicate what a study finds, not how to act based on those findings. That experience shifted his thinking on how to communicate scientific topics, and he has spent decades trying to move the needle on how others in his field perceive this. 
"As scientists we face obstacles. We face the obstacle of scale, so, small projects that we're asked to generalize. We face the issue of trust. And then we face the issue of values," Johnson said. "I'll add a fourth, which is format; the way we choose to reach specific audiences will be different." 
Scientists should be using concrete yet simple language and tools like analogies and metaphors, he said. He's beginning research to test a hypothesis he has about this, that gearing the language and values of a message to a particular population will end up being more persuasive. "Trust takes years to build," Johnson said, "but seconds to break and could take forever to repair." 
Magill concluded by saying she is "a deep believer in the mission of research universities like Penn. Our job is to produce knowledge and to convey that knowledge to the next generation. I can't think of a more compelling mission."
Photos by Ben Asen.