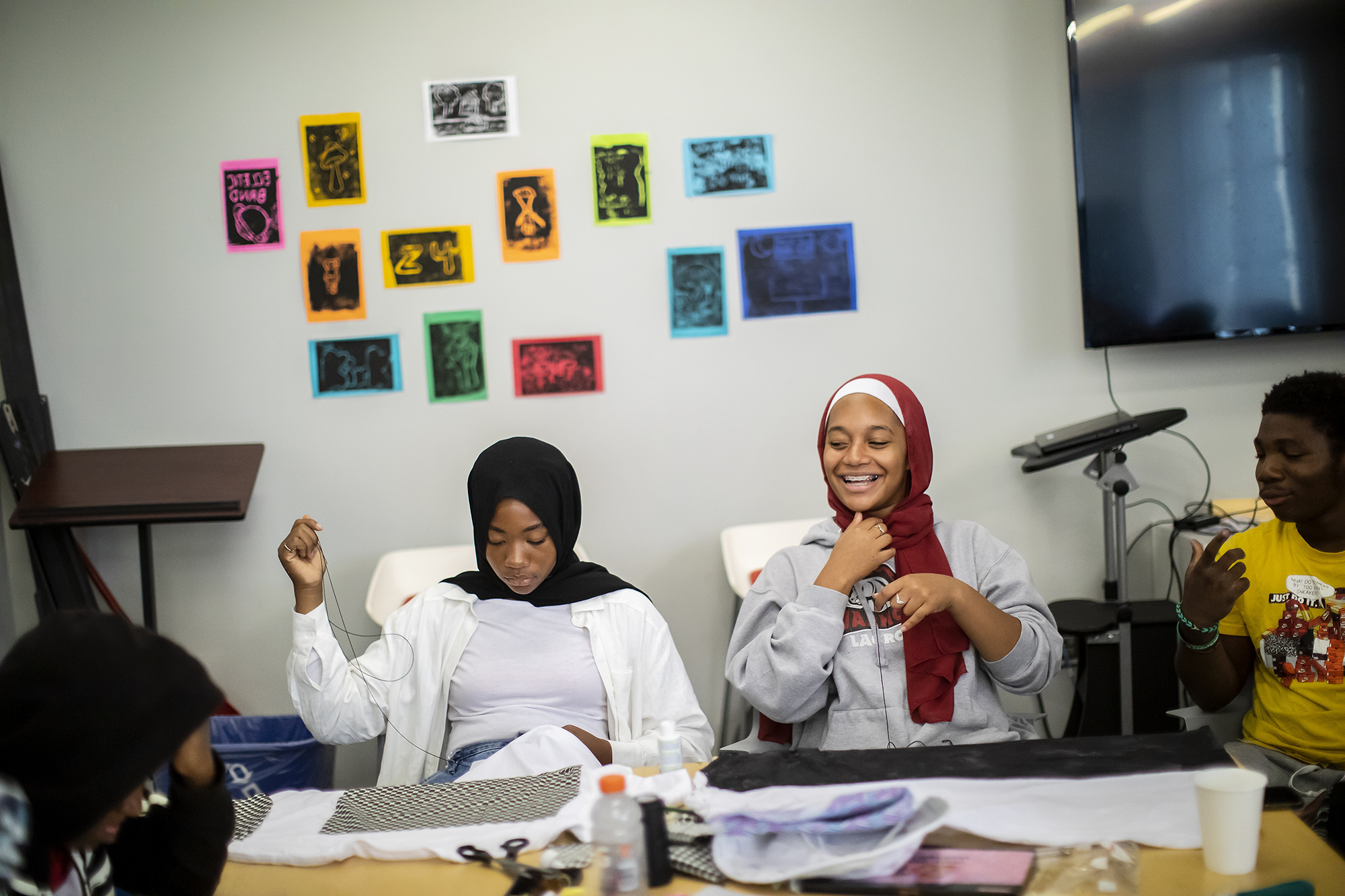 At the Pennovation Center in July, a group of two-dozen teens sit at four tables, engrossed in the clay and fabric, paint and other design materials. Several students are making T-shirts, drawing or printing designs of their own making. Across the room, a duo paints. Within the excited chatter come snippets of conversations about art and design. 
The students are there as part of an initiative called Design to Thrive, a program aimed at exposing high schoolers to the many facets of a career in the field of design. It began as a two-year pilot between PennPraxis—the center for applied research, outreach, and practice at Penn's Stuart Weitzman School of Design—and the Fresh Air Fund, a New York City–based nonprofit. Since spring 2020, the program has expanded and this past summer, included workshops at West Philadelphia High and the Pennovation Center in addition to the youth program in New York.
During the early days of the pandemic, the initiative took shape. "There was a growing concern about today's youth missing vital educational and growth experiences," says Lori Kanter Tritsch, a member of the Weitzman School board of advisors, who facilitated the original partnership with William Lauder, chairman of the board of the Fresh Air Fund and a University of Pennsylvania trustee. "Bringing together talented Weitzman students and Fresh Air Fund youth was an obvious solution in my mind."
Students and parents raved after the first summer of virtual design instruction, and the program became an immediate hit. The following summer, Design to Thrive staged in-person activities on Governor's Island in New York, where participants contributed to every aspect of the design process—from planning to painting, woodworking, and welding—under the tutelage of Weitzman School graduate fellows.
"Some of these young people had never touched power tools," says Ellen Neises, the Lori Kanter Tritsch Executive Director of PennPraxis. "The ability to build something of significance was exciting for them."
(From top left, clockwise) At the Pennovation Center, students participate in the community-engaged design of a park in collaboration with Philly Thrive, and on individual projects like printmaking. In New York, high schoolers learn skills like welding and work together to build a bench designed by a Penn undergrad architecture student.
The pilot's success inspired Kanter Tritsch and Lauder to commit $7.5 million to endow the Design to Thrive program and the PennPraxis executive director position. As the nonprofit practice arm of the Weitzman School, PennPraxis works in solidarity with students and faculty who engage communities in design and revitalization projects. "We now have the core capacity to think beyond building projects," Neises says, "and to do even more work to support young people who want to pursue careers in design or the trades." 
Expanding collaborative community work
Other PennPraxis activities locally include working with leaders of the Ramapough Lenape Turtle Clan to protect sacred stone landscapes and historic trails; collaborating with Square Roots Collective to expand the community of leaders and decisionmakers in Kennett Square to create an overall more inclusive social infrastructure; and nationally conducting research to support a plan for housing assistance and rental relief in six U.S. cities—Philadelphia, Cleveland, Oakland, Los Angeles, Baltimore, and Atlanta—in response to economic pressures caused by the pandemic.
In summer 2022, PennPraxis brought architecture classes, career development, and technical training to West Philadelphia High School in collaboration with the Netter Center for Community Partnerships. Part of the summer session included implementing the first phase of an outdoor gathering space and community garden intended to become a public resource. 
Neises has been heartened by the positive response from young people participating in PennPraxis initiatives. "At many public schools, it's hard for teachers to give students individual attention and support for their creative ideas," she says. "After learning from our Design fellows, working with tools, and making their own creative decisions, the pride of what they accomplished was so powerful."
The Praxis program at West Philadelphia High grew out of its longstanding relationship with the Netter Center and its comprehensive, year-round University-Assisted Community School program funded by donations to the Netter Center, as well as grants from the Philadelphia Office of Children and Families and the Philadelphia Youth Network. In addition to the youth program at Pennovation, Design Fellows worked with Philly Thrive and Grays Ferry residents to design renovations to their community park.  
"I am thrilled that Design to Thrive will have a significant learning impact on the young people who participate, as well as on the Weitzman students who design and teach the programs," says Kanter Tritsch, adding that the initiative helps PennPraxis fulfill its mission as a supportive partner for community members of all ages. 
For her part, Neises says she is excited to help empower young people to take an active role in shaping their own environments and possibly discovering new career possibilities. "Young people often don't get to leave their mark on the spaces where they live and play," Neises says. "When they do have the opportunity, it is an exhilarating experience."
That's evident in the classroom at Pennovation that late July day. High schoolers and Penn grad students work together to create something from nothing, transforming raw materials into artwork, teaching each other as they go.
Portions of the text originally appeared in the story "In Their Hands," published on the Inspiring Impact website on Sept. 23, 2022.