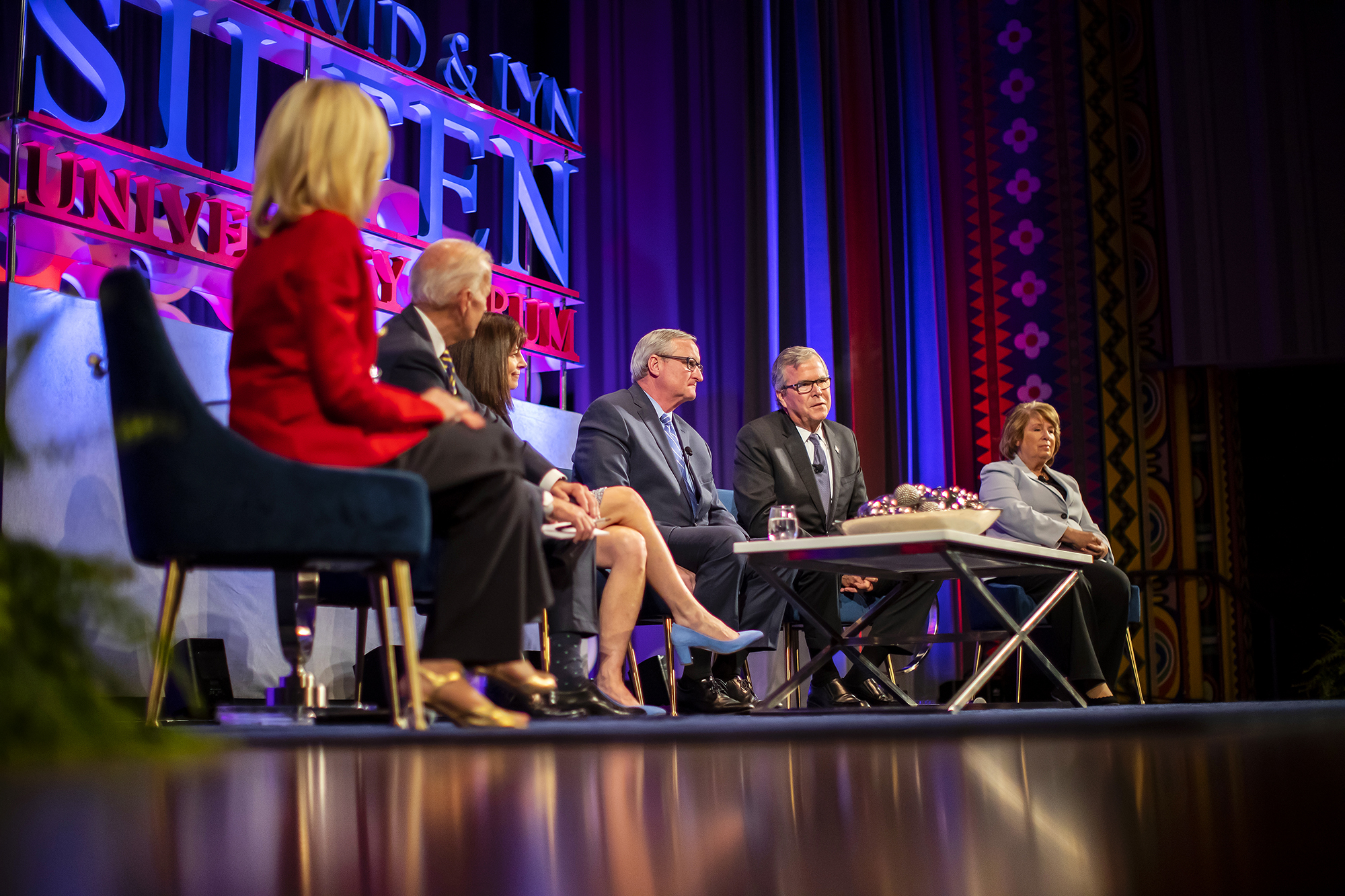 It's not every day we get to watch a doctor, professor, U.S. vice president, governor, mayor, and Ivy League president—all with different backgrounds and perspectives—come together to talk, let alone about the opioid epidemic.
But, as is typical for Penn, going beyond the ordinary is in our DNA.
"You can't learn this via a textbook," said senior psychology major Elisabeth Hyde. "I'm a visual learner, and to actually have the experts here, that was amazing."
On Thursday, as part of the 2019 David and Lyn Silfen University Forum, students, faculty, and staff packed into Irvine Auditorium for an insightful and complex discussion amongst President Amy Gutmann, Joe Biden, Jeb Bush, Jim Kenney, Bertha Madras, and Jeanmarie Perrone. The public official outlook of former vice president Biden and former Florida governor Bush, now both presidential professors of practice at Penn, as well as Philadelphia's own Mayor Kenney, paired with the medical expertise of Madras, a professor of psychobiology at Harvard Medical School, and Perrone, the director of medical toxicology at the Perelman School of Medicine, was engaging, unique, and important.
"More than 130 people in the U.S. will die of an opioid overdose today," said Gutmann, who moderated the conversation. "Americans now face greater lifetime odds of dying from an opioid overdose than from a car crash. The global scourge cuts across all communities and affects every corner of society. No family is immune, no single culprit is to blame. We know of no clear and simple fix."
We do, however, have good reason to hope, she continued. "As long as we have great leaders in myriad fields, in multiple sectors, working to better understand and meet this crisis."
In the midst of the deadliest drug crisis in American history, the group began by discussing how we, as a country, have gotten here.
"Look, more [Americans] die on a yearly basis from this opioid crisis than died in the entire war in Vietnam," said Biden. "To put it in perspective, this is not a minor thing."
Biden noted how drug companies, which advertised painkillers without warnings, are to blame, as well as doctors who "willy-nilly" prescribed opioids.
Perrone, a physician on the front lines of the epidemic, expanded on Biden's view, noting that drug companies perpetuated the concept that opioids were safe "when they absolutely were not." Federal regulatory bodies fell into the very convincing campaign of the drug companies, and physicians inherited responsibility to not let anyone suffer from pain—at all.
"I saw the whole thing evolve," said Perrone. "Pain that was perceived as a 10 out of 10, we needed to get it down to zero. It created this cycle. When I trained here in the early '90s, we didn't prescribe like that. And I watched it happen between '95 and 2005, where we were just pushed to prescribe."
What Perrone and her colleagues are now facing in the emergency department is the "picking up of the pieces" of the over-prescription of opioids, which have led in some tragic cases to addiction. And not just to the painkillers, but also evolving to heroin and fentanyl, which give similar but cheaper and more potent mind-altering experiences. 
"Opioid dependence and tolerance happens very quickly," noted Perrone, "you need escalating doses immediately."
Talking of addiction as a biobehavioral disease, Madras explained—after Biden asked her to expand on the difference of addiction versus willpower—how the brain undergoes vast changes under the influence of drugs, "because the drugs produce signals in the brain that are so abnormal that the brain adapts, and once you remove the drug from the brain, the adaptation takes over, and you no longer feel normal unless the drug is reintroduced into the brain."
"In the case of opioids," she added, "the help is with certain medications. You cannot really climb out of that uncontrollable urge."
Perrone noted later the use of methadone, as well as buprenorphine or Suboxone, the treatment's trade name. Both, she described, though they are used differently, are evidence-based, and effective if the right support is in place.
Kenney, whose administration declared Philadelphia is facing the greatest public health crisis in a century, said the biggest lesson he learned is to not criminalize addiction.
"We try to approach this multiagency-wise," he said, noting that through various efforts, the city's opioid overdose rates are slightly ticking down. "We don't want to lock people up, it makes things that much worse."
He noted the immense importance of naloxone.
"Librarians have it. Recreation department workers have it. Police all have it. Firefighters. Paramedics. Everybody has access to it," he said.
"Naloxone is more likely to save lives than any of you who are trained in CPR," Perrone added, looking out to the audience. "All of you can carry it."
Perrone pulled out the small medication, a Narcan nasal spray. 
"If someone is unresponsive, you spray this up their nose," she said. "There are no needles, it's very safe."
Kenney also mentioned the idea of overdose prevention sites, often called safe injection sites. 
"It's very difficult to explain to neighbors that this is a good thing, we [would be] saving lives," he said. "We won't operate it if it opens, it will be operated by a separate nonprofit, but we will have our social service people and other folks there."
Bush talked of the motivation he had as governor to address the opioid crisis early on, due to the challenges he witnessed across his state as well as his daughter's own issues related to addiction. 
The strategies to address the epidemic, he said, must be comprehensive, "it can't be one thing." Bush also noted the importance of the federal government being involved, but perhaps restructuring how money is allocated to states and local governments. 
Also addressed by Bush and Biden was the effort that should go into detecting and intercepting illegal drugs before they enter the country. 
Biden discussed negotiating with countries in question, including Mexico, as well as implementing significantly more sophisticated technical capabilities and additional personnel—although expensive—at ports of entrance. Bush, as well as Madras, mentioned raising the standards for tracking packages from China, similar to the way Federal Express does.
The conversation was expansive, with a consistent flow of opinions intertwined with hard evidence that lasted more than an hour. It concluded with questions from students in the audience.
In a "lightning round," as Gutmann called it, she asked the panelists to provide one tidbit regarding the opioid crisis that Americans should know. 
Madras mentioned the importance of not introducing opioids to the adolescent brain; Bush noted a necessary shift in our culture to not default to taking a pill to resolve problems; Kenney expressed the need for more financial help for local communities to deal with the issue; Biden noted the mere realization of how addictive these painkillers are; and Perrone explained the importance of "keeping opioid naïve people opioid naïve."
"Nobody should take these medicines for treatment," she said. "There are alternatives in almost all cases … and we just need to prevent people from getting started in most cases."
For Hyde, the conversation was the perfect balance between policy and science. It would have been easy, she said, for the University to set up a talk where you just see the issue from one lens, "but to see them interact with each other was really cool."
"I got a lot out of it, even though I don't study this," Hyde continued. "One thing that really resonated was making sure people don't start, this issue of prevention. I am definitely going to go home and do my research."
Sparking that type of interest was, and always is, a big part of the annual Silfen Forum.
"We not only, right here, have addressed some of the things that can be done," said Gutmann, "but also how important it is to remember that when we do things that are effective, to keep the education going." 
Homepage photo: President Amy Gutmann moderated this year's Silfen Forum, which featured Joe Biden, Jeanmarie Perrone, Jim Kenney, Jeb Bush, and Bertha Madras.