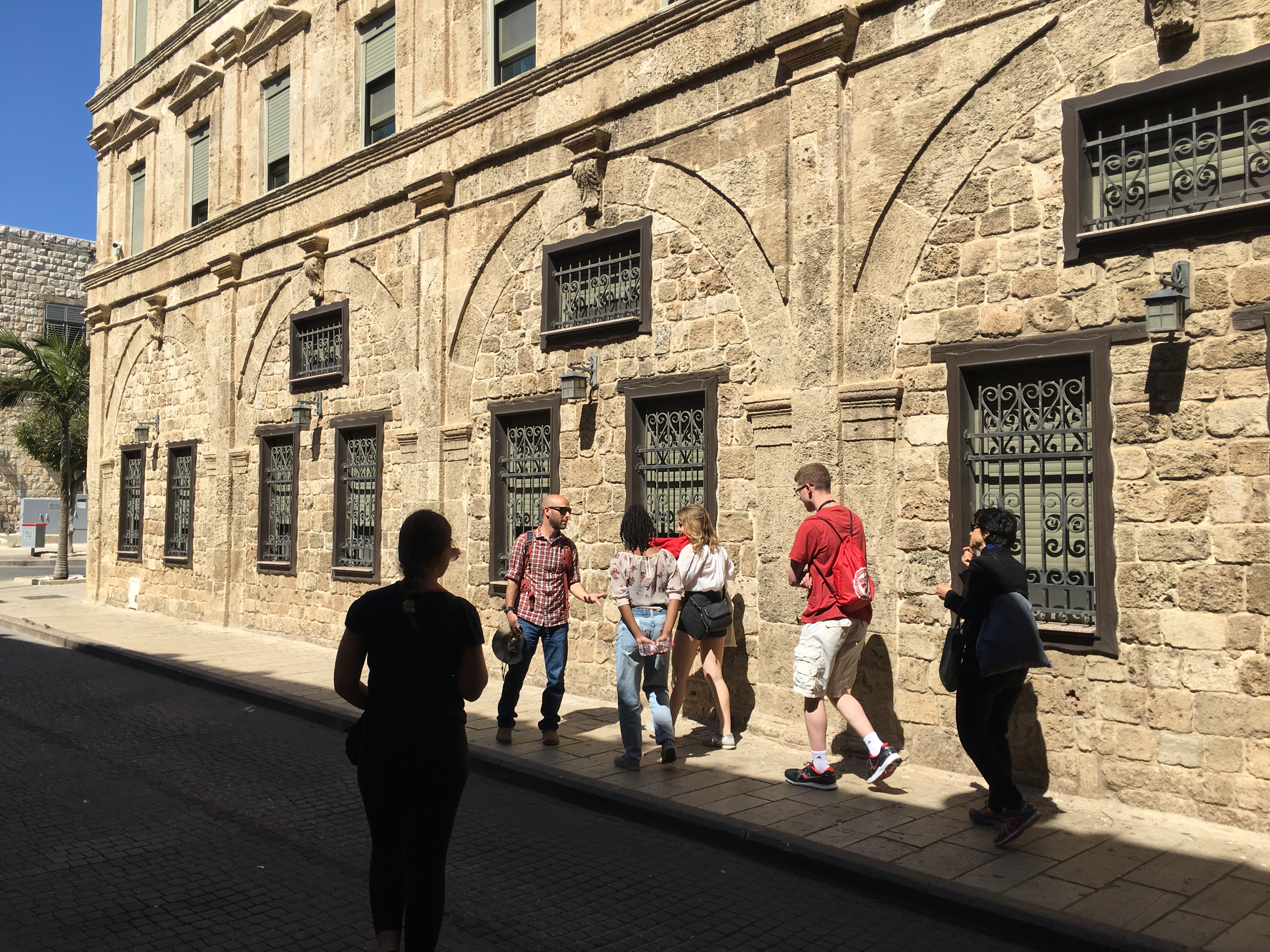 Penn professor Nili Gold grew up in Haifa on the northern coast of Israel. So, it was meaningful for her to take 18 of the University's undergraduates from varying backgrounds, faiths, and interests there for a Penn Global Seminar in early March, as part of her semester-long course on the city's literature, architecture, and film.
"Nobody knows about Haifa. People know about Israel," says Gold, a scholar of modern Hebrew literature. "But there's this big, beautiful city with unique topography and architecture and history that people don't know about." 
For a week, Gold and a handful of experts-turned-friends guided the students around Haifa, showing them sights they'd read about or seen in films before the trip. The city's conservation director discussed architecture and offered access to places typically closed to tourists. An author whose work the class studied led an informal conversation, then showed the group around her childhood neighborhood. The experience gave the students and teacher alike a more intimate knowledge of Haifa and of themselves. 
"When you're in Philadelphia or any city you're familiar with, you tend to not look around or look up. You tend to look down because you've seen everything before," says Jessica Davis, a junior from Manchester in the United Kingdom. "When you go to a new place, you take in your surroundings more. Combining that with the literature, where you know there was a story behind it, tied everything together."  
The course itself had been a long time coming for Gold. Though she lived in Haifa through high school, she returned to the subject as an academic by way of a writer named Yehuda Amichai. Despite being considered one of Israel's most important poets, Amichai was born in Germany and lived there until age 12, so to write a book about his early life, Gold visited his childhood home in Europe. 
"I was overwhelmed by how the palace, statues, and bridges of Würzburg interpreted his Israeli poetry for me," she explains. It reminded her just how influential someone's hometown can be on personal identity. "While I was there doing that research, I thought, 'I have a city of my own.'"
At around the same time, Gold discovered previously unknown love letters Amichai had written while staying in Haifa. "The city is described in those letters in the most beautiful way one can imagine," she says. "When he writes about Haifa Bay, he says it looks like the 'back of a cat.' The smoky refineries, he said look like 'pots…in a very busy kitchen.' It all kind of returned me to Haifa." 
That led to Gold's latest book, "Haifa: City of Steps," about five sites with literary, historical, and architectural significance, but that also connected to her childhood. Writing the book fueled Gold's desire to teach others about the city she loved. She had previously taught about the artistic representation of cities using examples like Carl Sandburg in Chicago and Jacques Brel in Paris. The class this semester is her first focused solely on Haifa. 
Understanding the importance of seeing something in context firsthand, Gold applied for a Penn Global Seminar. It spoke to sophomore Justin Greenman. "As somebody who is Jewish, you learn about Israel biblically and historically. But I'd never really experienced it," says Greenman, from Scotch Plains, New Jersey. "Being there, experiencing the good and the bad that exist, made it more tangible." 
It also enhanced the closeness of the class. "I'm so grateful this trip was during the semester and not at the end," Davis says. "A couple days in, we realized our relationships had grown so much, between us and Professor Gold as well. That all stemmed from the fact that the class itself was the icebreaker so that when we got to Israel it felt automatic." 
That's not to say there weren't challenging moments, like visiting the district home to the Technological Institute of Israel, called Hadar HaCarmel. The district's name, which means "the splendor of the Carmel," used to represent the place itself, but when the students arrived they instead saw decay. 
"Hadar HaCarmel was built on the side of a mountain, a city planned with the most modern principles of architecture and urban design by the most advanced architects and urban planners. It's now in shambles," Gold says. "It's not glorious anymore." Though confronting that reality moved Gold to tears during the trip, several weeks later she's hopeful about the city's future and about the young people who now understand it. 
"The trip fostered a rewarding connection with the students and more importantly changed their understanding of the complexity of the questions the region is struggling with," she says. "It's not as simple as good guys, bad guys." 
Today, Haifa has its first female mayor, an architect and an urban planner with big ideas about how to revitalize Hadar HaCarmel and other parts of the coastal city. As for the Penn students, Gold says she hopes she's given them a jumping off point, a reason to pay attention to Haifa, rather than overlook it for larger Israeli cities like Jerusalem and Tel Aviv. "It was," she says, "a glorious and conflicted and complicated and exciting trip."
Nili Gold is a professor of modern Hebrew language and literature in the Department of Near Eastern Languages & Civilizations in the School of Arts and Sciences at the University of Pennsylvania. 
Jessica Davis, a junior from Manchester, United Kingdom, is a health and societies major in the History and Sociology of Science Department in the School of Arts and Sciences at the University of Pennsylvania. 
Justin Greenman, a sophomore from Scotch Plains, New Jersey, is double majoring in history and political science in the School of Arts and Sciences at the University of Pennsylvania.