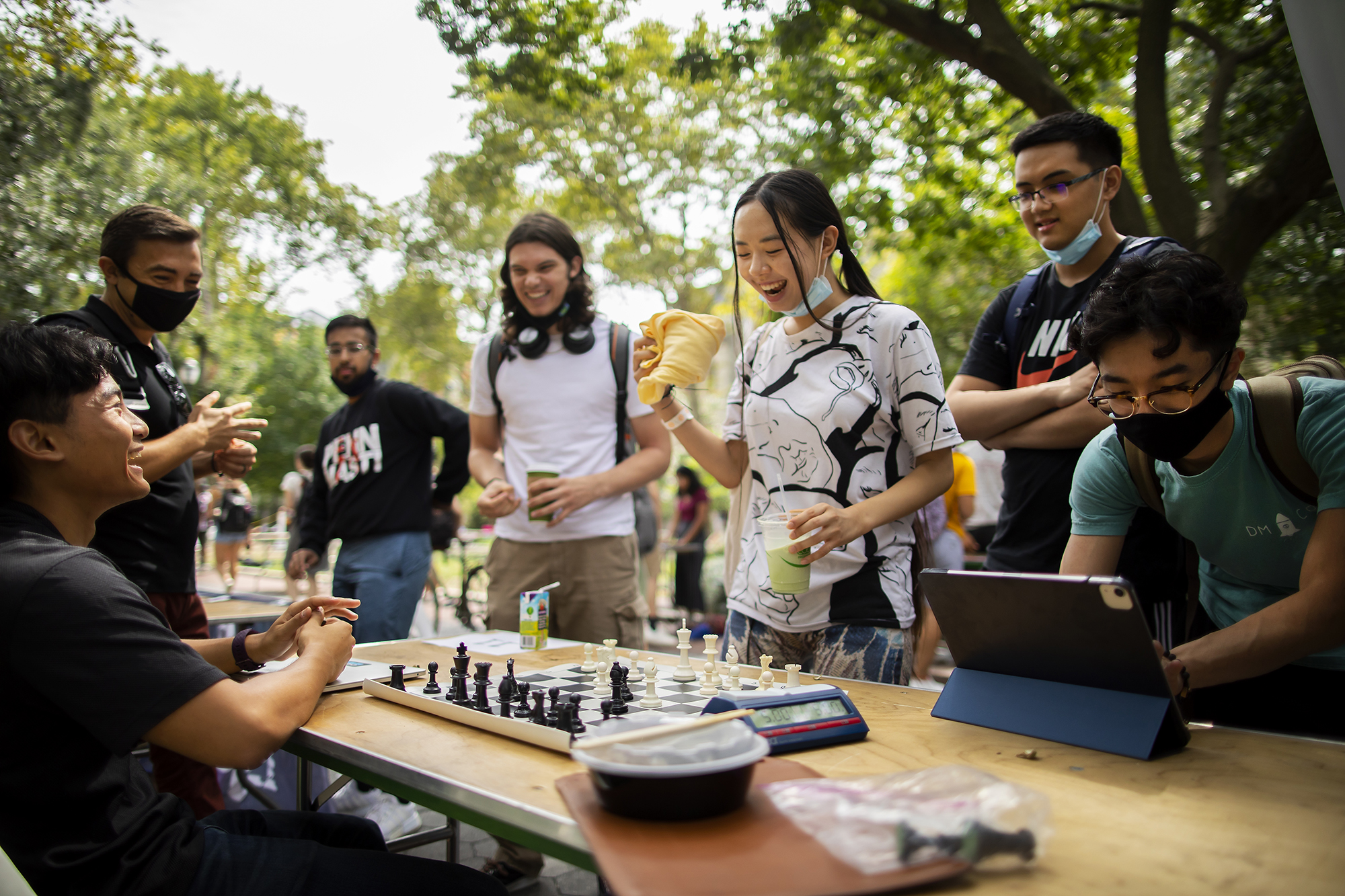 Throughout the afternoon on the first day of Penn's annual Fall Student Activities Fair, a crowd surrounded the Penn Chess table as students took turns playing the game with club members, who simultaneously answered questions and encouraged sign-ups.
The club was one of 453 student organizations that registered to have a table on Locust Walk and College Green during the three-day fair, designed to introduce students to extracurricular activities and to facilitate membership sign-ups, says senior Tess Christensen, vice chair of the Student Activities Council, which organizes the event.
This year was the first that the fair was held both in-person and online and that the in-person event was held over three days, she says. Because of the pandemic, the fair was held only online last year, through the then-new Penn Clubs platform, built by students who are themselves part of an extracurricular club, Penn Labs.
"Penn Labs has done a fantastic job adapting Penn Clubs to host the club fair virtually this past year," says Christiansen, from Pittsburgh, a linguistics and cognitive science major in the College of Arts and Sciences. "However, there's something about the in-person club fair that truly cannot be recreated virtually. There's something about wandering down Locust and being surrounded by hundreds of students all eager to share with you what they're passionate about. It has a certain energy that you really need to be there to feel."
The groups included, among others, arts and performance, cultural and international, sports and recreation, business and pre-professional, community and public service, political and advocacy, religious and spiritual, media and publication, Greek life, and student governance.
Mamta Motwani Accapadi, vice provost for university life, went table to table during the afternoon, stopping to speak with students. She even joined in a dance with Penn Raas, a group that performs traditional dances from India. "The student activities fair is so deeply important because it is a representation of the many ways Penn students can find their community, explore their interests, and pursue their passions," Accapadi says. "It was especially heartwarming to see our students connecting with one another today."
Each was scheduled for one of the three days, in person from noon to 4 p.m., and/or for a live online session from 6 to 8 p.m. Expanding the number of days allowed more clubs to participate in person than in the past because of space considerations, Christiansen says.
However, weather was a factor. Wednesday's in-person fair ended an hour early because of the forecast, and Thursday's was cancelled because the University suspended campus operations after severe storms, although the online fair continued and was extended an hour.
The Penn Clubs platform now manages a database of 826 active groups, says junior Campbell Phalen, Penn Labs co-director and team lead for Penn Clubs. A total of 572 clubs signed up to participate in either the online and/or in-person fair, he says.
During the three days of this year's fair, students created 3,074 bookmarks to keep track of clubs they were interested in and made 2,782 subscriptions to join the clubs' email listservs, says Phalen, who is from Chicago. The Penn Clubs team created a QR code so students could quickly bookmark a club at the in-person fair; most of the tables had a computer available.
Although the number of students attending the in-person fair is just a guess, Phalen says 2,504 students joined the virtual event, generating 79,136 distinct page views.
"The fall activities fair my freshman year is how I found out about Penn Tabletop, Penn's tabletop roleplaying game club, which is where I ended up making some of my best friends," Christiansen says. "I want to pay that forward and give younger students the opportunity to explore all that Penn's student clubs have to offer and hopefully to find their own niche."