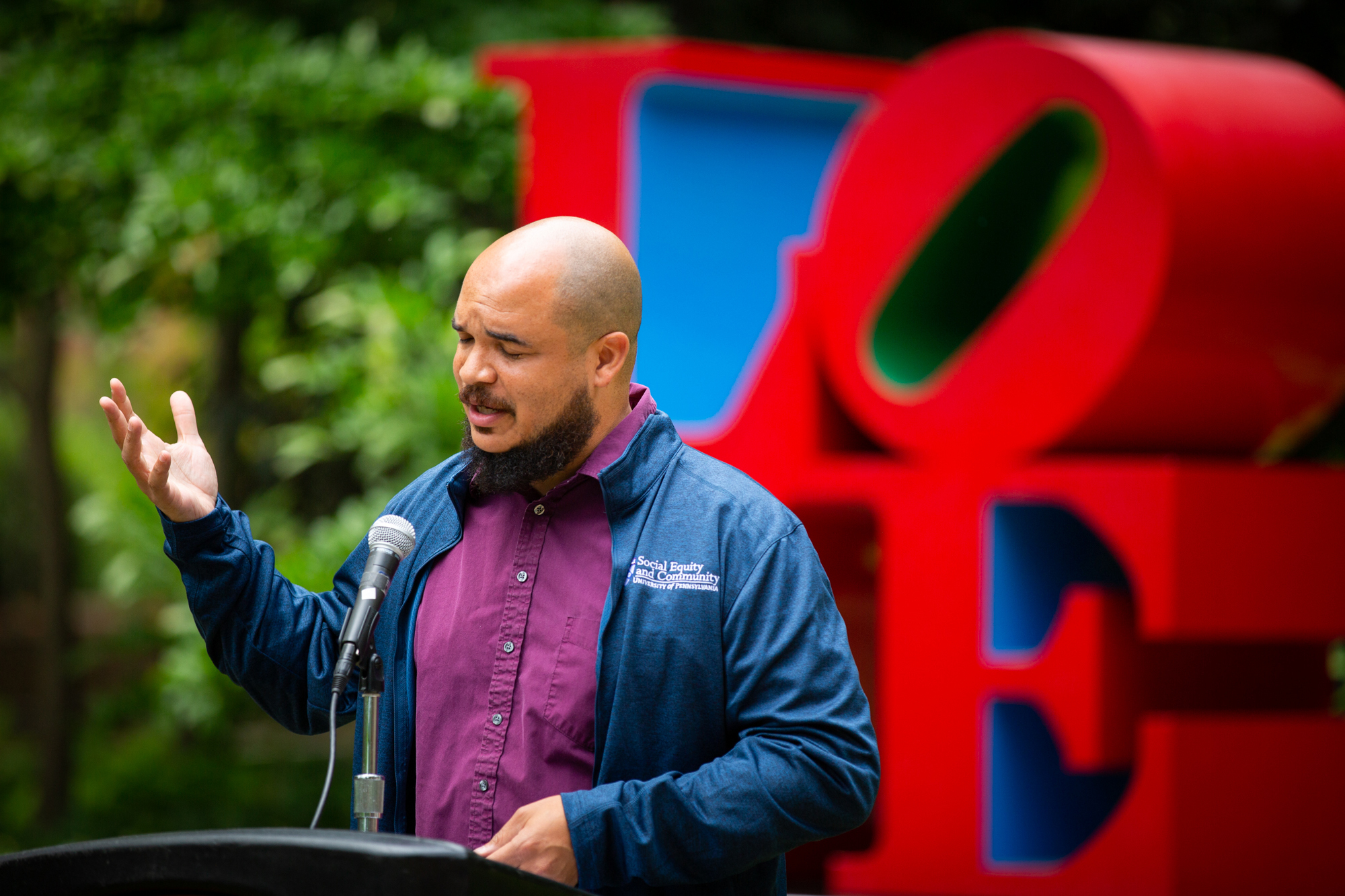 Organized religion can be a polarizing subject in the U.S. today, said Ben Jealous, professor of practice at the School of Social Policy & Practice (SP2). "It's also, for many of us, what motivates us to do great good." As part of SP2's speaker series, Jealous hosted a conversation with Charles "Chaz" Howard and David Saperstein, senior advisor for policy and strategy at the Union for Reform Judaism, about the role of faith in public life. 
Howard, University chaplain and vice president for social equity and community, cited a quote from Teresa de Ávila, a 16th-century Spanish nun who said, "Do whatever most kindles love in you." "When I think about this notion of public life, this is the guiding question," Howard said. "What does it mean to love radically in our world right now?"
For Howard, love means practicing compassion, fighting on behalf of others, and pushing institutions to do better. "In so many ways, this is what it means to live one's faith in public life: it's loving in a way that changes the world."
Saperstein, a rabbi, cited the tradition of activism and rabbinical practice in which he grew up and wants to continue. "God called us to be pursuers of justice and peace," he said. "We have a moral responsibility toward generations yet to come."
Faith ideas have animated human history, Saperstein said. "Faith is absolutely indispensable to the creation of the public life that not only we strive for but that our children so richly deserve."
Social justice has always been a centerpiece of Reform Judaism, which is a growing faith tradition, Saperstein said. He referenced Rabbi Alexander Schindler's call to practice "audacious hospitality." Hospitality is such a good word, Howard said. "It changed my life." 
Howard's parents died when he was young, and he was raised by his older sister. She found a scholarship opportunity at summer camp in rural Maine, where Howard was stunned to find that all the campers received what Howard called "little caps." 
"We all put these caps on and then all the white people around me started speaking a different language," Howard said, referencing yarmulkes and Hebrew. "I remember being stunned and surprised and confused," he said. It turned out to be a Jewish summer camp, where they "welcomed the stranger and demonstrated a deep hospitality to a kid who was really in need." Howard went back every summer for 10 years. 
"I bring that story up because it made an impression on me, that kind of basic decency to look out for someone else. And this is when I see religion at its best."
The conversation also addressed the use and misuse of religion in politics and public life, including anti-Asian, anti-Black, and antisemitic verbiage and violence.
"We are all in this together," Saperstein said. "None of us will be able to protect ourselves, our houses of worship, unless we protect all houses of worship, our communities unless we protect all communities, our children unless we protect all children. We are in this together. And too often, a lot of what happens are efforts to drive wedges between us in one way or another."
"That's exactly why we need to have conversations like this," Howard said, "not only to sort of name the demons and call out what is ugly, but because it's our faith traditions that also present the response to hate."
Violence against minority groups is on the rise, Jealous said. "We are in a country that feels like it's about to be on fire. People are tearing the country apart. Conspiracy theories are rampant; hate is rampant; antisemitism is rampant; Islamophobia is rampant; racism is rampant, and you wonder: What is going on?" 
In these moments, its essential to stop the rhetoric and respond to each other's basic needs, Jealous said. Ultimately, it's "the commitment to end poverty that gives us our best hope to pull a nation divided together," he said.
Charles "Chaz" Howard is University chaplain and vice president for social equity and community at the University of Pennsylvania. 
Ben Jealous is professor of practice at the School of Social Policy & Practice, Annenberg School for Communication, and School of Arts & Sciences, as well as distinguished visiting fellow at Penn Carey Law.
David Saperstein is a rabbi, director emeritus at the Religious Action Center of Reform Judaism, and senior advisor for policy and strategy at the Union for Reform Judaism. He served as U.S. ambassador for international religious freedom in the Obama administration and is former president of the World Union for Progressive Judaism.