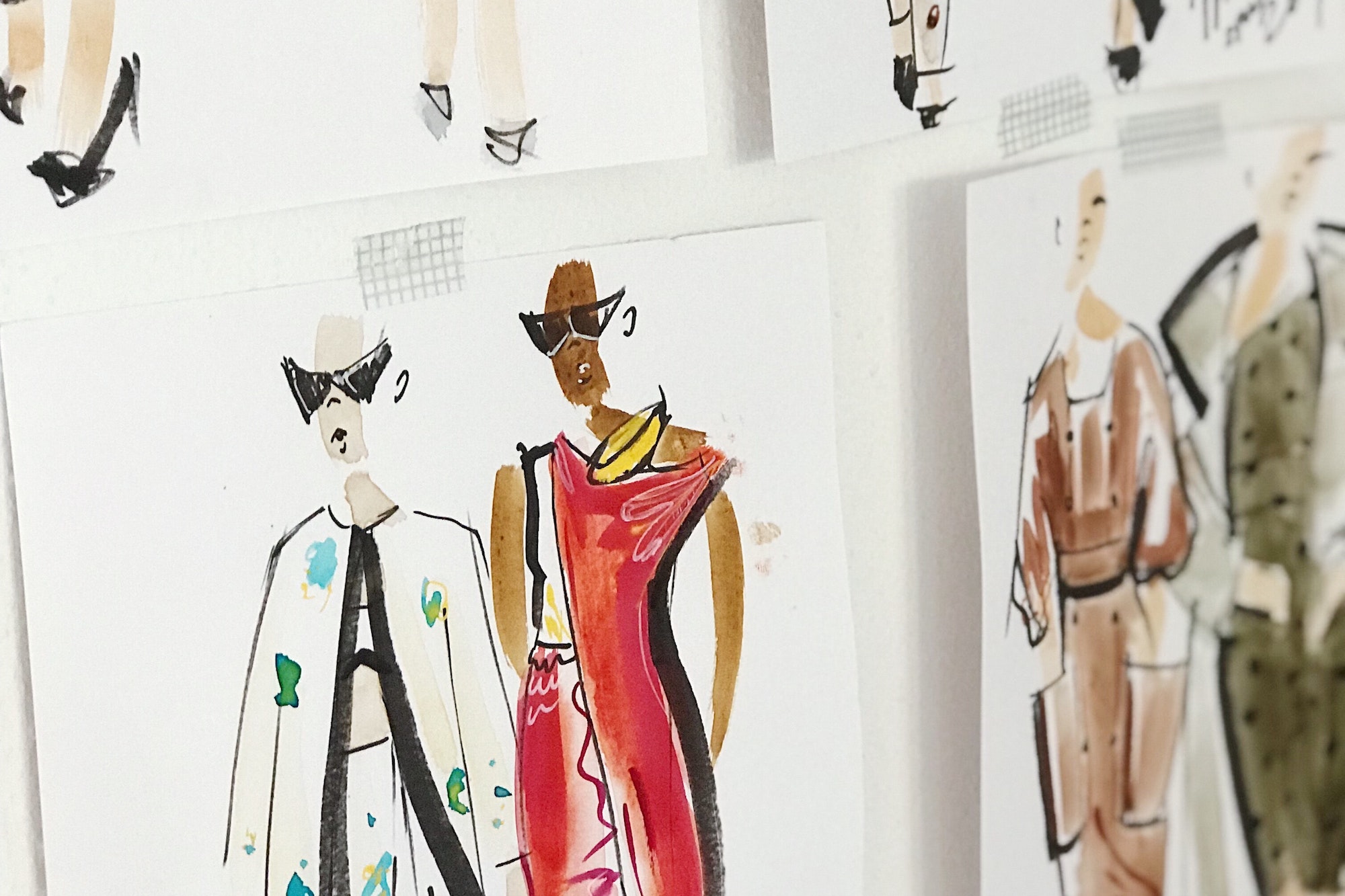 In many schools, both public and private, a few days a year, students are invited to express themselves through clothing however they want. This is when "the stars come out," says James Washington, a student at Penn's College of Liberal and Professional Studies (LPS), who also works as a climate manager for the School District of Philadelphia. "I really enjoy the day because they're expressing themselves," Washington says. "They talk louder; their personality changes."
Self-expression through fashion is just one of the topics explored in Jacqui Sadashige's Fashioning Gender, an online course in the department of Gender, Sexuality, and Women's Studies taught through LPS. The course curriculum travels through dress and class, clothing as identity construction, and the rise of global "fast fashion."
Clothing used to be much more expensive, says Sadashige, who has a Ph.D. in classical studies from Penn, where she studied the history of material objects. In 1929, she says, the average middle class woman owned a total of nine outfits. "Fast forward to the early 21st century, where the relative price of clothing has dropped, and clothing has become virtually disposable, and individuals post videos of their shopping hauls online. How did we get here, why does fashion matter, and what are the implications of our love affair with clothes?" asks Sadashige.
The course is also influenced by the students, who have "this incredible diversity in terms of background and interest," Sadashige says. Washington can reflect on current trends in the Philadelphia School District, while students from China have brought the phenomenon of "singles day" to the classes' attention, a time marking deep temporary discounts, when tens of thousands of, say, a single shade of lipstick can be sold in a matter of hours.
"Because fashion is so current, I tweak the content every time," says Sadashige, who has taught the course for four years. During this time, "We've seen the rise and plateau of influencers, the introduction of TikTok, and a sudden focus on corporate responsibility," she says. Truth in advertising is important to modern consumers and environmental impact has taken center stage, she says.
Synthetic fabrics are often made with petroleum byproducts and when washed, microplastics make their way into waterways, Sadashige says. "Plastic doesn't decompose. It just breaks down into smaller pieces. Any kind of denim that has a stretch component, the cotton will break down but the elastic fibers will not, so you end up with these skeleton jeans in landfills."
To address these issues—and consumer's concerns—companies have concentrated on reused and recycled materials, like fleece jackets made of water bottles, she says. But this only prolongs the waste cycle. "They're giving plastic one more life but not solving the plastic problem," she says. "Most companies aren't focusing on biodegradable materials, I'm guessing, because the idea doesn't sound very durable or attractive to customers. It sounds like it would rain, and the material would dissolve," she says.
The collective fashion choices of the 8 billion individuals purchasing clothing affects not only them, but also workers and others around the world and the environment, Sadashige says.
Jasmine Helme, a student from London pursuing dual master's degree from the Wharton School and the Joseph H. Lauder Institute of Management, is interested in a career in sustainable investing. Through this course, she learned about regenerative agriculture, like leather grown from kombucha or mushrooms.
"The fashion industry is one of the least compliant when it comes to disclosure and transparency with regard to sustainability," Helme says. "The environmental impact is pretty strong and devastating at the moment. One of the key solutions in enabling the industry to become more sustainable is through the creation of alternative materials. So it's wonderful to see actual viable alternatives out there that don't involve as much harm and destruction to the environment. And they are reusable and recyclable."
Fashion affects everyone, says Helme, and students have differing relationships to clothes, uniforms, and garments that have been gendered or sexualized. There's a balance between expression and fitting in, she says. "Everyone likes to be complimented. Everyone likes to hear that they look good."
Washington knows what he feels good in. Formal dress sets a different tone, he says. In a suit, "I feel confident. It puts me in another place."
During the pandemic, Washington found himself taking video calls in sweatshirts. The suit makes him "feel different," he says. "I feel like a different person. I feel like a person who has authority. When people look at me, they instantly think that I must be in charge."
Fashion can signify authority, beauty, wealth or can challenge these elements, signifying rebellion or counterculture. "It doesn't matter who you are or where you live; everybody wears clothing or some sort of embellishment," Sadashige says. "For most of us, what we wear is our way of announcing to the world who we are."