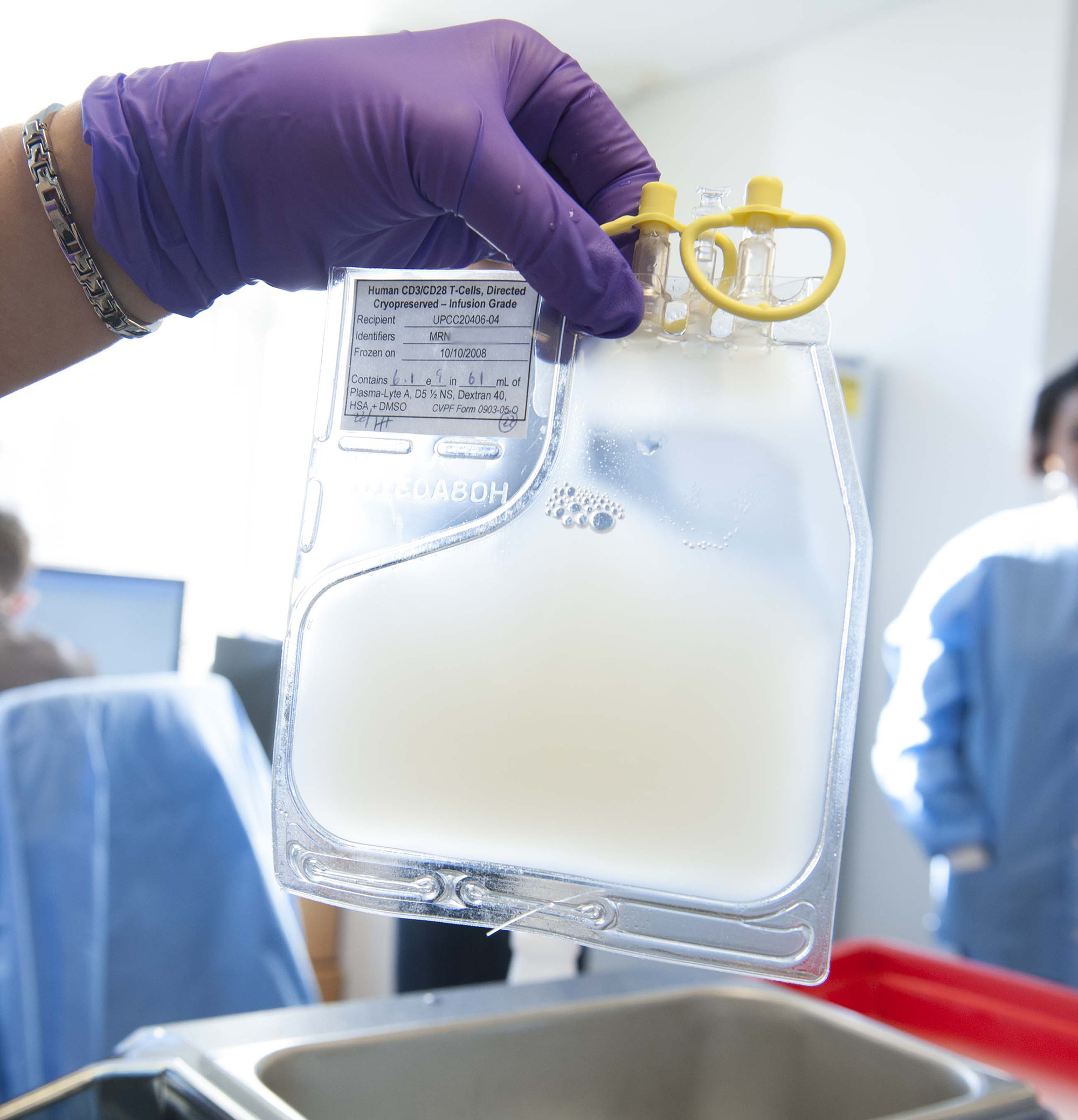 The U.S. Food and Drug Administration (FDA) has expanded approval for a personalized cellular therapy developed at Penn's Abramson Cancer Center, this time for the treatment of adult patients with relapsed or refractory large B-Cell lymphoma after two or more lines of systemic therapy. The approval includes treatment of diffuse large B-cell lymphoma (DLBCL)—the most common form of non-Hodgkin's lymphoma—as well as high grade B-cell lymphoma and DLBCL arising from follicular lymphoma. The approval was granted to Novartis for the chimeric antigen receptor (CAR) T-cell therapy Kymriah® (tisagenlecleucel, formerly CTL019), making it the second indication for the nation's first personalized cellular therapy for cancer.
DLBCL affects approximately 30 percent of patients with non-Hodgkin's lymphoma, and there are an estimated 27,000 newly diagnosed cases of DLBCL in the U.S. each year. About 6,500 of those patients have relapsed or refractory disease after two or more therapies and may now be eligible for Kymriah.
"This is an exciting event—seeing this lifesaving therapy become available widely to a large patient population with an unmet medical need," says Stephen J. Schuster, the Robert and Margarita Louis-Dreyfus Professor in Chronic Lymphocytic Leukemia and Lymphoma Clinical Care and Research and director of the Lymphoma Program at Penn's Abramson Cancer Center. "Many lives may be saved."
In August 2017, Kymriah became the first therapy based on gene transfer ever approved by the FDA, when it was authorized for children and young adults with relapsed or refractory B-cell precursor acute lymphoblastic leukemia (ALL). The FDA's action is the latest accomplishment in the alliance between Penn and Novartis, which entered into a global collaboration in 2012 to further research, develop, and commercialize Kymriah and other CAR T-cell therapies for the treatment of cancers.
Investigators at Penn's Perelman School of Medicine, who led research, development, and clinical trials of CAR T therapy, in collaboration with Novartis, called today's approval a massive step with potentially life-saving implications for patients.
Read more at Penn Medicine News.