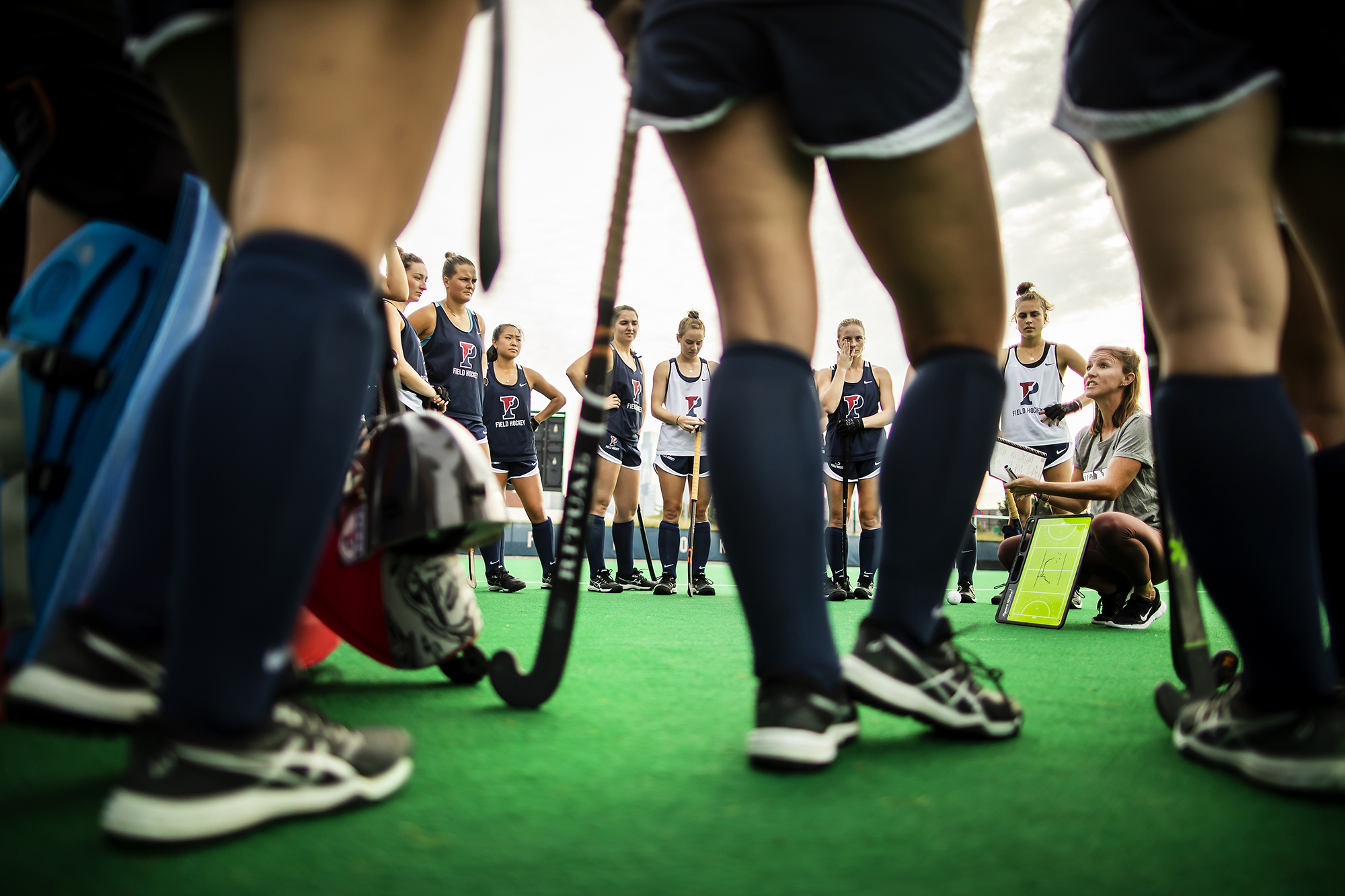 "Refreshing" is how Colleen Fink, head coach of the field hockey team, says it feels to be back on the pitch after a 21-month layoff because of the coronavirus pandemic.
"It feels good to be coaching," she says. "It feels good to be building those relationships and the rapport with the players again."
Preseason for Penn began on Aug. 18 and concluded this past Sunday morning. Today at noon, the Red & Blue open the 2021 season against No. 5-ranked Louisville, a Final Four team last season, in Princeton, New Jersey, as part of the ACC/Ivy League Conference Crossover.
Fink, in her 12th season leading the Quakers, and her assistant coaches have had the unusual task of integrating two classes into the team this year: the Class of 2024, which has yet to play a game due to the pandemic, and the newly arrived Class of 2025. Central to the team's success, Fink says, is everyone moving forward.
"I think the freshmen and sophomore group has been doing an incredible job from a physical contribution, but it's all about them taking it to the next level and really being a force from the standpoint of leadership and being more vocal on the field because they're going to contribute," she says. "They have to be ready to contribute, and part of that is not just ball and stick. It's all the other intangible things that they need to bring, and that's the hardest piece when you lack experience. I think it's imperative that they take that next step."
The Quakers, who finished 4-3 in conference in 2019 and 7-10 overall, are ranked third in the 2021 Ivy League preseason poll. Junior defender Elita Van Staden, senior forward Maddy Fagan, and senior forward Madison Jiranek—the top three scorers on the 2019 team—are back, as well as senior midfielder/defender Gracyn Banks, who recently returned from Chile, where she won a bronze medal for the United States at the 2021 Junior Pan American Championships.
Remotely under quarantine and in person during the preseason, Fink says co-captains Fagan, Jiranek, and Banks have shown exceptional leadership.
Banks, she says, has been a real force on the team, driven toward team goals, and has kept everyone on the same page. Fagan leads by example through her work rate on the field and has become a more vocal leader, especially in her communication and interaction with the newer players. Jiranek will miss the upcoming season because of a knee injury, but Fink says she is still contributing every day at practice, providing feedback and staying engaged in all the drills.
"That's really a good example to be set for other injured athletes," she says, "that you don't just sit on the sideline and observe, that you're active while recovering."
Speaking with Penn Today after practice on Sunday, Fagan says she made a point to step up as a leader in Banks' absence and is focused this season on continuing to develop her leadership skills.
"I really want to help everyone, especially the underclassmen, feel comfortable," she says.
Van Staden, the Red & Blue's leading scorer in 2019 with seven goals and 14 points, says the team has been working and training hard during the spring and summer, itching to get back on the field. Preseason was tough during the dog days of August, but she says everyone came back to campus fit and ready to go.
"Coach has been saying that she wants to prepare us for those doubleheaders we have on weekends," she says. "I definitely think we're ready going into this weekend."
On Sunday, Sept. 5, Penn takes on No. 1-ranked North Carolina, the defending national champions, in Princeton, New Jersey. Apart from Princeton, one would be hard-pressed to find a team with a more challenging first two games.
Fink says naysayers and skeptics may question the rationale behind opening the season against two powerhouses and Final Four teams fresh off a season when Penn didn't compete, but she says the Ivy League is no cupcake conference.
"The Ivy League, historically, has been the third-best conference in Division I field hockey behind the ACC and the Big Ten, so our conference is nothing to shrug off," she says.