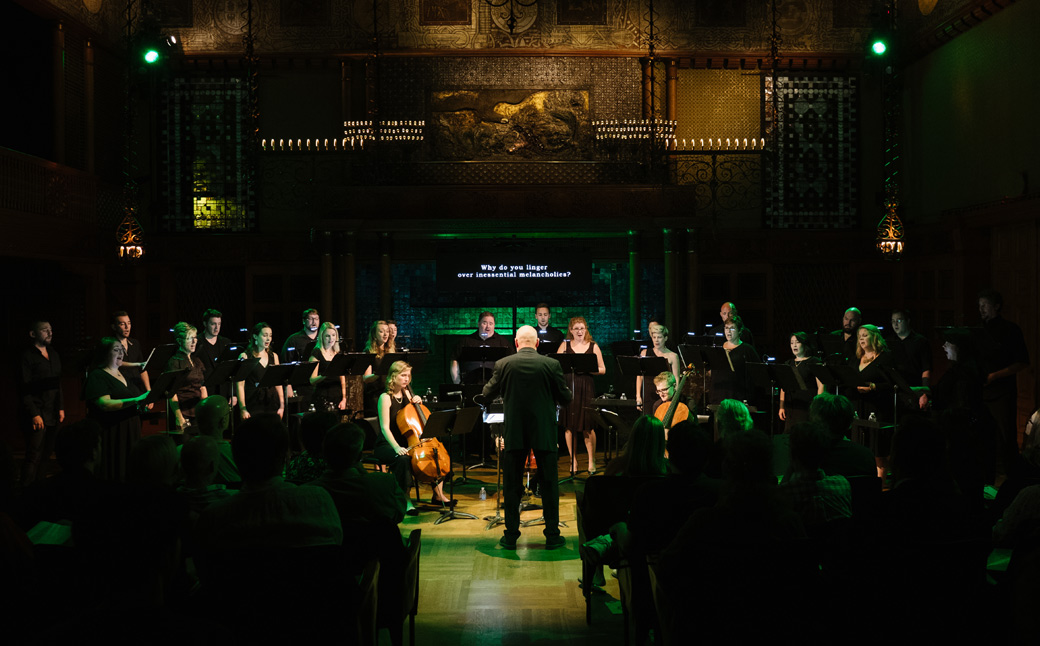 Stocking up the February lineup of events around Penn is a healthy mix of fun and academia—on one end, an atmospheric performance of works by iconic composer Philip Glass, and on the other, an all-day symposium hosted by the Wolf Humanities Center exploring kinship. 
Here, a rundown of five standout events happening this month.
The seemingly magical flower that blooms in the winter, the witchhazel can be viewed at spots on campus, too, but are most prominent at the Morris Arboretum. There, visitors can experience a guided tour of the grounds that passes by the flower's many varieties. These are wiry shrubs that come to life in February and display a range of colors.  
The Arboretum has more than 80 types of witchhazels dispersed throughout the garden that can be seen through the guided tour or on your own with the aid of this map. 
Two years ago, inspired by the podcast "Story Collider," which showcases true and personal stories of science, Penn Nursing Director of Innovation Marion Leary launched the first Nursing Story Slam at Penn. The idea: to make a difficult subject like nursing more easily understood. 
Through a partnership with First Person Arts and sponsorship from Penn Nursing alumni Sandy and Joe Samberg, she was able to secure this year's slam, celebrating the Year of the Nurse and Midwife, as designated by the World Health Organization. 
"Nurses have such amazing stories because of the breadth, depth, and experience of the work we do every day, in a wide variety of settings," explains Leary. "In our clinical and community practice, we treat patients and families during some of their best times and some of their worst times; in the classrooms, we educate the next generation of nurses; in the research labs, we investigate solutions to some of health and health care's toughest problems; in Congress, we create policies; in the military, we protect and serve; in boardrooms, we lead. So, for all of these reasons, and more, I knew this would be a great medium for nurses to really be able to share with the world what it is we do every day."
The story slam will take place at the Annenberg Center for the Performing Arts, with nurses, students, and faculty from Penn Nursing and Penn Medicine telling six-minute stories about their time on the job. The theme this year is "Courage." 
'Galentine's Day' (Thursday, Feb. 13, 6 p.m.)
A special pre-Valentine's Day version of a tradition kicked off by "Parks and Recreation" character Leslie Knope, lifting up female friendships, the Penn Museum takes the opportunity to highlight both that camaraderie and the 100th anniversary of the 19th Amendment, which was ratified in August 1920. 
For the event, located in various parts of the Museum, visitors can experience a 90-minute female-focused tour of the galleries, participate in activities like feminist button-making, engage in a trivia hour themed around bold women, and witness two performances by comedian Brittany Carney. There will also be tabling by organizations like Planned Parenthood, the William Way LGBT Center, the Penn Period Project, and Philabundance, as well as an opportunity to register to vote. 
Plus, a waffle bar. 
This symposium, organized by Wolf Humanities Center junior fellows, tackles this year's theme of "Kinship" head on, with a series of panels with four themes: Substances, Temporalities, Archives, and Mobilities. 
Karen Redrobe, director of the Center and an introductory speaker at the symposium, hopes the event can help fellows gain skills that range from running a budget to, she says, "thinking about a single issue across multiple disciplines."
"But what the University gains from this," she adds, "is an opportunity to pay attention to the ways in which a younger generation of scholars might approach a problem in ways that differ from our own tendencies. Toward the end of my own graduate school training, I heard Angela Davis give a lecture in which she said, among other things, that nothing in the world would get any better until older people start to pay attention to younger people. 
"This symposium represents a chance to do just this, and to learn about the ties that bind and divide us."
Kicking off this month and extending into March is the Annenberg Center for the Performing Arts' hotly anticipated "#Glassfest," honoring the career of celebrated composer and pianist Philip Glass, who has written numerous operas and musical theatre pieces, as well as created high-profile film scores—three of which have been nominated for an Academy Award. 
The three-week festival is opened by Philadelphia choir The Crossing, which will perform a sort of mashup of Philip Glass' five-part "Knee Plays"—interlude scores—from the opera "Einstein on the Beach," juxtaposed with David Byrne's composition of "Knee Plays" for the opera "the CIVIL warS." A never-before-seen event, this production will play for two nights and be led by conductor Donald Nally. 
Want to know more about what's happening around campus? Find out more through Penn Today's curated events calendar. Have an event you'd like to suggest for the calendar? Email Staff Writer Brandon Baker at bkbaker@upenn.edu.