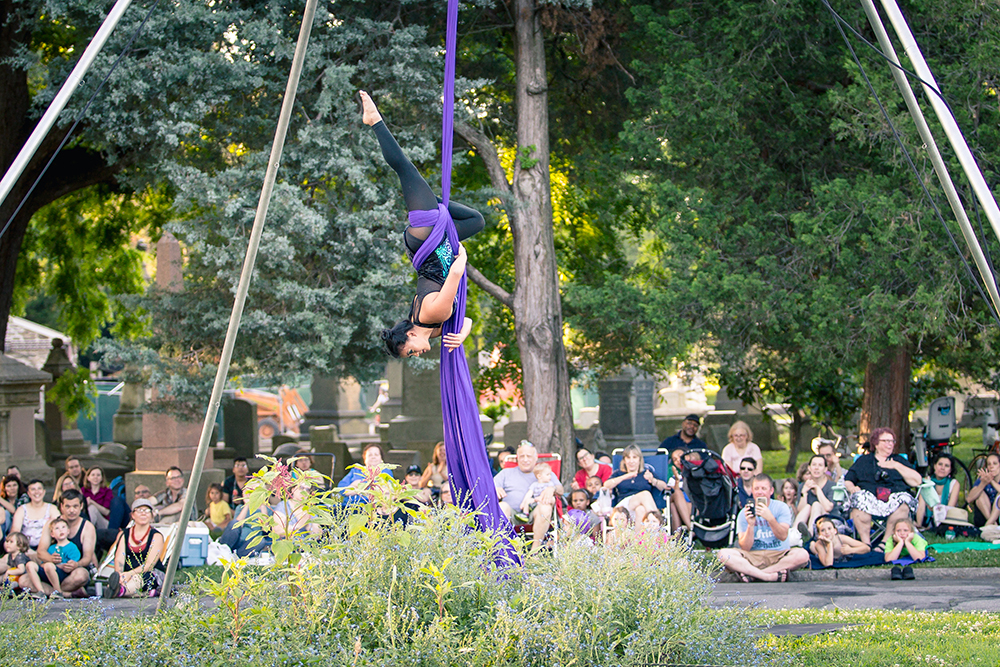 Campus may not be quite as abuzz in June as September or May, but that's not to be mistaken for a lack of things to do. 
Community organizations in University City keep the attractions coming, with the annual Firefly Night at The Woodlands, a special screening related to the Institute of Contemporary Art's Tony Conrad exhibit, and the annual sounds of West Philadelphia Porchfest. 
Here, find five events happening on campus and beyond.
Every first Saturday of June since 2016, musicians around the West Philadelphia neighborhood have pitched up their instruments and speakers for a lively porch-side performance. This year is no different.
Inspired by Ross Hoffman, who alongside a group of other West Philly residents attended a similar porchfest held in Somerville, Massachusetts, Hoffman and others imagined the possibility of their own neighborhood's incredible diversity as a lure for music lovers of all genres. Community volunteers sprang to action to organize a sprawling music festival held on porches to the immediate south and northwest of Baltimore Avenue, past 48th Street. The festival featured a record 89 porch performances in 2018, and this year is on track to notch a new record, with 90 porch performances registered so far.
The Porchfest team organizes by putting aspiring musicians in touch with residents willing to lend their porches as a performance space, as well as maintaining a map of what performances are happening, where, and in what time slots. (Time slots are determined by geography.)
New this year, a $20 donation to West Philly Porchfest guarantees attendees a T-shirt. A full map of the performances is viewable here.
The Institute of Contemporary Art (ICA) and Ars Nova Workshop collaborate for "Dreamweapons," a series of concerts, performances, and other special events designed to highlight "Introducing Tony Conrad: A Retrospective," the museum's retrospective exhibit—on display through Aug. 11—examining the works of experimental video artist Tony Conrad. 
At Lightbox Film Center, they host this two-part event: first, a screening of "Owl Movie," director Lary 7's 30-minute static film inspired by Conrad. That's followed up with performances by Lary and Jennifer Walshe. Another "Dreamweapons" event will take place at the Ruba Club on June 27, with two more scheduled for July 13 at St. Mary's Church and July 21 at the ICA. 
The annual Penn Supplier Diversity Forum & Expo unites buyers, suppliers, local agencies, and organizations that work with the University to celebrate and encourage supplier diversity—highlighting resources for businesses and facilitating networking opportunities.
The day begins with poster sessions from community organizations at 10:30 a.m. At 11 a.m., Executive Vice President Craig Carnaroli delivers opening remarks about the state of economic inclusion at Penn, leading into a panel that includes the School of Nursing's Lucia DiNapoli, Greater Philadelphia Hispanic Chamber of Commerce President and CEO Jennifer Rodriguez, Neta Scientific President Winfred Sanders, and American Power Electrical Supply Company President Craig Williams. 
The larger Penn buying community is invited to celebrate on College Green along Locust Walk, between 34th and 36th streets, as suppliers set up for conversation and food samples that are distributed by local caterers. Advance registration is required. 
A celebration of the summer solstice, The Woodlands' Firefly Night is inspired by Woodlands resident Ezra Cresson, founder of the American Entomological Society and a scholar of insects. 
This year's event features a pop-up performance by contemporary and classical dance company BalletX, at 6:30 p.m., followed by a performance at 7:30 p.m. by Tangle Movement Arts. Representatives from the USDA will be available to educate the public about the spotted lanternfly, and West Philadelphia frozen-treats-maker Lil' Pop Shop will be selling seasonal pops. 
Quirky perk of the event: The Woodlands will be distributing Ezra Cresson trading cards. 
The Saturday of summer solstice is celebrated with the quarterly CultureFEST at the Penn Museum. For the occasion, the Museum organizes outdoor yoga with Prana Gangi, Tai Chi and Qigong with Hasan Rucker, a lecture about vitamin D and the sun, an art and healing workshop with Terrence Gore, and other activities that promote the feel-good vibes of the warm months.
After 5 p.m., participate in hula-hoop instruction with Jennifer Alvarez and receive a Tarot reading from Elexa Lizzi. The Museum also kicks off its Summer Nights series with a performance by Samantha Rise and her band. Ongoing Summer Nights events will invite local figures to create a music playlist just for the occasion, spun in the garden of the Museum as guests enjoy cocktails.
Want to know more about what's happening around campus? Find out more through Penn Today's curated events calendar. Have an event you'd like to suggest for the calendar? Email Staff Writer Brandon Baker at bkbaker@upenn.edu.