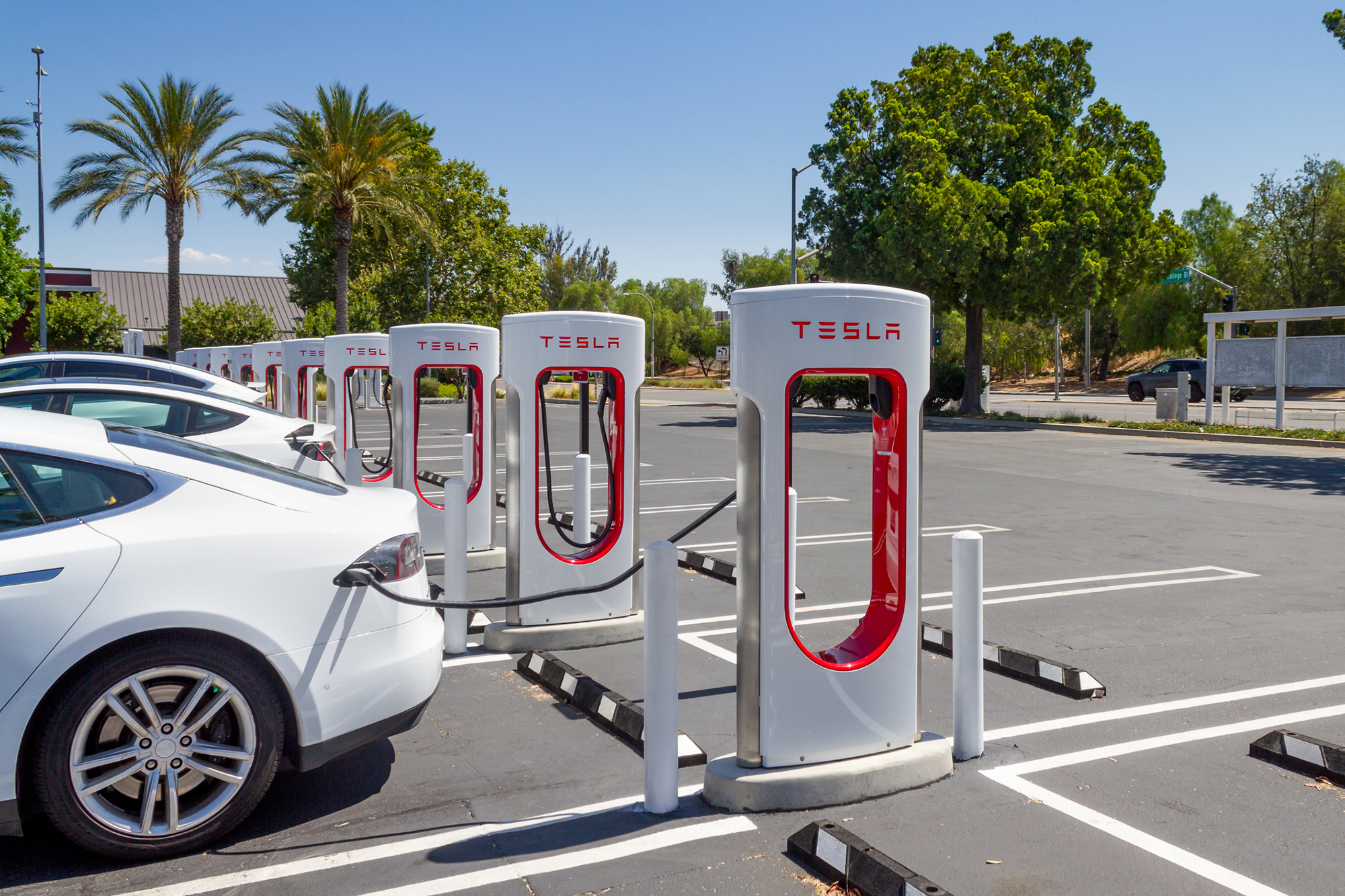 Electric vehicle sales are increasing at a rapid pace in the U.S.: In the latest quarterly sales report, 300,000 more EVs were sold in the U.S., roughly 7% of all vehicle sales, setting a record. EVs' global market share, meanwhile, has more than tripled just since 2020 and sales are expected to reach 14.5 million by the end of 2023. 
But with growth comes growing pains. 
One among many is the ongoing debate over what plug should be standard: the Combined Charging System (CCS-1 for the U.S., and CCS-2 for Europe), developed in 2012 and the mandated standard in the European Union since 2014; or, the North American Charging Standard (NACS), a plug design developed by Tesla in 2012 that's increasingly supported by automakers in recent weeks. Among them: Ford, General Motors, Mercedes-Benz, and most recently, Nissan. 
In substance, both plugs will accomplish the goal of directly charging an EV battery either slowly (e.g., plugged in at home) or quickly using the so-called "superchargers" that have made recharging during longer trips more convenient. However, Tesla's NACS plug—a self-dubbed North American standard—is noticeably slimmer with a more flexible cable, and among users of Tesla's proprietary charging network, it's a favorite. Though falling out of fashion internationally, there's also a third charger plug, CHAdeMO, developed and used in Japan.
In the U.S., superchargers have been installed across the country in parking lots and garages and, to a limited extent, along highways. All of Tesla's superchargers to date are equipped only with their NACS plug and all other public superchargers have had only CCS-1 plugs. CCS-1 seemed likely to be the U.S. standard, with the federal government mandating its inclusion in any recharging stations it subsidizes, while opening the door for also including NACS and any other plug type. With Tesla deciding to open its network for any EV to recharge, and the flurry of announcements from automakers supporting NACS, there's some confusion—and an opportunity for Tesla.
John Paul MacDuffie, a professor of management in the Wharton School, weighs in on why NACS seems to be gaining support domestically, Tesla's interests in establishing a plug standard, and whether it actually matters. 
Yes, you could just use an adapter
To know up front: No one will be stranded because of an incompatible plug.
Much like there are adapters for USB Type-A and USB-C, there are adapters to alleviate the stress of encountering an incompatible charger. And, in fact, Tesla has already created an adapter to make its cars compatible with CCS-2, in regions of the world like Europe, where that standard is mandated. 
"That means Tesla has had the experience, for years now, of using their connector with the adapter for a CCS-2 charger and it has worked fine," says MacDuffie. 
The difference in the U.S.? Tesla has had a long head start in EV sales and infrastructure, and so it's taking its shot at solidifying its plug as the standard going forward.
Tesla didn't have to push for its plug to be standard. But it's doing it anyway
Tesla already has an adapter for use with CCS-2 in Europe and parts of East Asia, including South Korea, which uses CCS-1. It wasn't a foregone conclusion that it would push to have its plug as the standard in the U.S.: It could have followed suit with its European strategy, particularly as the federal government has explicitly stated support for CCS-1. 
But, MacDuffie says, Tesla saw an opportunity. 
"I think there's a piece of this where Tesla wants to move to the next phase, competing more on the appeal of their entire system and not just the product," he says. "They're going to have lower margins on the product, and way more competition, but pushing the home chargers you can buy and bundle with it, or the autonomous drive and autopilot features, plus now the revenues from letting other BEVs use their superchargers—and other stuff where they're still ahead of everybody else—that's a way they hope to keep valuations crazy high."
Moreover, MacDuffie says, this is yet another case where Tesla continues to be savvy with its marketing without having to pay for advertising. Until a few months ago, the term "NACS" did not even exist and reflects a charging technology the company has been using for more than a decade.

Making the NACS plug standard won't happen before ironing out a few kinks
One reason for the wave of recent automaker support for NACS, MacDuffie suspects, is assurances behind the scenes that Tesla's closed system—in which the plug and charger interacts with Tesla's proprietary software—will not require substantial overhauls of other companies' battery management software. Part of why Tesla's plug works as well as it does is that the vehicle's software is designed to work with Tesla's supercharger and regulate the higher-than-CCS temperatures reached during the charge. 
What this also means is that a slew of standards-setting bodies, such as the long-running Society of Automotive Engineers, will work to ensure safety and compatibility. Particularly, MacDuffie says, given that Tesla's plug has not yet had the vetting as a widespread standard that CCS has already had internationally. That process is just beginning.
CCS actually has more charging locations—but the numbers can be deceiving
As of June, CCS appears to have a grip on the number of charging stations nationwide: 5,200, compared to Tesla's 1,800. However, Tesla has installed more ports per location, meaning Tesla has about 19,500 ports to CCS' 10,000. 
And while much has been said about the influence of the federal government's backing of CCS as a standard, MacDuffie notes that this is also an area where states have sway. 
"You have states like Texas and Washington, two different states politically, that will only give their state's funding for charging stations with NACS," he says. "The states will be another actor in this as well."
There's also the matter that, MacDuffie says, CCS charging stations have a bad reputation. Consumers have reported a variety of problems related to poor maintenance or unreliable controls and billing systems, a consequence of them being managed by a variety of different operators as opposed to the Tesla stations that have—until now—only been open to Tesla owners. Because Tesla has built a strong reputation of effectiveness, reliability, and ease of use for its superchargers, it's added to their case for becoming the plug standard.
It's hard to ignore the impact of recent federal subsidies
Once firmly anti-regulation, Tesla is now positioning itself to make the most of new incentives created by the Inflation Reduction Act and the Bipartisan Infrastructure Law. This is particularly true as these subsidy incentives reward companies that make their batteries in the U.S., which Tesla already does—and is benefitting from. And to the extent the marketing push for NACS to become the standard plug promotes Tesla car sales and its brand, these elements are all aligned.
Whether the federal government pivots to explicitly back NACS, MacDuffie says, is an open question. 
"I think they might if they felt it was now going to be universal for all the electric vehicles being sold in the future, but also compatible, via adapters, with all past vehicles—plus completely vetted and safe," he says, while also noting that it may depend on the influence of political factors.
But for now, he adds, new chargers in the U.S. will likely contain both plugs, with the added cost being subsidized. Time will tell whether one plug endures as a relic of the past.