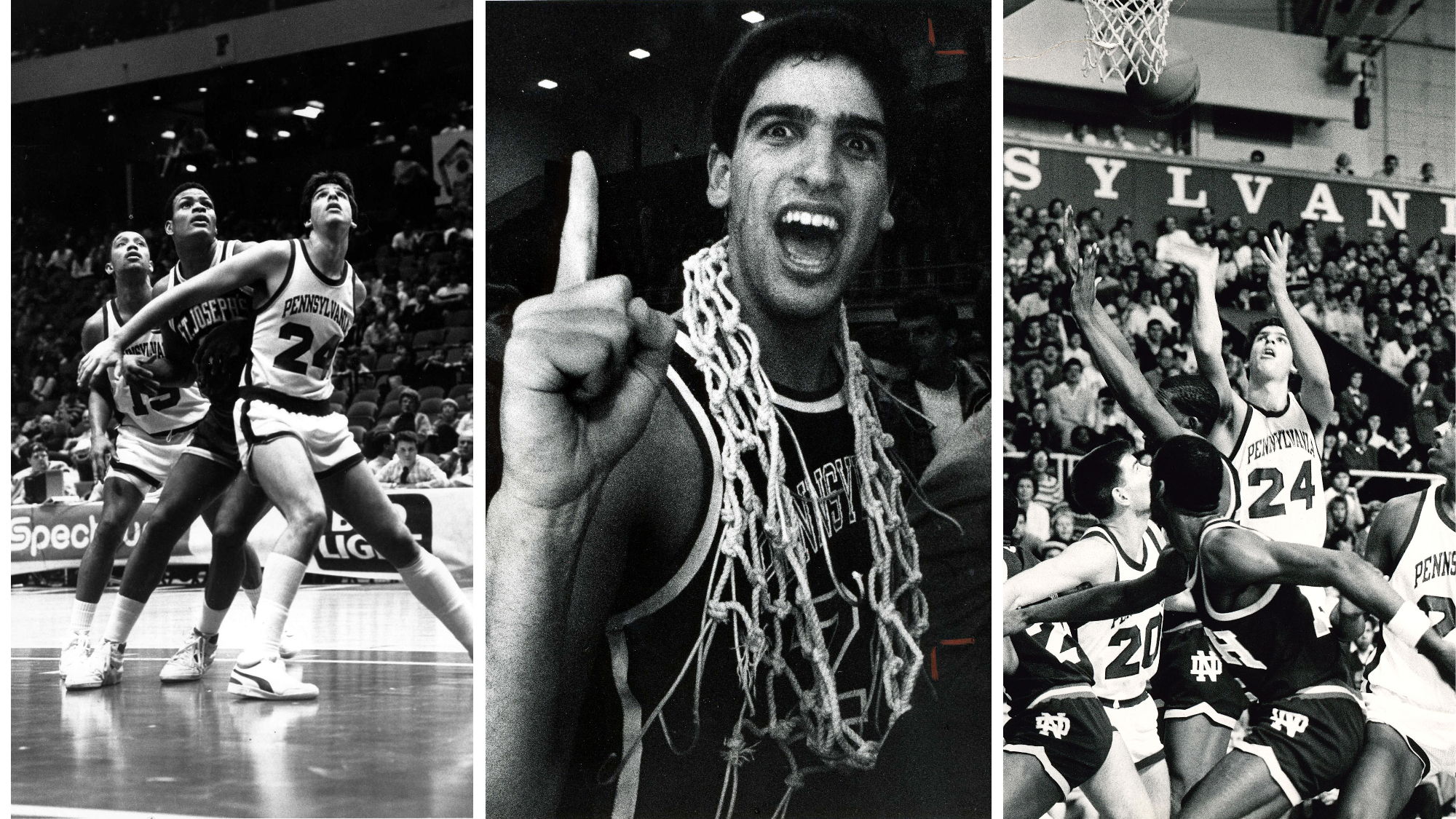 Bruce Lefkowitz, who starred on the men's basketball team from 1984-87, is one of five former players who will be inducted into this year's class of the Big 5 Hall of Fame, the organization announced on Monday.
A four-year starter, Lefkowitz scored 1,443 points during his Penn career, which ranked fifth all-time in school history at the time of his graduation (he currently ranks 12th). He also ranks first in program history in free throws made (469) and free throws attempted (666), second in field goal percentage (58.7), seventh in rebounds (766).
Lefkowitz, from Scarsdale, New York, led the Quakers in scoring during his junior and senior seasons, averaging 14.2 points per game in 1985-86 and 18.7 points per game in 1986-87. He was the Red & Blue's top rebounder in each of his four seasons, including a career-high 8.9 boards per game in his final year.
On Feb. 27, 1987, Lefkowitz scored 31 points and grabbed 20 rebounds in a 95-92 overtime win against Brown, the last time a Penn player grabbed 20 rebounds in the game.
Twice during Lefkowitz's career, Penn won the Ivy League championship and advanced to the NCAA Tournament. In 1984-85, the Red & Blue won conference with a 10-4 record and advanced to the NCAA Tournament, where they lost to Memphis State in the First Round in Houston. In 1986-87, the Quakers won the Ivy League with a 10-4 record and lost to North Carolina in the First Round of the NCAA Tournament in Charlotte.
After graduating from Penn, Lefkowitz played professionally for the Philadelphia Aces of the United States Basketball League. He is already a member of Westchester County (N.Y.) Athletics Hall of Fame, Philadelphia Jewish Sports Hall of Fame, and the Penn Athletics Hall of Fame.
Additional members of this year's class of the Big 5 Hall of Fame are city basketball legend Sonny Hill, former players Cheryl Reeve of La Salle, Ahmad Nivins of Saint Joseph's, Marty Stahurski of Temple, and Allen Ray of Villanova, and former Villanova coach Harry Perretta.
The awards banquet will take place at The Palestra on Monday, April 11, at 7 p.m. The 2021-22 All-Big 5 teams will also be honored, and the Big 5 will present its postseason awards. The event is open to the public. Tickets are $15 in advance and $20 at the door.